| | | |
| --- | --- | --- |
| Updated 30 Aug 2003 | WIRKSWORTH Parish Records 1600-1900 | |
<!==================================================> <!==================================================>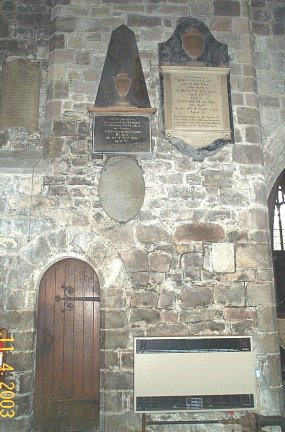 Lead Miner - South Transept

Looking West in the South Transept, to the right of the door is the famous carving of the Lead miner. The door leads up to the Tower.
But Angela Treweek writes:
It is just a cupboard with a small stone sink and a fire bucket. It may at one time have been a staircase as one wall was very roughly built (as if the stones had been poured in). There is a plaque at the side of it, for the text see: Ch107
"Rob" writes:
What you describe there is typical of a Saxon build. No coursing of stone, infill of rubble between the inner and outer facings. So may actually be the oldest part of the church.


Photo taken:11 April 2003
Source: Jayne McHugh, Ontario, Canada
View in High Resolution (on CD only)
Have any more information about this photo?
Please e-mail the author on:
Compiled, formatted, hyperlinked, encoded, and copyright © 2003, John Palmer, All Rights Reserved.