| | | |
| --- | --- | --- |
| Updated 30 Aug 2003 | WIRKSWORTH Parish Records 1600-1900 | |
<!==================================================> <!==================================================>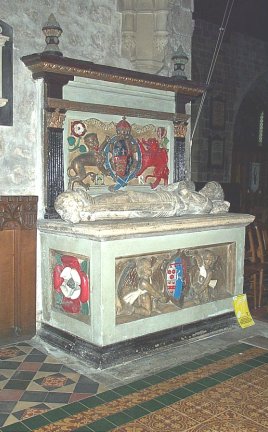 LOWE - Chancel

"In the chancel are several striking memorials, in particular the chest tomb of Anthony LOWE (d 1555). He was Lord of the Manor of Alderwasley and Ashleyhay, Gentleman of the Bedchamber and Standard Bearer to Henry VII, Henry VIII, Edward VI and Queen Mary. On the wall behind are the Royal Arms. Pevsner considers this to be the best monument in the church and completely in the new Renaissance style"
M.R.Handley - St Mary the Virgin, Wirksworth - A Guide and History

For wording see:Ch076 in MI Section


Photo taken:11 April 2003
Source: Jayne McHugh, Ontario, Canada
View in High Resolution (on CD only)
Have any more information about this photo?
Please e-mail the author on:
Compiled, formatted, hyperlinked, encoded, and copyright © 2003, John Palmer, All Rights Reserved.