| | | |
| --- | --- | --- |
| Updated 12 Aug 2007 | WIRKSWORTH Parish Records 1600-1900 | |
<!==================================================> <!==================================================>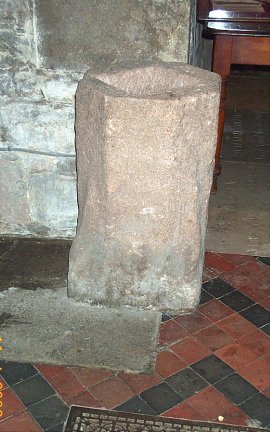 North Nave Aisle/North Transept

Located where the North Nave Aisle and the North Transept meet. The author does not know what this is, please email me if you do.
Angela Treweek writes: The hole in the top is a perfect square, perhaps it held some sort of timber or square monument.
Anton Shone (Wirksworth Roman Project) writes: Sharpe NT (2002) "Crosses of the Peak District" (Ashbourne, Landmark) feels that it is a cross plinth. He also notes that they are not usually that tall.


Photo taken:11 April 2003
Source: Jayne McHugh, Ontario, Canada
View in High Resolution (on CD only)
Have any more information about this photo?
Please e-mail the author on:
Compiled, formatted, hyperlinked, encoded, and copyright © 2003, John Palmer, All Rights Reserved.