| | | |
| --- | --- | --- |
| Updated 7 Sep 2004 | WIRKSWORTH Parish Records 1600-1900 | |
<!==================================================> <!==================================================>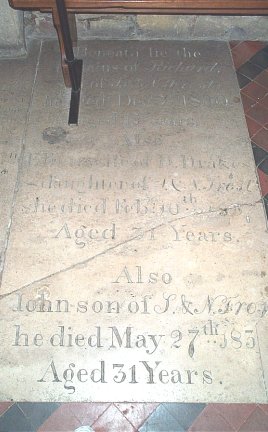 FROST - North Transept

For wording see:Ch032 in MI Section

Photo taken:11 April 2003
Source: Jayne McHugh, Ontario, Canada
View in High Resolution (on CD only)
Have any more information about this photo?
Please e-mail the author on:
Stuart Flint writes:
The Samuel Frost as per the memorial Wirksworth Parish Church is of my kin..Samuel married Nanny Smith daughter of Richard and Ellen Smith nee Fowler..Richard was partner to Thomas Smedley father of John Smedley of Lea Mills.. Richards sister married Thomas Smedley ... Richard and Thomas leased Le Mills from Peter Nightingale who worked the mill before Smedleys..Peter Gr Uncle to Florence Nightingale..One of my kin by the name of Thomas Hoades..so legend has it...courted Florence in her late teens and when she turned down his proposal of marriage he committed suicide...Samuel Frosts father was John Frost who married Hannah Wright of Bolehill daughter of Samuel and Silence Wright nee Cotterill Silence was my blood kin also..and in more recent times re 1836 my Grt Grandfather Joseph Walker married Anne Wright of this family as his 1st wife... Samuels Grt Grandfather Robert Frost was my 6xGrandfather he married Dorothy Mather at St Oswalds Parish Church Ashbourne..Roberts son John Frost married 1st wife Margaret Harding from Hopton 2nd wife Esther Hill they my 5xGrandparents Mary their daughter married John Flint my 4xGrandfather.. Samuel Frost was Manager at Wirksworth Savings Bank now the office of Andrew Macbeth Cash & Co Solicitors Samuel also had a Rope Making business at Hammonds Court, a Coal business at Steeplegrange and a Grocery Shop on West End with other members of his kin which became Hunters in the 1890s and was where my father trained as a Grocer 1907 aged 12 years after his father William Flint was killed at Killers Quarry 1905 (Dec 5th). My Grandfather William Flints Grandmother was Mary Killer sister to William Killer who founded the quarry in 1845 passing it on to his son who became known as Killer Bros Hopton Wood Stone Many of the Stonemasons at Killers were Frosts, Slacks, Doxey's,Evans, Flints, Batterley's, Spencers all of my/ my wifes kin (my wife and I are 2nd cousins)...Going back to the Smedley's my Aunt Doris Walker was a General Manager at Lea Mills 1930s - 1960 over some 200 girls/women..she was a strong willed spinster with quite a sharp toungue who is still remembered by many of the 60+ aged ladies who worked for her as a bit of an ogre.. she died in 4 years ago at 99 yrs 11 months... The Wrights of my kin married into Allsops of Lea/Wensley who owned a Smelting Mill at Lea and married into the Wass family who owned Mill Close Mine 1835 - 1920s Allsops also married into Smedleys at the mill..Thomas Smedley partner to Richard Smith was born at Steeplegrange..His nephew John Smedley (cousin to THE John Smedley who gave his name to Lea Mills who married into the Roebuck family originally from Sheffield but Grocers at Wirksworth..Thomas Roebuck whose daughter married John Smedley of the mill was brother in law to Samuel Frost..) John the cousin married my wifes 5xAunt Elizabeth Evans of Middleton... Wrights also married into Allens, Cotterills Graysons Collinsons Wheatcrofts also all my allied kinsmen ... Sorry if this is to long and a little of a meander.. Other kinsmen of mine married into Richard Smiths family...
Regards
S G Flint
Compiled, formatted, hyperlinked, encoded, and copyright © 2003, John Palmer, All Rights Reserved.