| | | |
| --- | --- | --- |
| Updated 19 Aug 2014 | WIRKSWORTH Parish Records 1600-1900 | |
<!==================================================> <!==================================================>
X635b

John WINSTANLEY of Wirksworth
clockmaker (fl 1768-80)
Little is known about John Winstanley, who flourished in Wirksworth as a clockmaker between 1768-1780. He probably was born in Lancashire about 1740, and appears only once in the Wirksworth Parish registers as a witness to a marriage in 1776 (where his signature is suitably elegant). He is named as having an apprentice called Robert Adams, who himself flourished as a clockmaker 1780-88. Winstanley lived and died before the era of photography, so he must be remembered for the clocks he made. Thanks to Tom Pault for sending these photos of a Winstanley-made 30-hour longcase clock in his possession. Peter Falconer has an early Winstanley made about 1765 in Wales.
Anyone with more information about John Winstanley please contact the author on
Tom Pault has discovered more information about Winstanley and Adams,
see emails.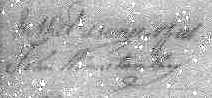 X635g
John Winstanley's signature as a marriage witness at Wirksworth on 25 Apr 1776. Excuse the limits of my scanner from microfilm. His elegant signature is reminiscent of his surname on the clock front.
X635f

X635d

X635e

X635c

X635a

An early Winstanley longcase, made in Holywell, Flintshire, NE Wales about 1765. Now owned by Peter Falconer of North Truro, MA, USA who writes:
"I have recently inherited my Grandmother's Grandfather Clock, made by John Winstanley of Holywell, Wales. My great great parents were from Wales, my Great Grandmother being Mary Elizabeth Evans, my Grandmother being Martha Evans Morgan. The clock is in working order....I believe this clock has been in my family for over 150, or more, years.
Attached are a few pictures of the clock innards. There is a small note inside the clock I believe written by my grandmother which says " Wales - Blackwells". I don't know if this might refer to where her mother, my great grandmother might have obtained the clock or a previous owner. I am in touch with other relatives to see if we might determine when and how the clock traveled the Atlantic; I am guessing the mid 1800's, probably earlier, but hard to say. thanks for your input!"
A Hook and Spike wall clock, located in Ashbourne. 30 hour movement with 9 inch dial. An alarm with bell strike.
----Anyone with more details for publication on this webpage, please email ----
--------------
Tom Pault writes 18 Nov 2011:
John Winstanley of Holywell, working between 1791-1835 (ref. Cescinsky and Webster and G.H.Baillie. Clockmakers of the World Vol.1) He was one of a large respected family of clockmakers working between North Wales and Lancashire. Holywell is in the old county of Flintshire and sits on the estuary of the river Dee.
--------------
Tom Pault writes 18 Nov 2011:
John Winstanley came into Derbyshire with his brother Thomas (a contemporary Ashbourne maker who married there in 1767) probably from Cheshire, and was working at Wirksworth c. 1768-1787. He took Robert Adams, who ultimately succeeded him, as an apprentice 1780-1787.
---------------
Tom Pault writes 18 Nov 2011:
Robert Adams was born 5/3/1762, son of another Robert at Wirksworth, and apprenticed to John Winstanley of Wirksworth 1780-1787, setting up in business there in 1788, when he advertised his services in the Derby Mercury for 7th February 1780. He married very unusually during his apprenticeship at Wirksworth, 9/2/1785 Margaret, daughter of Thomas Buxton of Wirksworth, which may have been due to his parents (or in-laws) being prepared to support the couple financially, and that Winstanley was prepared to allow Adams to live out. He was working at least until the first decade of the 19th century. The cockerel on the dial may suggest an Ashbourne connection, the bird being the crest of the Cokaynes of Ashbourne Hall, who founded the Grammar School, and whose arms the town sometimes used corporately.
--------------
Tom Pault writes on 31 aug 2011:
Hello John, thank you so very much to put my clock on your web page its a great honour for my longcase and for myself I must add, when I bought the clock it was just said to be a circa 1770 Winstanley of Wirksworth Derbyshire thats all I know,look forward to your reply,many thanks Tom.
--------------
Tom Pault writes on 28 aug 2011:
Hello John , I've uploaded some video's and photograph's of my clock, please keep me informed and let me know if you should make a web page about John Winstanley and my clock,look forward to hear from you soon ,many thanks Tom.
--------------
Tom Pault writes on 27 aug 2011:
Hello John ,many thanks for your quick reply ,thank you so much for your information you have given so far,I shall be very pleased to take some more photographs for you and will add a video on youtube.com asap, and I don't mind at all if you are to do a new webpage about him ,I'm just glad I found you on the internet with doing some research,I look forward to you reply soon,and will send you some pictures and video very soon,until then it's been a pleasure ,many thanks once again ,regards Tom.
-------------
Author replied on 27 aug 2011:
Hello Tom, Regret I can only find little snippets about your clock's maker. He was called John Winstanley, was born about 1740, probably in Lancashire. He only appears in the Wirksworth parish registers as witnessing a marriage in 1776. He "flourished" 1768-1780, and had an apprentice called Robert Adams. Can find no trace of when he arrived in Wirksworth, if he left, or any burial. If I find any more I will add your photos to a new webpage about him, if I may. If you have time to photograph "the inside works" that would be interesting. His signature appears in the marriage record, and I attach it here. Regret the dust in my microfilm reader and limits of my scanner make it only just readable. However, it looks much better on my reader screen when seen by human eye! It is an elegantly written signature, as one would expect.
Regards
John Palmer, Dorset, England
-------------
Tom Pault writes on 27 aug 2011:
Hello John, I am pleased to inform you that I have recently acquired an antique 30 hr longcase clock which is signed WINSTANLEY WIRKSWORTH, i've tried to find some more information on the maker and the history but without any success,I hope you can help me with this and I look forward to your reply soon,regards Tom.

Dates:
Photo taken:
Size:
Source:
Click on photo for enlargement (on CD only)
Have any more information about this photo? Please e-mail the author on:
Compiled, formatted, hyperlinked, encoded, and copyright © 2011, . All Rights Reserved.