| | | |
| --- | --- | --- |
| Updated 21 Aug 2011 | WIRKSWORTH Parish Records 1600-1900 | |
<!==================================================> <!==================================================>
William and George GOULD about 1916

Memorial plaque to George Herbert GOULD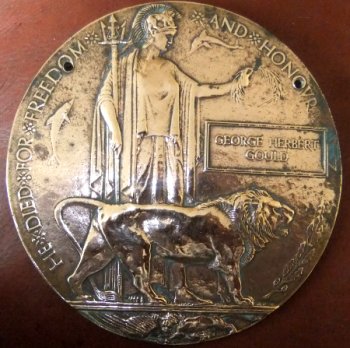 George Herbert GOULD 1894-1918

George Gould enlisted with the Sherwood Foresters 3 weeks after his country declared war against Germany. Twenty years old, medium height, brown hair and eyes, he was brought up in a family of 4 children at 41 North Street, Wirksworth. He was a limestone quarryman like his father Thomas.
George was sent to fight in France on 14 July 1915. Wounded three times, he was killed in action 2 months before the end of the war on 25 Aug 1918, aged only 24. He was umarried and without known children.
He is remembered in the Vis-en-Artois Commonwealth grave memorial, between Arras and Cambrai. "This Memorial bears the names of over 9,000 men who fell in the period from 8 August 1918 to the date of the Armistice in the Advance to Victory in Picardy and Artois, between the Somme and Loos, and who have no known grave."

    1853            1858
    Thomas          Betsy
    GOULD=====v=====COOPER
              |
              |
  |-------|---|---|--------|
  |       |       |        |
 1874    1886    1894     1898
 Thomas  Amy     George   William
 Henry           Herbert
                 GOULD
                 1918 

1911 Census for 41 North End, Wirksworth
GOULD, Thomas Head Married M 58 1853 Limestone Quarryman DBY Brassington
GOULD, Betsy Wife Married 36 years F 53 1858 DBY Wirksworth
GOULD, George Herbert Son Single M 17 1894 Limestone Quarryman DBY Wirksworth
GOULD, William Son Single M 13 1898 School DBY Wirksworth
Click on document image to see an enlargement (CD only)
X632c

Personal property 11 Nov 1918
belonging to the late Pte George Herbert GOULD
despatch to Mr Thomas Gould,
41 North Street, Wirksworth, Derbyshire.

X632d

ATTESTATION of 
13893 George Herbert GOULD Sherwood Foresters
British subject, 20 years 3 months, Quarry man.
NO TO: out of Father's house for 3 years, 
an apprentice, married, imprisoned, 
in armed services, rejected as unfit.
YES TO: Truly stated, willing to be vaccinated, 
to be enlisted,received a Notice, Willing to serve
26 Aug 1914

X632e

STATEMENT of SERVICES
Service reckons from 26.8.14
Joined at Derby 26.8.14
Posted Pte 27.8.14
Posted Pte 3.9.14
Deprived of 7 days pay 18.5.15
Killed in action

X632f

MEDICAL HISTORY
GOULD George Herbert 13893
26 Aug 1914 at Chesterfield
Height 5ft 6.75
Weight 147 lbs
Chest girth 36 inches
Expansion 3 inches
Vision D6 (both eyes)
Marks: Scar under chin
Sherwood Foresters 13893
DECEASED 1918

X632h

Lichfield 21 Nov 1918
Kindly acknowledge receipt of private property
To Mr Thomas GOULD, 41 North St, Wirksworth
of late 13893 Pte Gould G H
Photographs, Watch (wrist), scissors and cutters,
Badge

X632i

CASUALTY FORM - ACTIVE SERVICE
13893 Pte George Herbert Gould
Enlisted 26.8.14
4-12-15          ?              Field         2-12-15
16-2-16 At duty with Battalion  In the Field  16-2-16
14-8-17 Employed ?                  "         14-8-17
        Leave 14.8.17 to 24.8.17
 6-9-18 Killed in action                      25-8-18

X632j

I hereby acknowledge receipt of the 1914-15 Star
I hereby acknowledge receipt of the British War and 
Victory Medal granted in respect of the service of 
13893 Pte Gould G H, Notts & Derbyshire Regt
Date Oct 25 1921
signature Thomas Gould

X632k

DESCRIPTION of Geo Herbert GOULD
Apparent age 20 years 3 months
Height 5 ft 6.75 inches
Weight 147 lbs
Chest 36 inches
Expansion 3 inches
Complexion: Fresh
Eyes: Lt Brown
Hair: Brown
Church of England: Yes
Fit for the Army: 26 Aug 1914

X632l

GOULD George H
Notts & Derby Regt Pte 13893
          Medals
Victory  F/103B5
British  F/103B5
Star     F/1BB     K in A
                   25.8.18
Theatre of War first served in: France
Date of entry therein: 14.7.15

----Anyone with more details for publication on this webpage, please email ----
Dates:
Photo taken:
Size:
Source:
Click on photo for enlargement (on CD only)
Have any more information about this photo? Please e-mail the author on:
Compiled, formatted, hyperlinked, encoded, and copyright © 2011, . All Rights Reserved.