| | | |
| --- | --- | --- |
| Updated 26 Nov 2009 | WIRKSWORTH Parish Records 1600-1900 | |
<!==================================================> <!==================================================>
Gregson's grocery shop, Main St, Middleton, about 1904

Walter GREGSON in the door of his shop.
The little girl may be a relative.

A horse and cart going down Main Street.

Men lounging at a popular meeting point.

Walter GREGSON, grocer
1852-1928
Walter GREGSON was born in Haworth, Yorkshire in 1852 where his father William was a grocer. In 1881 he married Mary Rose (nee DOXEY), widow of Joseph BUXTON.
Denis Eardley writes:
"Main Street, Middleton, with Walter Gregson's grocery shop on the left, next to the post office, in the early 1900s. The man in the centre is standing at a popular meeting point for the men folk of the village at the time, to exchange tales. The road in those days was rather rough and winding, but now, following the demolition of some of the buildings, most of the bends have been removed."
Around Wirksworth.
Walter ran Central Stores grocery shop in Main Street, Middleton for many years, until the shop was leased by the FLINT family about 1928.
Stuart Flint writes:
Just above Alexandria Buildings .... was Central Stores .... which my father leased from the Gregson Family who were the former Grocers at the shop. Dad sold near enough everything barring the kitchen sink. The shop was three storey's high. Dad was a Master Grocer but also had a Drapery Shop at Wirksworth and eventually he converted a house next to Central Stores as a Drapery outlet.. We also sold Provisions which came loose, this meaning that my brother sister and I on Saturday mornings spent the time skinning cheeses or unpacking new barrels of Butter and packs of Lard or boning Bacons. In the Sugar Room we would weigh out 2 lb bags of suger into the blue sugar bags, a tedious job, or weighing loose flour into 3lb bags in the Flour room. Once a week the flour was transported from a Mill at Darley Dale in 56 lb sacks which has to be winched through the floor via a hand cranked crane..We also sold Boots and shoes Patent Medicines Pots and pans crockery china and at Christmas Toys and Gifts. Across the road from Central Stores just visible above the Telegraph Posts were The Barns, one time owned by Gregsons where they kept Horses and a Carriage.
Mary Rose was a midwife. Walter also ran the Middleton Post Office from his shop:
Bulmer's 1895 Directory for Middleton:
Post Office
at Walter GREGSON's | Letters via Matlock Bath
arrive 7 am, depart 6-25 pm | Postal Orders issued only.
Nearest Money Order and Telegraph Office, Wirksworth
Walter was baptised in 1892 at the age of 40, it is not known why he left it so late.

A few yards up Main Street, but on the other side was another Grocer's shop, run by Isaac CLAYTON (1838-1916) and his wife Sarah (1841-1910).

Dates:
Photo taken: 1904
Size:Postcard
Source: John Palmer

Click on photo for enlargement (on CD only)
Have any more information about this photo? 
Please e-mail the author on: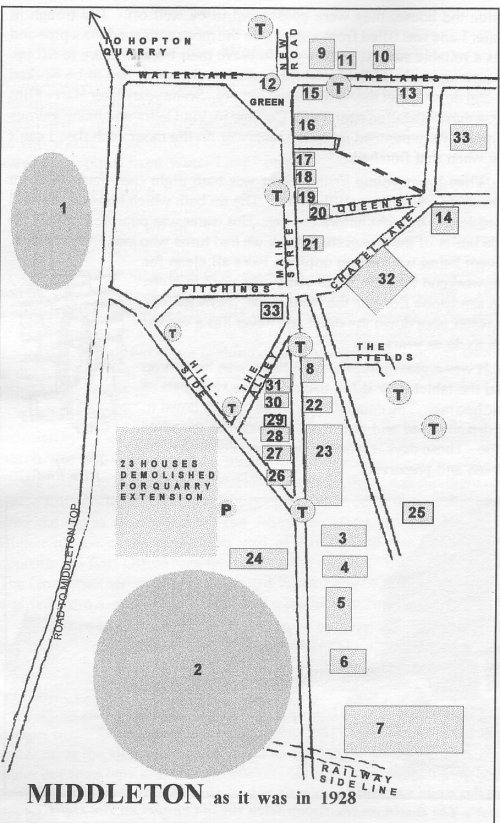 T Water Taps
P Pump
1 Red Hill Quarry
2 Hopton Wood Quarry
3 Holy Trinity Church
4 School
5 Church Hall now Village Hall
6 Gas House
7 Hopton Wood Works and Sawmill now C+G fitting shop
8 Wesleyan Chapel
9 Mount Zion Primitive Methodist Chapel
10 Old Primitive Methodist Chapel - site now Chapel Croft
11 Slaughter House used by Jones now a garage
12 The Basin
13 Duke of Wellington
14 Congregational Chapel
15 Jos Slack's Shop
16 Nelson's Arms and Cottages
17 Statham's Shop and Newsagent - demolished
18 Clayton's Shop now P.O. sold groceries
19 Doxey's Clothes, wool, cotton etc.
20 Wigley's Bakehouse and Shop now 45 Main Street
21 Jones' Butchers - also fish, fruit and veg.
22 Belmont House now Eastas Gate
23 Allotments
24 Cottages and Police House
25 Vicarage
26 Co-operative Store now flats
27 Our House now No. 11 Main Street
28 Uncle Jim and Aunt Esther's House
29 Fountain House which was also doctor's surgery
30 Mr Brooks - pork butcher
31 Boden - barber
32 Uncle John Fox's Field
33 Gregson's Grocer and P.O. Mrs Gregson was a Midwife


                               1811            1802                   1800?            1810
                               Thomas  1828    Sarah                  Thomas           Sarah
                               DOXEY=====v=====SPENCER                BUXTON=====v=====
                               1844      |     1848                              |
                                         |                                       |
               |--------|-----|-----|----|-----|------|------|        |-------|--|--|-----|----|
               |        |     |     |          |      |      |        |       |     |     |    |
              1830     1832  1835  1837       1839   1842   1844     1833    1836  1838  1840
              William  Ann   Mary  Elizabeth  Eliza  Sarah  Emma     Joseph  Mary  Jane  Ann  Ben
                             Rose                           Matilda   |
                              |                                       |
William           Elizabeth   |                                       |
GREGSON=====V=====            |               |-----------------------|
            |                 |               |
            |                 |               |
            |                1835             |
           1852              Mary            1833
           Walter    1881    Rose    1854    Joseph
           GREGSON=====v=====DOXEY=====v=====BUXTON
           1928              1902      |     1878
                                       |
                                 |-----|----|
                                 |          |
                                1859
                                Mary
                                Ann        1861
                                Elizabeth  Joseph
                                BUXTON     BUXTON


Entries in the Census can be followed with these links:
Joseph BUXTON: 1851 | 1841
Mary Rose DOXEY: 1901 | 1891 | 1881 | 1871 | 1861 | 1851 | 1841
----Anyone with more details for publication on this webpage, please email ----
Compiled, formatted, hyperlinked, encoded, and copyright © 2009, All Rights Reserved.