Sam Buckley, with one of his winter-weather boards, installed to help protect the crew from the extreme conditions on the Peakland moors.

Crew of the last scheduled steam train from Middleton Top to Parsley Hay, April 1967. Arthur Millward (guard), Sam Buckley (driver), Dennis Vallance (fireman)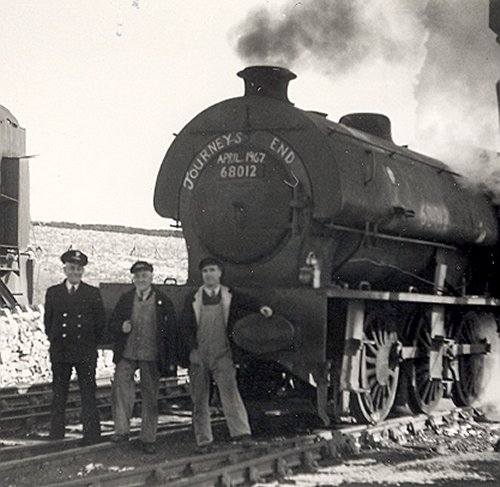 Sam's family placed this plaque on a seat they provided at Middleton Top, on what is now the High Peak Trail.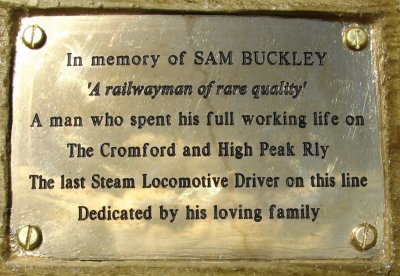 Sam BUCKLEY, engine driver, 1903-1972
[Photos, text and pedigree supplied by Max Hodnett ,thanks Max]
SAM BUCKLEY, who drove the last steam locomotive on the fondly remembered Cromford and High Peak Railway, was not just an engine-driver. He was a remarkable railwayman — highly skilled in the craft of nursing the best out of steam engines over one of the most testing routes in the country. The 33-mile track, noted for its inclines up which wagons were hauled by stationary steam engines, linked the Cromford and Peak Forest canals. It corkscrewed its way over inhospitable terrain from High Peak Junction, near Cromford, to Whaley Bridge, near Stockport. Sam (1903-1972) was a Middleton man who moved to Wirksworth ten years after his marriage to Louie Mary Radford in 1926. He began work on the railway when he was still 13, having gained exemption from a requirement to stay at school until the age of 14. Moving up from the ranks, first as a cleaner, then a fireman, he became driver and it was in this role that he gained his reputation for excellence. After he drove the last scheduled train in April, 1967, he settled down to retirement but nine days later was unexpectedly called back to save the British Rail from embarrassment. They had arranged a number of final enthusiast specials, using two locomotives working as a pair, and manned by Buxton crews. Twice they failed to take these trains up the notorious Hopton Incline. Peter Gater, a lifelong railway enthusiast and friend of Sam, recalls: "For the third attempt, Sam, in his Sunday suit, had been spotted among the crowds assembled at Middleton Top and had been persuaded to once more take to the footplate of his old faithful No. 68012. Off they went . . . blasting out from Hopton Tunnel and raising the echoes for the ascent of the incline. Yet again the Buxton men allowed the pilot engine to lose adhesion, but Sam's magic touch held the train engine and for some time in this manner he both assisted the slipping and winded pilot engine and at the same time hauled the passenger-laden guard's van to a final ascent." Sam was helped on the footplate by one of his sons, Edward, a fireman with the C. and H. P. R. He had four sons, all of whom at one time worked on the railways. The eldest, Samuel Francis, was a signalman and district controller. The third-born, John, was for a time a clerk in the Divisional Operating and Trains Office and Engines and Engineman's Diagrams at Derby, and Geoff, was clerk in the Chief Mechanical and Electrical Engineer HQ, Personnel Office, Derby.
Supplied by Max Hodnett
A Stephenson Society special, one of which Sam Buckley helped to "rescue" after it failed to ascend the notorious Hopton Incline.


Dates:
Photo taken:
Size:Postcard
Source:

Click on photo for enlargement (on CD only)
Have any more information about this photo? 
Please e-mail the author on: