Posted 1909 to Mrs Webb, 39 Mayfield Grove, Nottingham.

Posted 1911-12. Nearby in the valley lies Wigwell aquaduct, Leawood Pumping station, a Midland railway, Derwent river, Cromford canal and a couple of roads.

Occupations in Census at Longway Bank
1841: Farmer,Lead miner,Lab x 3,Stone mason,Coal miner x 2,Ag Lab, Lab, Lab, Lead miner, Ag lab, Publican, Farmer, Lead refiner, Gardner, Stone cutter, Lab
1851: Ret Farmer, Ag lab, Under Gardner, Lead smelter, Coal miner, Red Lead maker, Lead smelter, Wheelwright, Stone cutter, Wood cutter, Ag Lab, Coal Miner, Coal miner, Annuitant, Ag Lab, Hatter, Coal miner, coal miner, Lab at Lead work, Farmer
1861: Land Holder, Lead smelter, Lead smelter, Lab at Smelting Works, Coal Miner, Coal miner,Lead smelter, Ag Lab, Higler, Sempstress, Wood cutter, Blacksmith, Stone merchant, Farmer, Landed proprietor, Lead smelter, Hatter, Lead smelter, Housekeeper, Lead smelter, Farmer
1871: Servant, Annuitant, Smelter, Ag Lab, Servant, Wheelwright, Quarryman, Ag lab, Ag lab, Ag lab, Hatter,Gamekeeper, Quarryman, Ag lab, Farmer
1881: Farmer, Ag lab, Lead miner, Bookkeeper, lead ore smelter, Quarry lab, General lab, lead ore smelter, Farmer, Charwoman, Gerneral lab, Brickmaker, Farmer, Joiner
1891: Farmer, Ag lab, Stone wall builder, Brick maker, Stone cutter, Lead smelter, Quarryman, Charwoman, Lead smelter, Farmer, Own means, General lab, General lab,
1901: Labourer, Railway signalman, Stone cutter gritstone, drayman sanitary pipe, lab sanitary pipe, Lab on roads, Gritstone quarryman, ret.lead smelter, railway engine stoker, Gritstone quarryman, Lead smelter, gritstone quarryman, own means.
Longway Bank, Wirksworth

Not sure just where this is in Longwaybank, perhaps someone could enlighten me? Longwaybank is a small village about 1 mile NE of Wirksworth. Could it be Birchwood Farm, now a caravan park? [No, the occupant Mr Smith assures me it is Meerbrook Farm, close by at 314-552]
LONGWAY BANK, 2 miles E. by N. from Wirksworth, is a hamlet of scattered houses, principally occupied by miners, The Wesleyans have a chapel here erected about 20 years ago.
(White's Directory 1857)
Longway Bank is named from Old English lang 'long' + hoh 'hill spur'.
Population of Longwaybank
  Census Houses People 
    1841   18     95
    1851   20     83
    1861   20     74
    1871   16     59
    1881   14     68
    1891   13     54
    1901    8     31

Nearby at Whatstandwell, the River Derwent, Cromford Canal, Midland Railway and A6 road almost touch as they all try to squeeze through a narrow gap in the Ambergate Valley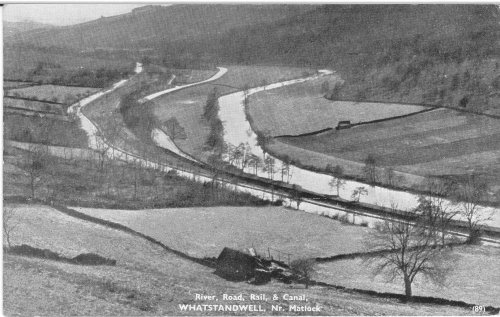 Dates:
Photo taken:
Size:Postcard
Source:

Click on photo for enlargement (on CD only)
Have any more information about this photo? 
Please e-mail the author on: