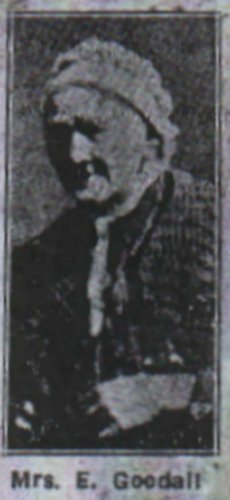 Cutting probably from the Derbyshire Times 1938
MRS E GOODALL

Funeral of Middleton Octogenarian

The death of Mrs Emma Goodall, aged 89, occurred at the home of her daughter, Mrs Wilson, Moor Road, Bole Hill, on Sunday. Mrs Goodall, who was the widow of Mr James Goodall, of Middleton, was the daughter of the late Mr and Mrs Samuel Mather, of Middleton. Her father was a miner, and she taught herself to read. When about 10 or 11 she went to work at Lea Mills, and worked there until she married.

Mr and Mrs Goodall were married at Chesterfield Parish Church, and celebrated their diamond wedding in May, 1930. Mr Goodall walked to his work at the Mill Close Lead Mine, near Darley Dale, a matter of 5½ miles, each day 1. He worked until he was 70 years of age. Mrs Goodall leaves four sons and two daughters.

The interment took place at Middleton, the Rev F Kelly (Vicar) officiating. Mourners were: Mr James Goodall, Mrs Wilson, Mr Thomas Goodall, Mrs H Millward, Mr J Goodall, Mrs Thomas Goodall, Mr G Goodall, Mrs G Goodall, Mr Jack Doxey, Mr Ted Mather, Mrs A Millward, Mr Jack Goodall, Mr I Spencer, Mrs A Kendall, Miss K Goodall, Mrs E Wilson, Mr Joseph Gould, Mrs Corless and Miss Buckley (representing the Women's Club).

Bearers were Messrs E Wilson, Bert Goodall, Eric Goodall, H Milward, F Millward and Frank Doxey.

Flowers were sent by: Ann and family; Fanny and family; Jim and family; Tom, Ethel and family; All at Homesford; George, Alice and family; Harriet Adam and family; John Doxey and family; Phoebe and family; Doris Gould; Cousin Jack; Mr F Oxspring; Mr and Mrs J F Doxey.

Mr A Killer, Bole Hill, carried out the funeral arrangements.