In 2005 Rose Kelland of South Africa wrote: (see photos 360 and 361).
The earliest ancestor I have is JOSHUA ASH who died in 1718.
But taking it from WILLIAM ASH (born 1832) who married ( ) ELIZA HAYES (born 1830) Children JOSEPH (born 1856), GEORGE (born 1858) and WILLIAM (born 1860.
JOSEPH married (in 1879) CLARE TURNER (born 1859 died 1881) Children MAUDE LYDIA (born 1879) and EDITH (born 1880 died 1886)
JOSEPH married second wife EMMA SLATER (born 1854) Children FREDERICK (born 1886), GERTRUDE (born 1888), WALTER (born 1889 died 1973) and BERTHA (born 1893)
WALTER married (in 1913) LYDIA REBECCA HAWLEY (born 1888 died 1976) Children MARJORIE (born 1914 died 2004), EVELYN (born 1916 died 2003), MABEL (born 1919 - my mother, still living), RAY (born 1921 died 1998), JOSEPH (born 1923 died 1998) and EILEEN REBECCA (known as Betty. Born 1925 died 1979)
MABEL married (26 Dec 1942) ALBERT DOUGLAS STREET (born 1920 died 2002) Children ALLEN (died a few hours old - still don't know exactly when), MALCOLM DOUGLAS (born 1944), JUDITH ANN (born 1948), ROSEMARIE EVELYN (born 1958) - that's me!!!
Therefore JOSEPH ASH is my great grandfather!
This is what my mother wrote about her father's father - Joseph Ash: "Dad's father was a local preacher in the Methodist Church. He was short with white hair and a little goatee beard. Grandma was his second wife, I saw her as a rather distant aristocratic lady." "We used to sit with Grandad Ash in church on Sunday evenings and he gave us strong peppermints to suck and made rabbits with his handkerchief to keep us quiet!"
Other photo's I have are: ALBERT PERCY STREET (born 1887 and my grandfather on my father's side) and MARGARET DAISY (nee ASHFORTH) taken around the 1950's.
WALTER ASH (born 1889 - my grandfather on my mother's side) and LYDIA REBECCA (nee HAWLEY) taken early 1900's.
Crich Carr School class photo taken around 1928 - 1930,
Matlock County Junior class photo (with names) taken around 1934
RAY ASH (born 1921) son of WALTER & LYDIA ASH in military uniform - not to be confused with the Ray Ash who has submitted photo's to other websites!!
JOSEPH (JOE) ASH (born 1923) also in military uniform.
Maybe you can help me out with this question : In the 1960's my parents worked with the well-known evangelist Ken Terhoven and his PROJECT EVANGELISTIC CRUSADE. They operated from what we called WOODLANDS CONFERENCE CENTRE. According to the history he wrote it was a private school which closed down owing to the ill health of it's principal. It had been a Spa Hotel and during the war years had been taken over by the RAF as a base. It had 70 rooms, and dormitories, several self-contained flats, dining room, and lounges. It was situated on Wellington Street spanning to Chesterfield Road at the back - this road led to the Duke of Wellington pub. There has been a lot of mention of various hydro's etc in various websites and I wondered what this original building was called and it's history. About 10 years ago Ken told me that I would be very disappointed to see it now as part of it was broken down and was a parking area (?) I will try and scan a couple of photo's through tomorrow - if I remember! It is one of the 'memory lanes" I will walk down in few weeks time.
Thank you for your interest and great help and time!
Rose Kelland (nee STREET)
Rose Kelland of South Africa writes:
Joseph ASH was born 1856 of William and Eliza ASH (nee HAYES), married 1855, of George HAYES and Hannah. Joseph first married Clare TURNER, then Emma SLATER (see photo 360).
Browse the following Census links: 1841, 1861, 1871, 1881, 1881, 1891, 1901

Emma ASH nee SLATER

Joseph ASH

The couple sitting in the front are my grandparents on my mother's side WALTER & LYDIA ASH (Nee HAWLEY). This was taken at their 25th wedding anniversary in 1938. They were married on 7th August 1913. From left to right standing with relationships as relating to my mother MABEL ASH: cousin DORIS GREGORY, brother JOE, cousin MARY DOXEY, sister EVELYN, brother RAY, auntie PATTY HAWLEY, MABEL ASH, auntie CLARA HOPKINSON (nee HAWLEY), and next to her in similar dress auntie ETHEL ASH, (Bernice Ethel, nee HAWLEY), lady between Clara and Ethel unknown, sister MARJORIE, (at back) and auntie BERTHA GREGORY (nee ASH) in front. Also don't know who the man half hidden is. There are no names for the children in the front.
Walter & Lydia's children are therefore, Joe, Evelyne, Ray, Mabel, Marjorie and the mystery lady may be Eileen Rebecca (known as Betty) but she would only have been 13 years old and this lady looks older than that.
Lydia and her sister Ethel married two brothers - Walter and his brother Frederick. If you want further dates or info, please let me know.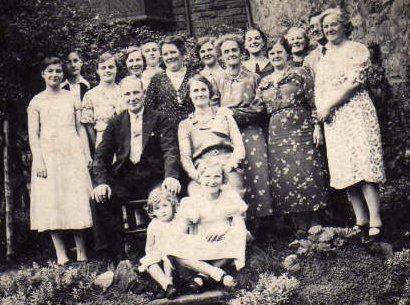 I'm not too sure if you already have this one. It is a class of Crich Carr School. 4th on the left back row is my father ALBERT DOUGLAS STREET, known as Doug. Born 6th May 1920 and died 11 Aug 2002. So this photo must be mid 1920's. No other names are known, but if anyone can add names it would be wonderful!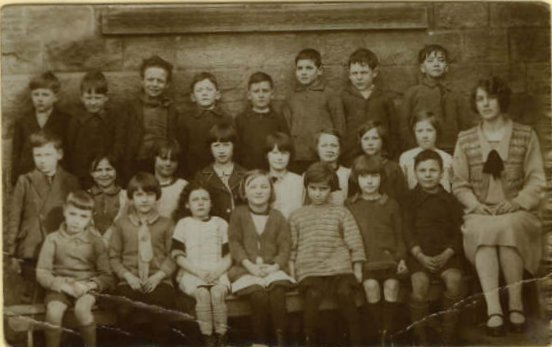 Dates:
Photo taken:
Size:
Source:Rose Kelland 

Click on photo for enlargement (on CD only)
Have any more information about this photo? 
Please e-mail the author on:



"Dad Street" This refers to my dad, Albert Douglas Street known as Doug. Here is the boy on the fence with the cap.
He has his hand on his mother's shoulder, MARGARET DAISY STREET (nee ASHFORTH). His father ALBERT PERCY STREET is on the right holding (probably) cousin DOUGLAS GRAHAM.
The lady behind MARGARET DAISY is possibly 'auntie' OLIVE, Margaret Daisy's sister full name GERTRUDE OLIVE. She married ALEC GRAHAM, kneeling, and their two children are FLORENCE sitting on the fence and DOUGLAS being held by his uncle ALBERT PERCY! This photo was apparently taken in 1929 which makes ALBERT DOUGLAS STREET 9 years old, on holiday in Scotland, where Olive moved to with husband Alec.


This is my Grandma and Grandad Street - my father's parents. ALBERT PERCY STREET and MARGARET DAISY ASHFORTH. Albert Percy born 27 July 1887 in Baslow, died 6 August 1959. Margaret Daisy born on 15 March 1887 in Blackpool died 25 march 1961. Married 2 June 1912. It looks like they are in Hall Leys Matlock, what do you think?


This is another one of 'Nana & Grandad Street', which was probably taken somewhere in the 1950's as he died in 1959.


Hayes, Ash, Hawley and Street families.
1803 1804 George 1827 Hannah HAYES=====v=====CROWDER 11,12 | 11,12 | |----------|------|---|--|------|-------|----| | | | | | | | 1830 1832 1834 1835 1838 1842 1846 Elizabeth Eliza James Ann George Ann Hannah 1831 | 1834 1837 1839 | 1832 | William 1855 Eliza ASH======v=======HAYES | 7,11,12 | |-------|---|---| | | | 1856 1858 1860 Joseph George William | | 1859 1856 1855 1857 1857 Clare 1878? Joseph 1885 Emma Albert 1877 Mary =====v=====ASH=====v=====SLATER HAWLEY=====v=====BAGSHAW 5 | 1,3,5,7 | 1,3 2,4,6,8,9 | 2,4,6 | | | |--|---| |---|------|-------| |------|--|-----|-------|-------| | | | | | | | | | | 1880 1879 1887 1890 1894 1883 1885 1889 1892 | Edith Maud Frederick Walter Bertha Clara Bernice Lydia Albert Patty |---------| 5 Lydia 1,3 | 3 1 4 Ethel Rebecca E | | | 3,5 | 2,4 | 2,4 2 1887 1887 | | | Albert Margaret Gertrude 1890 1889 Percy 1912 Daisy Olive Alec Walter 1913 Lydia STREET=====v=====ASHFORTH ASHFORTH====v====GRAHAM ASH==============v==============HAWLEY 1959 | 1961 | | | | | | |----|----| |-------|------|-----|----|--|------| | | | | | | | | | 1920 | | 1916 1919 1921 1923 1925 Albert Florence Douglas Evelyn Mabel Ray Joseph Eileen Marjorie Douglas 2003 | 1998 Albert Rebecca 2002 | 1998 1979 | | | | Albert | Douglas Mabel STREET=================V==========================ASH | | |------|----|---|-------| | | | | | 1944 1948 1958 Allen Malcom Judith Rosemarie Informant Douglas Ann Evelyn