| | | |
| --- | --- | --- |
| Updated 8 May 2008 | WIRKSWORTH Parish Records 1600-1900 | |
<!==================================================> <!==================================================>
X579.

X579b. Enlargement.

X579a.


Heights of Jacob, Matlock Bath.

Lee-anne Taylor from Australia writes:
Here are two photos that are different from what you already have- Photo one [X579] is of Jacob Raynes the elder gentleman. With Mary Ellen Rolley to his right (on left of photo). It is said that Mary Ellen (Ellen) was a very tall woman for her time and a very proud warm woman. I'm not sure who the other three are I can speculate. Photo taken between 1895 and 1904.
Second photo [X579a] is of Jacob Raynes at the Tea House that first his wife Mary Bond nee Rolley and her niece Mary Ellen Rolley operated at the Heights of Jacob. Jacob Raynes took tours into the Fluor Spar Cavern situated beside the Tea House. The Tea House & Cavern was sold after Jacob's death and Mary Ellen Rolley operated a boarding house out of Primrose Cottage for about 5 years until 1909. In 1909 Mary Ellen Rolley and her son Arthur emigrated to Brisbane Australia, where her brother Thomas and an Aunt Ann Bradshaw nee Rolley had previously done so. Both photo's were brought to Australia with Mary Ellen & Arthur Rolley in 1909. In searching the net, I've never come across an actual photo of Jacob's Heights only photos taken from there. I'll look through the post cards that Mary Ellen bought with her and see if any differ greatly from what you already have posted.
Regards Lee-anne
X579d. Unused picture postcard of Jacobs Heights Matlock Bath. Belonging to Mary Ellen Rolley and her son Arthur Rolley of Primrose Cottage Matlock Bath and was transported with their belongings to Australia in 1909.
I believe may have been taken after Jacob RAYNES death between 1904 & 1909. This could depict the new proprietor George Adam CRAIG, from 1907 to 1916 according to Kelly's Trade Directory.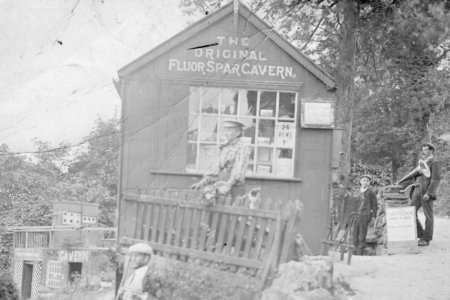 X579c. Jacob Raynes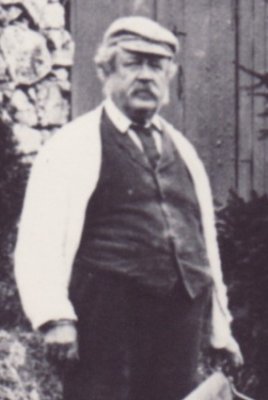 Dates:
Photo taken:
Size:
Source:Lee-anne Taylor of Brisbane, Australia.

Click on photo for enlargement (on CD only)
Have any more information about this photo? 
Please e-mail the author on:


NOTES on Mary Ellen
Mary Ellen was about 6 months old when her mother Louisa Jane Rolley (nee Buckley) died. Her father sent her to live with his oldest sister, Mary Bond (nee Rolley) Raynes after the burial.
Mary Raynes lived in Primrose Cottage Upper Wood Matlock Bath, Derbyshire with her husband Joseph and daughter Harriett. This is where she stayed until the age of 39. It is said that Mary Ellen's two brothers never forgave their father Samuel for this decision.
At the age of 16 in 1881 Mary Ellen was employed as a cotton spinner at Matlock in Derbyshire and was still living in Primrose Cottage. But she kept in close contact with some of her immediate family in the Manchester area; it is not known if her father was one of them.
In 1896 Mary Bond 'Rolley' Raynes died in the April-June quarter. Mary Ellen had already taken over the management of the Tea Rooms at The Heights of Jacob during Mary Raynes illness. And the running of Primrose Cottage along with the care of Mary Raynes. Mary Ellen's greatest regret and wish was not having married or giving birth to a child.
On the 4 November 1896 Mary Ellen Rolley age 39 at Primrose Cottage gave birth to a boy called Arthur Rolley.
Arthur was told his father was Jacob Raynes from birth. Jacob Raynes acknowledged Arthur as his son but would not give him his name, for reasons lost in time. Descendants of Arthur look remarkably like Jacob.
Mary Ellen and Arthur remained at Primrose Cottage after Jacob died in 1904 when Arthur was 8.
The Heights of Jacob were under new management in Kelly's Trade Directory from 1907-1916 by George Adam CRAIG. At this time I have not been able to establish what occurred with the Heights of Jacob between 1904 and 1907.
Mary Ellen and Arthur were still at Primrose Cottage in 1908 when in the Kelly's Postal directory for business' Ellen Raynes was listed as proprietor of Primrose Cottage apartments. And in 1909 Harriett, Jacobs's daughter wished for the cottage to be sold.
And this is when the Mathias & Ann Bradshaw, Mary Ellen's Aunt, convinced her to immigrate to Brisbane Australia for a fresh start for her and her son. And to be close to family that had already Immigrated to Brisbane Australia.
(Ann Bradshaw nee Rolley was the younger sister of Samuel and the family peacemaker and the contact link between all the family members. She was universally loved by all)
So in 1910 her Uncle Matthew [Mathias] Bradshaw, who was then living at Myall Cottage in Ekibin Road Brisbane, nominated them for immigration to Australia.
Matthew paid 2 pounds and 6 pence to make the application on 1st April 1910. A warrant was issued on the 16 June 1910.
Mary Ellen 45 years and Arthur 14 years, Left Tilbury docks London 16 September 1910 and arrived in Brisbane on the "Orsova" on the 31st October 1910.
Mary Ellen died in Brisbane on the 14th June 1945 and was buried in Toowong Cemetery Brisbane on 15th June.
Inscription reads "Our Mother Mary Ellen Rolley- mother of Arthur"
Primrose Cottage
As described in a late 1900's Real Estate advertisement.
Situated in a quiet position above Matlock Bath with fabulous views. Take the first right hand turn, into Holme Road. Bear left proceeding to up Upperwood Road; continue through the "narrows", up the Hill until the road levels out slightly. The property is second white cottage on the left hand side.
Lee-anne Taylor
Compiled, formatted, hyperlinked, encoded, and copyright © 2008, All Rights Reserved.