Website million up. I just missed it, readers were logging on 2 per second.

The engine room, where all the work is done, in the webmaster's bedroom!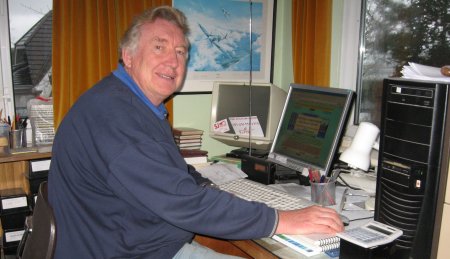 The small library in box files and card index boxes.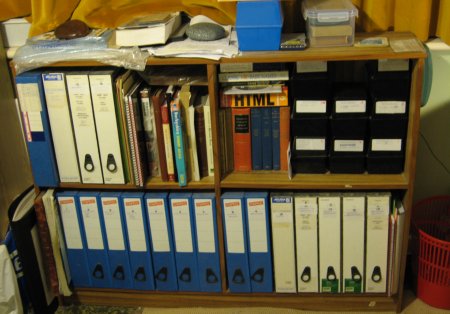 Millionth website visitor

Reader, please excuse the webmaster a bit of self-indulgence.
After almost 10 years the visitor counter for this website reached 1 million on 11 Jan 2008 at 08:56:04. Hits were coming in 2 every second around the million mark.
I've been working at the records for about 1,000 hours per year for 13 years. Thanks to Tim Berners-Lee for inventing the worldwideweb that makes it so easy to contact so many people, and update the information so quickly.
I sent this email to DERBYSGEN mailing list.

Hello Folks,
The Wirksworth website on http://www.wirksworth.org.uk is celebrating its millionth visitor sometime today (Friday 11 Jan 2008), see if you can catch it changing from 999,999 to 1,000,000.

The website was launched on 12 July 1998, so is just short of 10 years old. It has grown a lot since then, and now has 2,000 pages and 2,100 pictures. Also 450,000 records from Census, Parish Registers, Crime and Wills. It studies 40 square miles around Wirksworth in Derbyshire, about 1/25 the area of the county, see http://www.wirksworth.org.uk/A58-MAP.htm In 2007, an average of 1,500 pages were read by someone every day. The website back to 27 Apr 1999 can be viewed on: http://web.archive.org/web/*/http://www.wirksworth.org.uk/ and http://web.archive.org/web/*/http://www.lds.co.uk/wirksworth

Although run by John Palmer throughout, he has had tremendous help from a great many people over the years, who have sent pictures, pedigrees, transcriptions and emails. The only mailing list used has been DERBYSGEN.

Best wishes and thanks to all concerned,

John Palmer, Dorset, England
Author of Wirksworth website
http://www.wirksworth.org.uk
Afterwards, I got quite a few congratulatory emails. See also more reader's comments

John - New Year greetings, and many congratulations!
John, I've visited your Wirksworth site from time to time since it's early days - it gets better and better. I'm so impressed with it, felt I just had to say!
Well done John. It's an excellent site for such a large area of Derbyshire.
Congratulations John - it's a fantastic website and has proved very useful to me over the last few years!
Thanks, John. I found a stray CREE from Lincolnshire working at the Hydro in Matlock! (PS. I was visitor #1000049).
Bother! Missed it by 37!! Here's power to yer elbow, John. A wonderful site.
Well done. I am sure it has helped literally thousands in their family history quest, and given pleasure and knowledge to many more as well.
Congratulations! Many thanks, John, for your efforts - it is a tremendous resource, not only for Wirksworth, but adjacent areas.
Congratulations on the landmark John. I have oftened wish more of my ancestry was from Wirksworth just because its such a good resource!
Congratulations to you John and all of your contributors. Many thanks for your site.
Congratulations, John. Caught this just as we are packing for our annual camping holiday to the East Coast.