Icon of Our Holy Father Betti, Priest and Founder of Wirksworth.
By the hand of Aidan Hart, the most famed of the iconographers of Western Saints today. See his website at Aidan Hart Sacred Icons,

© Aidan Hart, published here with his permission, many thanks.

Taken 0930, 20 Aug 1859 by Alice Hurt showing castellations on the Nave, chancel and north transept; and upper windows of the north transept, all removed by Scott's 1870 restoration. Traces on the tower wall of the steep pre-1500 Nave roof can be seen.
This is one of the earliest photos of St Mary's Church existing.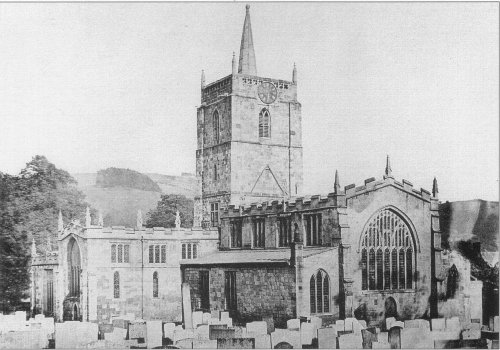 A collection of carved stones from near the North door, probably Saxon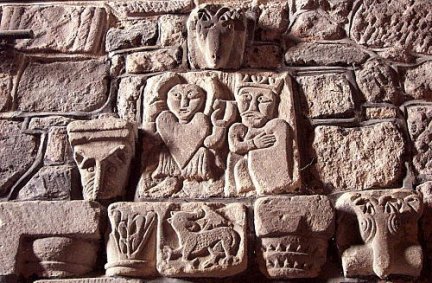 Saint Betti of Wirksworth c653 AD

Bede and Betti were two monks living in Northumberland in the 7th century. Edwin, king of Northumbria, accepted Christianity in AD 627.
Bede (672-735) was a Benedictine monk living at Monkwearmouth. He was an author and scholar whose most famous work was "The Ecclesiastical History of the English People". He became known as the Venerable Bede soon after his death, and his tomb is in Durham cathedral.
Betti was a Saxon monk who, in 653 AD came down from Northumberland as a missionary and founded the Christian church at Wirksworth, becoming its first priest. His tomb is probably "The Wirksworth Stone" in St Mary's Parish Church in Wirksworth.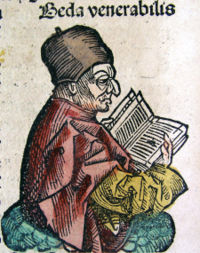 Bede says that Peada, who was the son of the pagan king Penda of Mercia, wanted to marry Alchfled, daughter of the Christian king Oswiu of Northumbria. Oswiu agreed, on condition that he became a Christian. On hearing the gospel, he willingly converted. Bede says that Peada was baptised at a village called At-Wall, which may be Walton, near Newcastle. An interesting local tradition independent of Bede suggests that the baptism took place at Sandbach.
Alchfled came south with four priests in 653; their names were Adda, Betti, Cedd and Diuma. That was the start of the Christian mission to Mercia. Diuma became bishop of the Mercians and Middle Angles, settling at the Mercian capital, Repton. Cedd was soon recalled to Northumberland, and was to have a later mission to East Anglia. Tradition says Betti founded the church at Wirksworth. It is not clear what happened to Adda.


In 1820 a Saxon grave-lid was discovered in the chancel of the church. Known as the Wirksworth Stone and highly decorated with religious scenes, it is dated before 692 AD. Beneath this stone lay a well preserved skeleton of a tall man, probably that of Betti.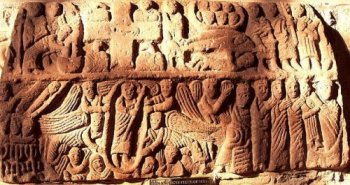 The date of Betti's death is not recorded, but it is eminently possible that he was buried beneath the Wirksworth Stone. The upper register of the carvings includes a crucified lamb, which of course represents Jesus, "the lamb of God who takes away the sins of the world". Christian iconography has always had the purpose of communicating the truth of the Gospel, but in the seventh century, people were not as literate as they are today, and some Christian leaders were worried that a representation of a crucified lamb might mislead some people into thinking that it really was a lamb, rather than a man who was crucified. This was one of the matters discussed at a Christian Council held in Constantinople in 692; they issued a canon or church law, that banned such artistic representations. Thus, this stone must have been carved either before 692 or else in defiance of canon law, which seems much less likely. Everything about this artefact is consistent with it having been the cover of Betti's grave - an exciting confirmation that Bede and others who documented Anglo-Saxon history were recording real facts, real events and the activities of real people.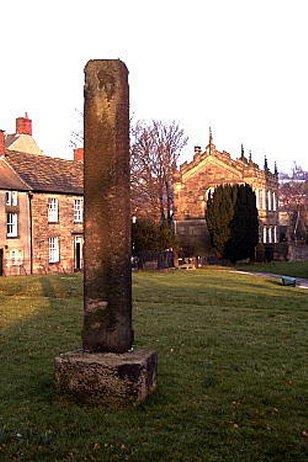 This mediaeval cross-shaft (left) is standing in a corner of the churchyard on a base that appears somewhat older, and may also be of Saxon Age - perhaps it is the base of the first preaching cross erected here, which may therefore be the oldest relic at the site.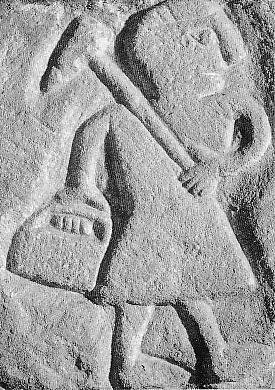 Embedded in the wall of the south transept is the Saxon carving of a lead miner, complete with pick and kibble which was brought from nearby Bonsall in 1876. Known as T'owd man, it has become synonymous with Wirksworth and is regarded by most as an emblem of the town.