| | | |
| --- | --- | --- |
| Updated 7 Dec 2007 | WIRKSWORTH Parish Records 1600-1900 | |
<!==================================================> <!==================================================>
Market Place, Wirksworth.

Bertram Haworth 1904-1998 wrote The Haworth Manuscript
in 1974 about childhood memories of Wirksworth. Here are
extracts describing parts of this photo, taken about 1910.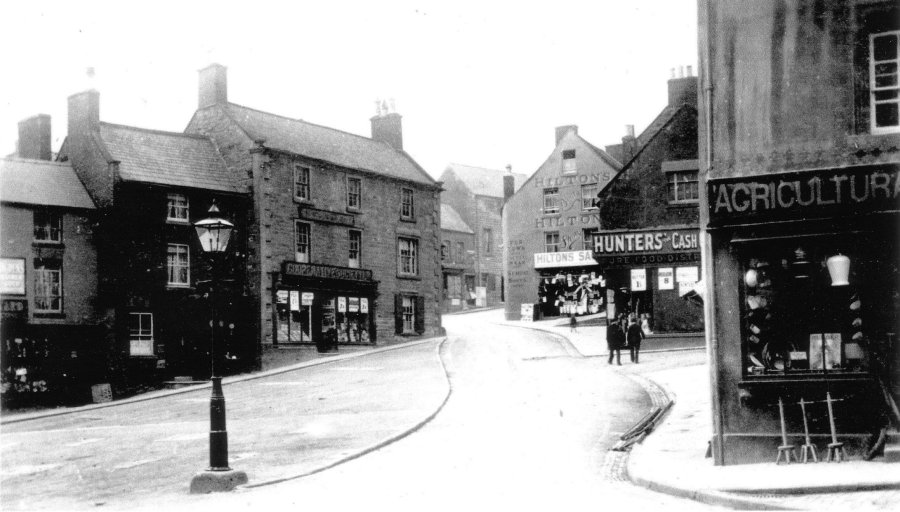 "Shall we start at the West End, the top of the Market Place. This was the Pig Market and was an area which was cobbled with stone sets and, on market days and fair days, it was here that farmers brought their pigs to be sold. Bundles of hay and straw and wooden palings helped to keep the pigs confined to that area. The noise and the smell gave a proper farmyard atmosphere."
"Below that was a long building which stretched across the top, from The Road (West End) to within 10ft of the doctor's house and level with his front door. This was, in early days, a milliners' establishment and here were made the dresses and hats for the "better off" ladies of Wirksworth. I have been told quite a lot about that because my mother was apprenticed there and was on staff for some years. Upon the death of the proprietor, a Mrs. Hall, the premises were turned into a Conservative Club. I have spent many happy hours as a guest of members. I could not become a member because our family had a Liberal tradition to maintain. However, in my youth, I was considered a useful snooker player (I do hold the record of 52 for Wirksworth snooker), so have played there in several challenge matches. Supposed to (be) evidence of a mis-spent youth if you are fine at table games."
"Below, on the Market side, was Mr. Millington's shop. A remarkable man - who could clean and repair any mechanism if he so wished. He was one of our real characters. Apprenticed in Derby, he cycled down to Sadler Gate in Derby on Sunday evening to be ready to start with his foreman at 7 o'clock am Monday. At night he slept under the counter in the shop and returned to Wirksworth on Saturday night after 8pm. Later he worked in Wirksworth and took over the business when Mr. Evans the proprietor left to open a shop in Matlock Dale Road. One prospers and one just lives and enjoys life. Mr. Millington was a keen gardener and an unscrupulous competitor at the local horticultural shows. So flagrant were his actions that finally he was (de)barred from all competitions. He also was a keen rabbit man and always kept ferrets and gun dogs. He had a dog which slept under his work bench next to the ferret box. His shop was the meeting place for all the men of his ken. Little work was done, but much libelous conversation was heard. He was also a great beer drinker. A type of Wirksworthian we shall never see again."
"Down again to a tobacconist shop kept by a Mrs. Pickard, who was stone deaf. It was considered a joke to slip into her shop, quietly whilst she was arranging her stock of cigarettes, and suddenly yell, causing confusion etc. She was so deaf that she was unable to say if this had been done on purpose - that is, if you kept your face straight. Otherwise you were reprimanded, then reported - that meant a good hiding. All considered in a day's march. Below again was the house with the door opening onto the market."
"We are now down to within 10ft of the Hope and Anchor. This area has also changed. Where now is the dining room of the Hope and Anchor was a shop. I remember it as Palin's, the green-grocer, in my early days - later they moved across the Market. But, for many years after that, it was a baker's shop kept by a Mr. Brough. His bake house was across the narrow Causeway as shown on the map. Mr. Brough's son was Charlie who you knew so well. Imagine the smell of hot new bread which came from out of the bakehouse. One could stand outside and see the loaves, cakes and buns being taken from the oven. He also baked meats and made Cornish Pasties and sausage rolls."
"Next door again was the Miss Greatorex's establishment, who sold home made sweets and everlasting sticks and liquorice bootlaces. For 1d one could have a night's enjoyment from Miss Greatorex. The shop had a paned bow window and it was one step down to the counter. This corner I now can see was a typical Dickensian corner, also all gone."
"Opposite was, as shown, two cottages. These cottages and the bakehouse formed the base of an isosceles triangle of buildings. Across from the cottages was a curio shop kept by a Mr. Millward. His shop was a curious jumble of bric-a-bat. I never knew if he sold anything. I remember he had gold rimmed glasses on the end of his nose and he took snuff. This, we were informed, was a "dirty habit" and he was looked on with suspicion.
"So there we have one side of the Market which has now all disappeared. It was demolished in one of Wirksworth's great upheavals, but quite recently, perhaps 1930. As that needs recording, perhaps that might need a special paragraph later."
"Up to the other side of the "Market Place No 1". Structurally, this side is almost the same, although the uses to which the premises have been put have altered." The Building Society's place was Hilton's Boots Shop (kept by Mr. Pattin)."
"Then the Black's Head (as now)."
"Below was the London Central Meat Shop"
"and then Hunter's shop. These two are now combined into the Laundromat. Palin's shop was the Crown Inn, a very old establishment with extensive stabling in the rear.
"Then Bradley's and so down to
"Marsden's at Scotts Corner, so called because years ago a cripple called Scott used to sit at the corner for many years."
Bertram Harworth's sketch of The Old Market Place as he remembered it around 1910.

Compiled, formatted, hyperlinked, encoded, and copyright © 2007, All Rights Reserved.