Taken during 1850's by Alice HURT, from a vantage point on the bridge. The group of people are believed to be Albert Frederic HURT (1835-1907) and some of his family. The building which can be seen through the trees to the left of the Lodge is an old corn Mill. This is no longer visible from this vantage point due to the growth of the woodland. The property on the skyline above the Lodge is Hankin Farm.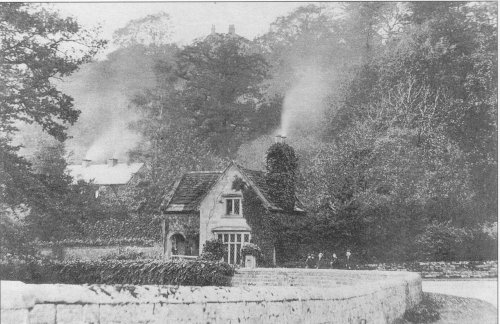 Posted 1904.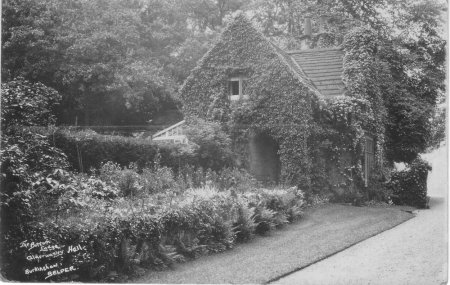 Bottom Lodge, Alderwasley Hall.

The Bottom Lodge of the Alderwasley Estate stands at the entrance into the Park from what is now the A6 at Whatstandwell Bridge, OS reference 330-544.
The Census shows the following people living in the Lodge:
1901 Edwin Wallis, 52, Gardener
1891 Edwin Wallis, 42, Gardener
1881 Edwin Wallis, 32, Gardener
1871 Hannah Kirk, 55, Lodge Keeper
1861 Martha Barnes, 50, Lodge Keeper
1851 Martha Barnes, 40, Agricultural Labourer's widow
1841 Martha Barnes, 30, Ag Lab's wife

Taken during 1850's by Alice HURT.
Alice HURT (1837-1894) was one of 15 children of Francis HURT (1803-1861) and Cicilia Emely, living at Alderwasley Hall. [Alice's extended family over 500 years can be seen on: The HURTs of Alderwasley on this website. See more of more of Alice Hurt's photos]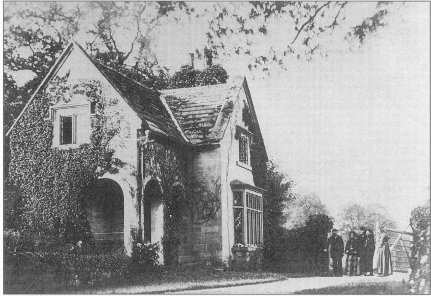 Bottom Lodge appears in the center of this photo, above the approaches to Whatstandwell Bridge.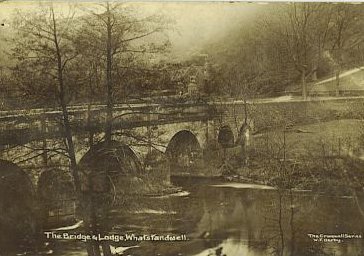 Dates:
Photo taken:
Size:
Source:

Click on photo for enlargement (on CD only)
Have any more information about this photo? 
Please e-mail the author on: