| | | |
| --- | --- | --- |
| Updated 28 Mar 2009 | WIRKSWORTH Parish Records 1600-1900 | |
<!==================================================> <!==================================================>
Bradley House and gardens

Bradley House and tennis courts

Taken 2007 by Keith Repton

Site of the old Wirksworth Youth Hostel
Image using Google Earth, Lat. & Long. are 53.093062, -1.569260 .

Bradley House, Steeplegrange
old Wirksworth Youth Hostel.
The old Wirksworth Youth Hostel closed about 1950, becoming Bradley House, a private residence. It has now changed again, and is used by a firm selling welding equipment.
Max Hodnett writes:
After chatting to old friends at Wirksworth, I have located Bradley House. It is at Steeple Grange, on the right going uphill towards Cromford. It is roughly 200 yards beyond a turning to Bolehill, where a war memorial shelter stands. Two reasons why I did not recognise it:
1. When I lived in Wirksworth it was known simply as the YHA. It is now a private house again.
2 It stands side-on to the road, so a passer-by will see only one end of the building and its size will not be apparent.
The gardens and tennis court shown in the old photographs have long since been built over.
So I would say that Bradley House is one of those properties on Steeple Grange more or less opposite the recreation ground, possibly the one abutting the 'P' in Steeple Grange, or the final 'E' in Steeple, but the shapes don't seem right as my friends said it was built sideways on to the road. They did add, however, that the words "Bradley House" are still visible.
Margery Whitham writes:
I can tell you a little more about Bradley House. In the early 1950s my Uncle Frank GALLIMORE and his wife Edna PARKER bought the house. He was a stocking manufacturer and I am pretty certain the machinery was in the building behind Bradley House. Some years later a bungalow was built on the tennis court and my two aunties Edna and Ethel (both widows) lived there. Initially the bungalow was to be named "Whychwood" but some family member pointed out to the aunties that if two ladies were living there the local children were bound to say they were "two witches". The fields behind Bradley House were known as "Eylees" so my aunts adopted the name and the new bungalow became "Eyleys". I last stayed with my Uncle and Aunt in Bradley House around 1958.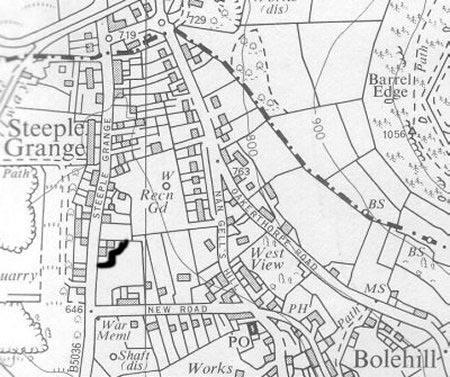 Bradley House as Wirksworth Youth Hostel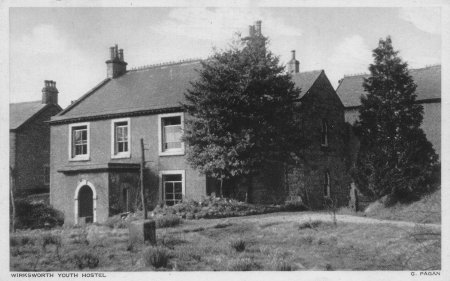 Stuart Flint writes:
As I thought Wirksworth YHA was where Mr Reed lived now known as Bradley House (See Max Hodnetts photo's your web pages for another photo when Mr Reed lived there)..... Many of my family lived in the same area of Steeplegrange .ie Norman and Lillian Harrison deceased Lillians sister Ethel Petts deceased. Mr Reeds shop was the small grey painted one below and next to Paynes Chemist Shop Wirksworth which was crammed to the gills with toys and tobaco and pipes with the wonderful aroma which old fashioned tobaconists had.

Dates:
Photo taken:
Size:
Source:

Click on photo for enlargement (on CD only)
Have any more information about this photo? 
Please e-mail the author on:


Compiled, formatted, hyperlinked, encoded, and copyright © 2007, All Rights Reserved.