| | | |
| --- | --- | --- |
| Updated 5 Jan 2007 | WIRKSWORTH Parish Records 1600-1900 | |
<!==================================================> <!==================================================>
Unposted. View from the Bell tower looking South.


View South from the Town Hall, Wirksworth

An interesting photo taken from the Italianate Bell tower of the Town Hall, near the Market place, the centre of Wirksworth. The view looks South, along St John Street and beyond to the open fields and woods surrounding this small town. In the foreground is Church Walk, a traffic-free path encircling the Parish Church, whose graveyard is on the left. The two piers to the Lych-gate of 1721, which leads from St John's Street to Church Walk are in the foreground, see a drawing of one of these piers. The Churchwardens Accounts of 1721 record a payment of £11 "to Isaac Kirk for working & setting up the Piers". Other mentions of Isaac Kirk in the Accounts are: 9546, 9700 and 9703, he only seems to have done work for the Church from 1720 to 1721. A modern photo of the Lych-gate shows the short alley from St John Street to Church Walk. Further drawings can be seen of the rear of buildings backing onto Church Walk, those on the right of the piers, and those on the left
Unposted. Bell tower and the tall Bank building.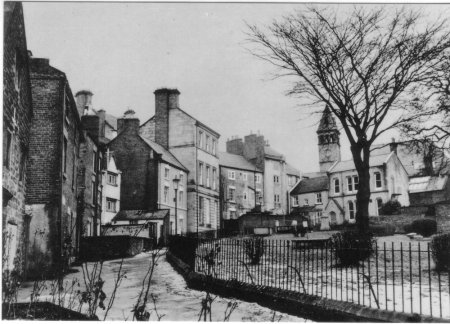 Dates:
Photo taken:
Size:
Source:

Click on photo for enlargement (on CD only)
Have any more information about this photo? 
Please e-mail the author on:


Compiled, formatted, hyperlinked, encoded, and copyright © 2006, All Rights Reserved.