RAMSDENs at Hillside, Middleton

Do you recognise the cottage? Where was it? Does it still exist?
Felicity Pawsey sent the old photos, and asked the questions. Neil France took this modern photo, Stuart Flint sent some history, Jo Macdonald recognised it as her Mum's house, and sent a legal document. The author has traced the CLAYTON family who lived there around 1890.
Its probably 'Hillside', 50 Main St, Middleton-by-Wirksworth.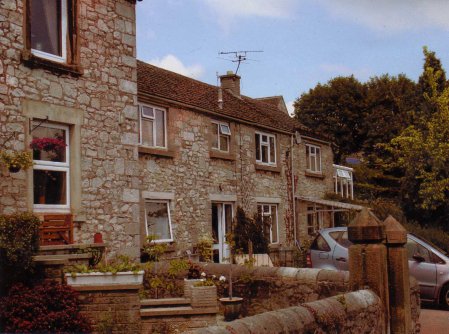 Felicity Pawsey writes:
My grandparents lived for a while in Middleton-by-Wirksworth although I can't give you a specific date but probably / possibly in the 1920's. My grandfather Thomas Victor Copley Ramsden was a teacher married to Lily Beatrice (who also taught but I'm unsure if she did after her marriage).
I attach two photographs. One showing the front of a cottage was annotated on the rear - 'Hillside, Middleton-by-Wirksworth' - and presumably shows the cottage that my grandparents lived in. Do you recognise the cottage? Where was it? Does it still exist?

Jo Macdonald writes:
I was just looking at your addictive site again and came across the Modern Photos Needed page. The very last picture is my Mum's house. Actually, I believe you have had some contact with the owners, they are ****** [Names removed for privacy - Ed]
The address is 50 Main St Middleton, its tucked behind the Post Office.

The second shows a lady, my aunt, standing in a gateway. Rightly or wrongly I presume this too was taken at 'Hillside, Middleton-by-Wirksworth' but there was no annotation on the rear of this particular photograph. Do the buildings in the background help you recognise the location?

(According to correspondence my grandparents were living in Swalcliffe, Duffield in Aug 1923, so were obviously in the county in the 1920's. Neither were born or bred in Derbyshire and it would appear lived there for only a few years).

I would appreciate any information you can give me regarding the photographs being sent as an atttachment.

With many thanks
Felicity Pawsey

Stuart Flint writes:
Regarding the houses supposedly on Middleton Hillside. It is possible that they were among the ones which were demolished from the 1920s onwards to make way for more quarrying by Hopton Wood Stone Co. at what was Killer Bros. then became Derbyshire Stone then Tarmac and latterly from 1960 Middleton Mine, now owned by OMYA Plc which closed down this year 2006.

The top photograph has a look which has a familiarity about it in my memory, but I cannot bring to mind where it may have been/is.. Both properties look almost newly built..the bottom one I cannot think was on Hillside unless it was on the lower levels at the head of Creswell Gates where I can just remember a large house.

If it was not for a faint outline of a building beyond the end cottage (first Photograph) with the lady stood in the garden, I may have thought it to be a present house in a yard with three properties, one of which was where my father was born in 1894.. at the head of Sandy Hill (in my youth we called this cobbled old miners pathway The Pitchings which led onto Croft Hillock once the site of a large Lead Mine and then on again up a steep pathway onto Middleton Moor to even more lead mines, around which all the houses on Hillside were, and made up the most of old Middleton village) but the building beyond the house in the photo and the apparent small walled pathway means it cannot be, as on the site of the house of my memory, Jail Yard was at the rear and the open expanse of Croft Hillock beyond.. Many of my wife and my fore bare kinsmen were born in this area and my wifes Grt Aunt up to the 1970s lived across from what had been Jail Yard.. (In my youth I was told legend has it that it was used as a clink for French P.O.Ws during the era when England and France were always in conflict, which may be why another legend has it that there was a saying "send them to Wirksworth" meaning persons of bad report were sent to "Wooser")

I am sorry I cannot be more helpful but if I come across any further information about the homes on Hillside which were demolished I will let you know
Regards Stuart G Flint

Dates:
Photo taken:
Size:
Source:

Click on photo for enlargement (on CD only)
Have any more information about this photo? 
Please e-mail the author on: