| | | |
| --- | --- | --- |
| Updated 23 Mar 2015 | WIRKSWORTH Parish Records 1600-1900 | |
<!==================================================> <!==================================================>
An interesting postcard on Ebay was the author's intoduction to T K Breakell. Searching the name found more and more, people contacted, and this webpage grew like Topsy, soon needing an index and a linked webpage for the historic Pilot's logbook. He was a fascinating character.
Posted 12 Jan 1904 (Julian), from Batum (Georgia) to Wirksworth.


Magenta 4 Kopek stamp, crown, double headed eagle, post horns, lightning arrows, Pochtovaya Marka (postage stamp)

Postmarked "Batum, Kutais, G(eorgia) Pocht Tel Kont, 12 Jan 1904". Converting this Julian date to today's Gregorian calendar, we get 25 Jan 1904 .

Enlargement. A young lad about 13 standing next to the back door of Brassington Hall. Probably this is Thomas K.Breakell, born 1895, who was living there in 1901, "built a small plane in a field at the frontage of Brassington Hall" and gave his address as Brassington Hall when in the Flying Corps about 1914. If so, the photo was taken about 1908, which agrees with the fashion of his clothing. He was the son of Thomas Breakell, a mining engineer and Mary Elizabeth Knowles (daughter of John Knowles and Emma Webster, both from Brassington families).

"Wien-Stefanskirche"
The mundane message reads:
"I hope you have no cold or chilblain."


A patent dated 1903 by Thomas Breakell (father)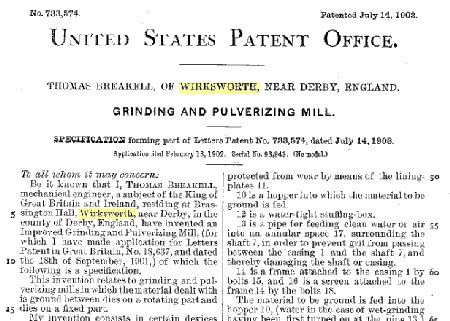 Postcard from Russia

A postcard from Batumi in Russia, addressed to a pupil "Master T.K.Breakell" at Wirksworth Grammar School, posted 12 Jan 1904 (in Julian calendar, which converts to 25Jan 1904 in Gregorian). The message is ridiculously short for such a distance: "I hope you have no cold or chilblains". It is not even signed, but both his mother and father were in Georgia at the time.
The pupil was Thomas K Breakell, aged 9 at the time of posting. His father, Thomas aged 42, was a mining engineer from Lancashire, living in Brassington. His wife Mary Elizabeth nee Knowles comes from a Brassington farming family. Links in the Census can be found on: 1901 and 1891. In 1901 the Breakell family were living in "The Hall" at Brassington, with his brother William, a miner's accountant. A Patent by Father Breakell dated 1903 is shown below. See Brassington Hall on Google Earth by entering 53.084104, -1.659757.
Another postcard, sent by young Thomas from Wirksworth, reveals that the mining engineer from Brassington was working on the Dzansoul Copper mines in Georgia. In 1903, Georgia was still ruled by the Tsars. He may have got there from Paris to Constantinople via Vienna on the famous Orient Express, then across the Black Sea to Batumi, where the card was posted. That's 2,000 miles by steam-hauled rail and 700 miles by steam ferry. Anyone who knows about the copper mines please contact


More information about T.K.BREAKELL can be found on a webpage by David Grant at theauxiliaries.com/men-alphabetical/men-b/breakell-tk/breakell.html
How Mr and Mrs Breakell and the postcards travelled between Derbyshire and Georgia in 1903. The Orient Express took 3 nights, the whole journey perhaps 8 days, buying the postcard at Vienna en route. The postcard from Georgia was delivered to Wirksworth in 15 days.

Other people are searching for Thomas K Breaknell, see Message Board. Other people also have ideas, see Emails
At the time Alfred Berridge was headmaster of Wirksworth Grammar School, Joseph Stalin was living in Batumi and organizing strikes, and a British diplomat William Stuart would be murdered in 1906.
More information from Wikipedia.
Batumi (formerly Batum or Batoum) is a seaside city on the Black Sea coast and capital of Adjara, an autonomous republic in southwest Georgia. It has a population of 121,806 (2002 census).
Batumi, with its large port and commercial center, is also the last stop of the Trans-Caucasian railroad and the Baku oil pipeline. It is situated some 20 km (12 mi) from the Turkish border, in a subtropical zone, rich in citrus fruit and tea. Industries include oil refineries, shipbuilding, food processing, and light manufacturing.
Batumi is located on the site of the ancient Greek colony of Batis - derived from the Greek words bathis limin meaning 'deep port'. It has been known since the 11th century for its fortifications. A part of Georgia since the Middle Ages, it came under Ottoman rule in the 16th century and was annexed by Russia in 1878 in accordance with Treaty of San Stefano between Russia and the Ottoman Empire (ratified on March 23). In exchange, according to a secret Anglo-Ottoman agreement, the Ottomans were to be allowed to occupy Cyprus - "Cuprum probatum". During these early years of annexation Batumi functioned as a free port and was one of the most important world exporters of wool, cotton and wood. After 1883 the city became an important place for the shipment of oil.
During 1901, 16 years prior to the Russian Revolution, Joseph Stalin the future leader of the Soviet Union, lived in the city organizing strikes. Unrest during World War I led to Turkey re-entering in April 1918, followed by the British in December, who stayed until July 1920. Kemal Ataturk then ceded it to the Bolsheviks, on the condition that it be granted autonomy, for the sake of the Muslims among Batumi's mixed population.
The climate in Batumi is subtropical. Palm trees, lemon and orange trees all grow in the city.
The town is home to all the major religions of the Caucasus, with a mixed population of Catholics, Georgian Orthodox and Apostolic Church, Muslims, and Jews. There is an Armenian minority in Batumi.
William Horwood Stuart was a British diplomat who was murdered at Batum, Georgia, in 1906. By the early 1890s, Stuart had moved to Batum, Georgia, where he remained until his death. In 1904 he became American Vice-Consul and in 1906 was also serving as acting British Consul. Stuart had been named Japanese Consul but his appointment was deferred owing to the outbreak of the Russo-Japanese War.

Dates:
Photo taken:
Size:
Source:

Click on photo for enlargement (on CD only)
Have any more information about this photo? 
Please e-mail the author on:


Another postcard, mostly kindly scanned by Tony Holmes of Wirksworth: Thomas Breakell writes (aged 8 and at Wirksworth Grammar School):
"My dear mother and father, I was very glad to get your letter and pc last week. I have too stop at school this weeks so I had to write a postcard. I hope you are all very well. Your loving son Tom xxx"
In 1903 Russia still used the Julian calendar, while UK used the Gregorian. 24 Nov (Julian) converts to 7 Dec (Gregorian), so the postcard took 15 days to reach Batumi in Georgia, sent from Wirksworth on 22 Nov 1903. Tom has marked his school and the church on the photo.
The card is addressed to "Mrs Breakell, Dzansoul Copper Mines, c/o Messrs Mattsevich? & Co, Batoum, South Russia"


Photo taken about 1935. L to R: Fanny Henry nee Chapman, Kathleen Breakell nee Henry, Thomas Knowles Breakell (born 1895), unknown, Joan Cotton nee Henry, Sidney Cotton.
See: HENRY family research

Album given by Dzansoul Copper mines in Georgia
to Thomas Breakell snr about 1903.

Thomas K BREAKELL, born 1895
BREAKELL family
1808 1808 Simeon Elizabeth WEBSTER=====v===== X | | |---------|---|---| | | | John 1833 1835 1841 1847 William 1859 Elizab John 1859 Emma Sarah Elizabeth BREAKELL====v====WATSON KNOWLES=====v=====WEBSTER | | | | | | |----|-----| |----|-----|--------|--------| | | | | | | 1864 | 1864 1880 1861 1873 William 1862 Mary Annie William Hannah James Herbert Thomas 1893 Elizabeth A A Dodds Fanny BREAKELL BREAKELL=====v=====KNOWLES KNOWLES HENRY=====v=====CHAPMAN 1936 | | | |----------|-----------------------| 1895 | | Thomas Kathleen | Knowles Ruth Joan Sidney BREAKELL=====v=====HENRY HENRY=====v=====COTTON | | |-----------| | | 1925 1926 David Anthony Knowles Knowles Barbara BREAKELL BREAKELL=====v=====LONSDALE 1928 1989 | | |-----|----| | | **Louise Joanna (twins) BREAKELL BREAKELL **see email from Louise Downer nee Breakell below -------------------------------------------------------------------------------- 1891 Census BREAKELL, James Head M M 50 1841 Shoemaker Preston LAN BREAKELL, Margaret Wife M F 49 1842 House Keeper Preston LAN BREAKELL, Thomas Son S M 28 1863 Weaver Cotton Preston LAN BREAKELL, Betsy Dau S F 20 1871 Weaver Cotton Preston LAN BREAKELL, Rebecca Dau S F 14 1877 Tenter Preston LAN BREAKELL, Margaret Ann Dau S F 9 1882 Preston LAN BREAKELL, Jane Dau S F 6 1885 Preston LAN 115b, Church Street, Preston County: Lancashire -------------------------------------------------------------------------- 1901 Census #24---The Hall---[Brassington]--- Br024a Thomas BREAKELL Head M 39 M Mining Engineer Lower Brough LAN Br024b Mary Elizab BREAKELL Wife M 37 F Brassington Br024c Thomas K BREAKELL Son S 6 M Brassington Br024d William H BREAKELL Brother S 37 M Miners Accountant Lower Brough LAN Br024e Emma KNOWLES Moth iL W 66 F Brassington Br024f Annie A KNOWLES Sis iL S 21 F Brassington Br024g Annie LEE Servant S 21 F Servant Domestic Atlow -------------------------------------------------------------------------- 1911 Census BREAKELL, Thomas Head M M 48 1863 Mining Engineer Manchester LAN BREAKELL, Mary Elizabeth Wife M F 46 1865 Married 17 years Brassington DBY BREAKELL, Thomas Knowles Son M 16 1895 Student Mining Brassington DBY -------------------------------------------------------------------------- RD: Kensington SD: Kensington South ED:47 Parish: Kensington Address: 92 Warwick Gd, Earl Court
Type of camera owned by "T K Breakell, Royal Flying Corps, Brassington Hall, Derbyshire"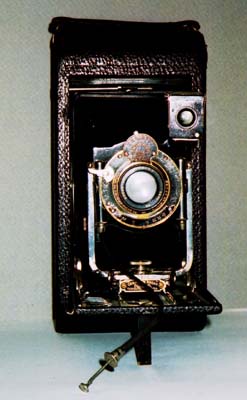 Object Name: Camera, Kodak
Object Type: Portable
Title:
Subcategory: Photographic T&E
Description: One black leather and metal Kodak camera. "No. 3A Folding Pocket Kodak Model B5. Manufactured by Kodak Co. Ltd. Toronto Can." Patented "Oct. 8, 1901" and "Oct. 19, 1909". Camera - black embossed leather; rectangular shaped rounded at ends; leather handle on one end; removable front. Lens encased in enfolded cotton; collapses into body of camera. L-26cm, W-12cm, D-5cm. Case - rounded rectangular black leather. Adjustable leather shoulder strap, two metal buckles. Made by "Canadian Kodak Co. Toronto Canada". L-27cm, W-13.5cm, D-6cm. strap W-1.5cm. The autographic feature was introduced in 1914 and took special roll films , which had a tissue rather like a carbon paper between the film and the backing paper. The hinged door on the camera uncovered the backing paper, on which exposure details could be written with a stylus, provided with the camera. Kodak produced 300,000 at the original price of $50.50 each. This camera used daylight loading special autographic film. The film developed postcard size photographs; 3.25"x5.5".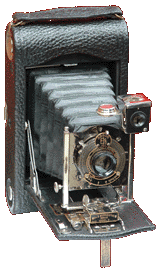 ...from a Message Board
Someone else is tracking down Thomas K Breakell. this info was taken off a message board of www.visualflight.co.uk ----------from Alan Trussell------------------------------------------ Dear All I hope nobody minds me posting this mystery here.I know there are a lot of Knowledgeable people on our site who maybe able to help. For over 35 years I have been in posession of an early large Kodak Folding camera that I have also seen similar in use on first world war aircraft film and also turn of century documentaries in general. This camera has the following written inside the original leather pig skin case. Which after wetting is reasonably clear and says:- T K Breakell Royal Flying Corps Rassington Hall Derbyshire My question is has anyone any advice on how to go about tracing more information on the man, his job and location during the war or even family members alive today? I have tried tracing on the internet and have had no luck as yet. It would be great to place it in a relevant museum where it probably should belong or be able to return it to a better rightful place. ---------------------------------------------------------------------- Description Medal card of Breakell, Thomas Knowles Corps Regiment No Rank Duke of Cornwalls Light Infantry Royal Air Force Lieutenant Royal Flying Corps Second Lieutenant Date 1914-1920 Catalogue reference WO 372/3 Dept Records created or inherited by the War Office, Armed Forces, Judge Advocate General, and related bodies Series War Office: Service Medal and Award Rolls Index, First World War. I wonder how long Visual flight scenery would have taken to aquire with this camera? Regards AlanT ---------------------------------------------------------------------- Dear All I am hoping to find a first world war Airport name or flying Corps centre close to a "Rassington hall" in Derbyshire as the message in the case gives but no luck here as yet. On looking Closer at the writting in the pig skin case Rassington Hall should read "Brassington Hall" for there is a less distinct B in front of the R Ideas anyone? Also the chap I found seems to have been in a lot of services How come? - Duke of Cornwalls Light Infantry Royal Air Force Lieutenant Royal Flying Corps Second Lieutenant Regards Alan T ---------------------------------------------------------------------- Alan - it looks as if the postings have been sorted alphabetically rather than by date. Your man would have started in the infantry, transferred to the RFC and survived to become a lieutenant in the newly-formed RAF. Cheers (and Well Done) MikeW ---------------------------------------------------------------------- Dear emfrat Thanks very useful Now found this.... BRASSINGTON CHURCH MEMORIALS 1674 - SURNAME NAME/S BURIAL INSCRIPTION NO. BREAKELL DAVID KNOWLES 1925 116 BREAKELL KATHLEEN RUTH 116 BREAKELL THOMAS 1936 117 BREAKELL THOMAS KNOWLES 116 So in fact means he died in ..... ? I am not sure Still need to find where he was stationed which presumedly could have been out of his home area altogether? Regards AlanT ---------------------------------------------------------------------- Alan - I seem to be following you round the Net Those numbers 116, 117 are cross references to this page: http://www.brassington.org/inscriptions02.htm It seems clear that Thomas is the mining engineer who was 39 in 1901. The infant David is surely the son of your man, ie the child of Mr and Mrs T K and K R Breakell. I looked at 192.com for Breakell Brassington for no result, but Breakell Derbyshire shows three listings in the Electoral Roll. One has the first name Ruth and the two males have the middle initial K. Unfortunately they want a huge pile of money to release any detailed info. I tried some online phonebooks but there didn't seem to be any in Derbyshire. That just means they are ex-directory; but it crossed my mind that the first 192.com listing might be a nursing home or similar. Good Hunting ! MikeW ---------------------------------------------------------------------- Alan - It is no trouble at all. I enjoy using my Net skills in such a worthwhile quest, and the timezone difference between Greenwich and Brisbane makes it very convenient. Things noticed in passing:- Brassington Hall as a search string throws up nothing; it is clearly not the noble pile it sounds like and it doesn't even make it as a name for a GWR loco. A lot of RFC crew records were lost in the London Blitz. Photo-reconnaissance was essentially invented in WWI and progressed extremely rapidly. However, it would be an amazing coincidence to have your home requisitioned as a training establishment, even if you were a specialist technician, and any such establishment would have been closer to a railway than Brassington ever was. In any case the Peak District would hardly be the first choice for an airfield. So I don't know why TKB gave his address as RFC Brassington Hall - maybe he was the RFC one at BH, as opposed to the Army one, but why would he be allowed to take RFC equipment home ? Anyway this is all speculation, and it might be best if we continued by email, or John will be growling at us Cheers MikeW ---------------------------------------------------------------------- Alan. This is becoming the most interesting book I've read so far! Don't stop till the last page. A slight tangent, I am a member of the British Kinematograph, sound and television society. (Web www.bksts.com ), they are an invaluable source of all things photographic and may well be interested in running an article in their magazine. Certainly they will be interested. Also, don't forget the National Photographic Museum (web nmpft.org.uk) they are sponsored by Kodak and are sure to want to help and/or give it a good home, if you decide not to give it to a 'RAF' Museum. Another avenue is the Imperial War Museum (web www.iwm.org.uk). They have extensive research facilities and recently did an exhibition on the RFC. Incidently a search of the British War Memorials project (web iwm.org.uk) produced a nil return, suggesting that he survived the wars! None of the records I have show any airfields in Derbyshire that were operational before 1929, so my feeling is that Brassingham Hall was his home address. The most activity for air recon during the First world War was along the Ypres Salient and the Somme. You could try Toc H (Talbot House in Poperinge), who keep records of servicemen that passed through from Ypres. Finally, would it be possible to make this an illustrated book and post a sceenshot of the camera? Best of Luck, Des ---------------------------------------------------------------------- Dear Des Thanks for all the info.Very very useful again. What a great Forum for help we have,thanks to all. I have E mailed you with a request. Alan T Ps I hope this quest is not a let down and it turns out our chap simply had had plenty of money and used the camera only for personal use. Hence putting his home address on the leather case.. ---------------------------------------------------------------------- Dear All Thanks again for all the responses. I now have masses of information but still can't seem to be able to work out how to obtain service details via the internet - perhaps this is achieved only by visiting the National Archives physically? Any help appreciated Lieut T K Breakell (Thomas Knowles Breakell) Royal Flying Corps (Home Address) Brassington Hall Derbyshire Kodak No.3A Autographic Model B5 Regards AlanT ---------------------------------------------------------------------- Dear All For anyone interested.I now have a copy of T K Breakells' Royal Aero Club pilots licence,record card and file photograph,RFC/RAF Casualty card, Medical board card and officers Casualty Form. These were obtained via the Royal Air Force Museum London NW9 5LL They were received today in the post after contacting them by internet on 11th Feb. Anyone wanting a copy please can you E mail Me. Thanks Regards AlanT ---------------------------------------------------------------------- From "Sprake" I have received a lot of information,some of which I put below. His family seem to have a lot of connections with the Hall and the Breakell family - and in fact he is in contact with a son of our T K Breakell! He says "Thomas K Breakell lived at Brassington Hall up to joining the Flying Corp..I have it on good authority from persons who remember him, that he was a "dare devil" who owned a smal bi plane which he often landed on a field belonging to the Hardy family Farmers of Brassington. Jan tells me that his father Thomas was a friend of Douglas Bader who often visited Brassington..Thomas K Breakell I have to tell you, only landed the once at Hardy's field when Thomas's father Thomas Breakell was about to breath his last breathe.. Thomas K had permission to fly from his base to Brassington and landed at Hardy's farm.. Thomas Breakell also is recorded as having flown under Tower Bridge as I believe Bader did Apparently Thomas K Breakell built a small plane in a field at the frontage of Brassington Hall, but it was never to fly..." I will let you know more when it is possible. AlanT Thanks to imageshack for free Image hosting ----------------------------------------------------------------------
E-mails
=========================================================== Rod Heather wrote on 18may2013 Hello John - the British had been involved in mining in Russia since the 16th century when skilled English iron workers were first sent to Russia by Elizabeth I at the request of the Tsar. In the 19th century, the British were helping the Russians develop their extensive iron ore and coal deposits in what is now Ukraine. The Welsh industrialist, John Hughes went out there in 1870 and set up the largest iron & steel producing company and founded the city we now know as Donetsk. In the latter half of the 19th and early 20th century, British companies and engineers were active right across Russia from the Black Sea to Siberia developing Russia's iron, gold and oil resources. As the leading industrial power at the time, the important copper resource in Batumi was of great interest and it is of no surprise that British investors set up a company to extract the copper and brought out several key skilled engineers from Britain. They were typically on a one year contract initially, though many stayed in Russia much longer. Since Breakell was accompanied by his wife, he was probably intending to stay for a longer period. As well as Batumi, there were British communities all around the Black Sea & Caspian at this time - Odessa, Donetsk, Taganrog, Tblisi, Baku, Astrakhan etc. Kind regards Rod Heather PS If its of any interest, one of my books is the story of John Hughes - The Iron Tsar =========================================================== David Grant wrote on 14jul2012 John I came across your page on Thomas Knowles Breakell www.wirksworth.org.uk/X485.htm I have been researching him as he joined the Auxiliary Division of the Royal Irish Constabulary in 1920/21 1920 Sep 3. Joined ADRIC with service no. 475. Post E Coy as Section Leader 1921 Mar 18. Resignation accepted from ADRIC 1921 Mar 24. RAF. The undermentioned are granted short service commissions in the ranks stated, with effect from, the dates indicated, retaining their seniority in the substantive rank last held prior to the grant of this commission, except where otherwise stated.Flying Officers. Thomas Knowles BREAKELL. Not many men wished to own up to being what most people (erroneously) call the Black and Tans in Ireland, so information has to be winkled out. Can I use that postcard from Russia on the web page I am building on him, it is quite fascinating Regards David ========================================================== Claire Astbury wrote on 13jun2012 Dear John I've just come across the Wirksworth Parish records and was totally amazed with what i read!! My grandad is TK Breakell and i know little about him, unfortunately my relationship with my father (Jan) broke down several years ago after my grandma passed away. I have a beautiful family photograph album of the Breakell's and if your interested you may have a look. I would really like to know more about my grandad, and reading all the information on the website has really shook me up emotionally. My brother Benjamin Knowles Breakell is also interested. Please get in touch Kindest regards Claire Astbury (Nee Breakell) ====================================================================== Oddments found on Google about T K Breakell: ----------------- Flight, 12 Dec 1935 Bristol Mr T K Breakell, of Crilly Airways, completed a blind-flying course and tests with the club last week ---------------- Flight, 7 Sep 1922 The Royal Air Force Flying Officer T K Breakell resigns his short service commission Aug 1 1922 ---------------- The Book of Westland Aircraft 1943 Several Six-seat Limousines were built, but the original competition machine, G-EARV, had the most interesting career. It was sold to Sidney Cotton, of "Sidcot" suit fame, and used by him as a spotter with the Newfoundland sealing fleets. Piloted by Mr. T. K. Breakell, G-EARV was used in a gold-rush to a reported "strike" at Stag Bay, Labrador, where, landing on thin ice on the shore of the bay, the pilot had to keep taxying to prevent the machine sinking. ----------- From: Louise Downer Subject: Fwd. Interesting History. Date: Mon 04 Jul 2011, 2013 hrs Dear John, Sorry for the delay in getting back to you, and even more so, sorry for not getting any images over, I do not have a scanner and I will have to wait until I have time at work to take the photograph albums in. However, I contacted TKB's niece, Jill Seaton, nee Cotton and I will forward her reply in a second. The photography below is from the left - my great grandmother Fanny Henry, nee Chapman. Beside her is my grandmother Kathleen Breakell, nee Henry, bedside her definitely is TKB, recognised from other photographs and the similarity between him and my father. The woman fourth in from left is presently unknown, beside her is my grandmother's sister Joan Cotton, nee Henry, and finally beside her Sidney Cotton, her husband, Jills father. I wonder who took the photograph, conspicuous by absence - the empty deckchair says it all! Sadly we are never to know. As soon as I have the other photographs prepared I will of course forward them on. Kindest regards, Louise (Downer). ----------- From: Louise Downer Subject: BREAKELL Thomas Knowles Date: Mon 20 Jun 2011 21:03 hrs Dear John, I am amazed to have found your site and the information that you have posted. My name is Louise Downer, nee Breakell. Kathleen Ruth Breakell, nee Henry was my grandmother. David Knowles Breakell was the first born child of Thomas and Kathleen, their second son, Anthony Knowles Breakell, was born in Argentina. Tony Breakell was my father who sadly died 21 years ago. Six months before my father died I went to Hertfordshire for a visit and he insisted on going through three large and very old photograph albums, we went through each picture and he gave me a description of each, I found this upsetting as I then believed I would not see my father again and, very sadly, I was right. He died on June 3rd 1989 and his ashes are buried at the small church of Wareside (Ware Herts). The information about Baku also ties immediately with my grandmothers father - James Dodds Henry who was a geologist and journalist and author - he has written a book about Baku. Thomas Knowles Breakell, and another pilot and I believe this could be Sidney Cotton, (I will have to get out the albums and to check) flew over Newfoundland and landed, met my grandmother and her sister Joan, each married a pilot. I have many photographs of the family at Brassington. David was three when he died of meningitis, my grandmother always blamed the lack of heat during the winter at Brassington. My father was brought up by his grandparents at Brassington, and between boarding school, flights back to Argentina to see his parents during the school holidays he remained at Brassington. Long story as it simply goes on, you are certainly correct about the Admiral Van Jan Brackel and the Battle of the Medway, and again I have a book that has all this information. The Henry's circumnavigated the world in the early 1900's and Fanny Henry, my grandmother's mother wrote a book which I have. I also have Kathleen Breakells pilot licence and also her flying log book. My father inherited Brassington but immediately sold it. He would have been blown away by this information, during his latter years, he died aged 62, he became very keen to get as much information as he possibly could. We are also related to John Constable - the great British painter through the Henry side, Kathleen's mother's line of family. (Birth certificates to prove this). It has been truly amazing to see the postcard sent by my great grandfather to his son and the return card. You might now want to add to the family tree that you have on your site. David as mentioned died aged three years and is buried at Brassington. My father was born 1926 (I will double check all this information) and married my mother Barbara Breakell, nee Lonsdale. I am a twin, Louise Downer, nee Breakell and my sister is Joanna Cooke, nee Breakell. There were no sons born so the Breakell line closes with my sister and I. I would really love to hear from you, Kindest regards, Louise Downer. ----------- From: Stuart G Flint Subject: Breakell of Brassington Date: Fri 23 Feb 2007 20:14 Hello John Just to let you know that I am the Sprake on the Breakell site (Visual Flight) who has met the son of Thomas Knowles Breakell and have informed the son of the In Flight Camera once owned by his father Thomas Knowles Breakell found by Alan T of Visual Flight.. The son lives near Wirksworth today He informs me that Breakells were originally from Holland many moons ago known as Van Breckell Thomas Breakell senior father of Thomas K was a Mining Engineer from Preston his brother was an accountant to mines both registered as Fellows of the Mining Institute (see Durham Mining Group site listings)... Brassington Hall has played a small part in my family history as the Charltons and Halls who intermarried were of my distant kin..(Stephen Hall my 5XUncle married Ruth Henstock 2nd wife.. first wife Anne Taylor of Lea Hall Farm Bradbourne (actually on the Tissington side of Bradbourne Brook.. the farm now belonging to one of my friends family... Ruth was sister to my 4XGrandmother Mary Hawley nee Henstock.. Stephen and Ruths son John Hall married into Charltons..see Charlton v Hall v Fox Court case..John Palmer's web pages Halls also of my/my wife's kinship) whilst in recent years in my teens Frank Brown who was Pastor at Middleton Congregational Church and a friend of my family lived at Brassington Hall..I an oft time visitor to the Hall in my teens and into my 20s.. Frank replaced my father as a Deacon and Sunday School Superintendent at the Congs Chapel Middleton when Dad had a Stroke in the late 1950s .. When Frank and his wife Anne emigrated to Rhodesia as School Teacher's I was inducted as Sunday School Superintendent and a Deacon in his place previously being one of his teachers at the Congs Church he my mentor.. Frank's family owned Browns Foundry Nottingham Road Derby..He served as a Flight Lt in The Fleet Air Arm, he and I fellow Liberal Party members His mother was one time Conservative Councillor for Wirksworth. In retirement she and her husband lived in a bungalow next door to Brassington Hall.. Regards Stuart G Flint ====================================================================== From: Andrea Dean Subject: Re: [DBY] Postcard to Russia 1904 Date: Sun, 3 Dec 2006 07:59:53 +0100 John, I just saw on wikipedia that in the 1830s the Russian tsar sent a guy as vice roy to Georgia who was educated in England, and who apparently modernised the local economy and trade. I know it is well before the time of your postcard but perhaps it was the basis for British people coming to work in Georgia? I also saw on a German website (I am German) information about an exhibition in 2002 regarding the mining history of Georgia. Apparently there were also Germans working in the Georgian mining industry in the 18th and 19th century. Georgia may not have been as remote to Western people then as it is to us now ... Kind regards, Andrea ====================================================================== From: Carol Standish Subject: Postcard to Russia 1904 Date: Sat, 2 Dec 2006 08:51:40 -0800 (PST) My 2xG.Uncle, Edward Isaac Eastwood went to St.Petersburgh in the late 1800's - he was working for his father who owned the Eastwood Wagon Works in Chesterfield - guess he was trying to 'drum up business' for the company. He had the misfortune to die in St.Petersburgh though in 1884. ====================================================================== From: Tony Burton Subject: Re: [DBY] Postcard to Russia 1904 Date: Sat, 2 Dec 2006 10:59:16 -0000 Hi John, just a bit of grist to the Mill. Tsarist Russia was 'westernising' at the turn of the century and employing many westerners to help kick start their economy. My own Grandfather was a Lace Machine Builder and was in St Petersburg at a similar time, building the machines that would help promote the burgeoning Russian industrial base. It is more than probable that your mining engineer was similarly employed. Best wishes, Tony R Burton. Scotland. ====================================================================== From: David Daniell Subject: RE: [DBY] Postcard to Russia 1904 Date: Sat, 2 Dec 2006 23:33:47 +1300 Hi John, I think all those guesses are sensible. I don't understand why your item has a tone of surprise. Who knows, you may turn up Master Breakell's children and then I bet you'll find the card's from his Mum, not Dad. You do provide a truly marvellous site with kind regards David ====================================================================== From: David Daniell Subject: RE: [DBY] Postcard to Russia 1904 Date: Sat, 2 Dec 2006 14:37:24 +1300 John, it could (just possibly) be father's thought but it is Mother's handwriting. David ====================================================================== From: John Palmer Subject: [DBY] Postcard to Russia 1904 Date: Sat, 2 Dec 2006 00:42:26 -00 Hello Folks, You may be interested in a postcard I've just got on Ebay. Sent from Georgia (Russia) in 1904, its addressed to a 9 year old pupil boarding at Wirksworth Grammar School, probably from his father, a mining engineer, see: http://www.wirksworth.org.uk/X485.htm What was a mining engineer from Brassington doing in Georgia still ruled by the Tsars? Could he have been involved in exporting oil, 100 years before the Baku pipeline was built, finishing at Batumi? Anyone with ideas or more info, please contact me. Best wishes, John Palmer, Dorset, England Author of Wirksworth website http://www/wirksworth.org.uk ======================================================================
Hello John Palmer,
I was searching the internet for information on Dzansoul and the Caucasus Copper Company, when I came across the reference to Dzansoul on your Wirksworth web site.
My grandfather, James, and his brother, John, my great-uncle, both worked there early in the last century. It is very likely they knew Thomas Breakell Snr. and his wife Mary Elizabeth. James' wife Jane was also there, and I imagine the British ex-pats and their wives were a little community of their own. There were also Americans, as the Caucasus Copper Company that operated the mine was funded by both British and American institutions. In all, there seem to have been about 50 or 60 UK and US nationals working there. My grandfather was born in 1875, so would have been thirteen years younger than Thomas Breakell Snr. My late father was born in Dzansoul exactly 100 years ago, November 23rd, 1910. On his passport, his place of birth is given as 'Dzansoul, Southern Russia'. He spoke a little Russian as a small boy.
My grandfather was a mechanical engineer and his brother was an engineering draughtsman, sons of the Scottish engineer John Hogg, co-founder of the engineering firm, 'Gibb and Hogg' of Airdrie in Scotland. 'Gibb and Hogg' was in business from 1866 to 1911. In its day, it was the largest engineering firm in Scotland, producing pumping and winding engines and small locomotives both for the local iron mines, collieries and the local steel industry, and for export. The fortunes of the company went into decline early in the 1900's, reflecting the decline in the coal and steel industries around Airdrie, and it closed in 1911. My grandfather left the company a couple of years before its final closure, but his brother stayed on until the end.
Dzansoul is some forty miles from Batoum, at the top of the valley of the Mourgul river, which flows into the Tchorokh river from the west. Batoum is now Batomi. Like Batoum, Dzansoul's name may have changed. Many of the places in Georgia had both Russian and Georgian names, a consequence of the Russian occupation of the area in 1878. I cannot find it on any modern maps, nor on images of old maps of the area on the Internet. There are various spellings: Dzansoul, Dsansoul, Dzansul and Dzansulski.
The Southern Caucasus mountains was an area rich in minerals, especially copper, lead, manganese, iron, gold and silver. Mining has been carried out there since antiquity. In the Greek legend of Jason and the Argonauts, he travelled to the kingdom of Colchis (now the area of western Georgia) in search of the Golden Fleece.
The Caucasus Copper Company was formed in 1900 to acquire extensive deposits of low-grade copper ore at Dzansoul. Large amounts of capital were subscribed by prominent English and American finance houses such as J.P.Morgan and Hambro. The mine appears to have been an open-cast operation. The original intention was to wash the ore out of the ground using high-pressure hoses, but this was unsuccessful due to low rainfall in the area and a shortage of water. Steam-shovels were then used to dig out the ore. After concentration, the ore was smelted at the mine and converted into copper ingots. The smelter was some 3,000 feet lower down the valley than the mine itself, and an aerial ropeway, two-and-a-half miles long, was built to transport the ore to the plant. In fact, the ropeway was not very successful, and became a limiting factor in the amount of ore sent for processing.
A report in the 'Mining Magazine' shows that the mine was still not making a profit in 1914. In November of that year, the Turks invaded Southern Russia, and ransacked the mine. A Mr. A.A. Clement, the accountant, was badly wounded and died the following day, and the manager, Mr. Robeson T. White, was wounded in the leg, although not seriously. Most of the staff, including 50 British and American employees, were evacuated the day before the Turks arrived. The Turks were eventually driven out in March of the following year by Russian troops, but they had looted all the copper ingots from the smelter, stripped out all the brass fittings from the machinery and taken all the tools, but otherwise little damage was done.
I'm not clear what happened to the mine after that. Some of the UK and US staff appear to have returned to get things going again, but I don't know how successful they were. What is certain is that three years later, in 1917, the Russian revolution caused another upheaval. Most of the UK and US staff had to leave in a hurry, including my grandmother and her two young children aged 11 and 8, who travelled overland by train to Finland and then by boat to the UK. Whether she travelled alone, or with a party of other ex-pats, I don't know, but my grandfather apparently wasn't with her. He returned to the UK at a later date, not known. I believe the Bolshevik revolutionaries nationalised many foreign-owned companies and my impression is that the mine effectively closed at that point.
The 'Mining Magazine' has several references to the comings and goings of various Breakells. See for example: Ref 1 and Ref 2 The first is from 1914, and mentions two Breakells: Thomas and T.K., the latter presumably Thomas' son and serving in the Duke of Cornwall's Light Infantry, as also mentioned on your web site. The second, from 1915, mentions a J.E. Breakell. Assuming Thomas is the same as your Thomas Snr., it would seem he was no longer in Dzansoul in 1914. But alas, no mention of my family members! I suspect, like a lot of these publications, they only gave information on the members of the relevant Institute, in this case probably the Institute of Mining Engineers.
I see that the postcard from young Thomas Breakell to his mother gives her address as Dzansoul Copper Mines, c/o Messrs Mattievich & Co, Batoum, South Russia. Willian Horwood Stuart, who you also mention on the Breakell page as being a British diplomat murdered at Batoum in 1906, was also a manager of the Caucasus Copper Company and a managing partner of F. A. Mattievich and Co. The latter were obviously closely involved with the Caucasus Copper Company's activities at Dzansoul.
I hope this has been of help. If you want any more detail, the following links may be useful.
Ref 3
Ref 4
Ref 5
Ref 6 and following pages
Ref 7 and following pages
Ref 8 and preceding/following page
Ref 9 and following page
Ref 10 and following page
Ref 11
Regards,
Chris Hogg.
-------------------------------
Hello again, John.
Yes, by all means add my e-mail to your web page.
A follow-up, if I may. I think I've just found the location of Dzansoul, although not by that name. Following the detailed directions in one of the references I had, I ended up not in Georgia, but over the border in Turkey, at what is now the 'well-known' copper deposits of Murgul. An article entitled 'MINING ACTIVITIES IN TURKEY'
www.mta.gov.tr/v2.0/eng/dergi_pdf/46-47/10.pdf
produced I think by the Turkish government, and not dated but probably late 1950's or early 1960's, includes a piece on the Murgul copper deposit. It says (p. 15 of the document, confusingly numbered p.145!), that from 1901 to 1914 the mine was operated by the Caucasus Copper Company, and produced 16,000 tons of copper in that period. The mine closed in 1917, and the company was dissolved in 1930. In 1938 Etibank took over the mine, and the old plant was in a bad condition. (Etibank was a bank which started its operations in 1935 by order of Mustafa Kemal Atatürk to finance Turkish natural resources).
These dates and output tonnage fit the description of the mine at Dzansoul exactly! It should be remembered that the Southern Russia - Turkish border was significantly further south than the present border between Georgia and Turkey, which was only established in 1921 by the treaty of Kars. Google maps shows the area:
Ref 12
Move the slider to change the scale, greater or smaller. There is a name on the map - Damar. I wonder if that could be Dzansoul?
Chris.
Letter from 'Reggie', i.e. Reginald Twite to his father and mother Mr. and Mrs. C. Twite, Castle House, St. Agnes. First letter to Mr. and Mrs. Twite from Folkstone 9 August 1901 en route for Paris. Then across mediterranean via Athens, Constantinople and Norovosinki to Batoum. Arrived to work (as assistant mine surveyor) at Dzansoul Copper Mines (Caucasus Copper Co. Ltd.) end of August 1901 in Russia. As well as surveying in charge of making a rope railway for the mine. Then in charge of transport and roads to the mine. Then transferred from surveying to assaying department. Letters continue to 24 October 1902. Then letters of 9 and 12 May 1903 (64 and 65) to C. Twite at 29 Portland Square, Plymouth from St. Petersburg (had been on holiday in Finland) 66 is a letter from Reggie (address c/o F. Medhurst, esq., St. Petersburg) to his brother Wellyn from Baku 25 May 1903. Letters then resume to Mr. C. Twite his father from Baku (Hotel Kaukase) where he was engaged in a job for finding oil, 12 June 1903-letter to 'My dear Dad and Wellyn'. Letter 72 to Wellyn. 73 to 'Dad'. 74 flimsy copy of a letter from P. L. Tatham and Co. to Harold L. Twite, Esq., 4 Bedford Place, Russell Square, London WC. about possibility of selling wool from Russia. Samples of Caucasian wool required. 75 to Wellyn from Hotel Orient, Tiflis, en route for mine at Chatma. 76 to his father - will try and arrange wool samples for Tatham. Evident that he hoped to find petroleum in Chatma and that he (Reggie) was Director. 85- boring had begun for oil at Chatma - Reggie local representative and manager of the Chatma Oilfield Company 87 (8 September 1903) 'Now that I am 25'. Wellyn had a job in Wales. 15 September 1903 had aquired half interest in a quarry near Tiflis in the Caucasus. 27 November 1903 borings had begun at Chatma - 'if we get oil... there will be a huge boom' 31 Dec. 1903 letter from Stockbrokers at Cardiff to C. Twite at Plymouth. Oil struck at Chatma. Shares unsaleable at present. Last letter: 11 January 1904 'the information that oil has been struck is false we have not yet struck oil and I don't anticipate striking for at least another month.' (N.B. it seems during the gap in the letters Oct. 1902-May 1903 R. Twite went home as in one of his concluding letters he speaks of Christmas 1902 spent at St. Agnes)
Twite family of St Agnes, Cornwall, and London; Jenkin, Hamilton-, A K, fl 1942-1976, of Redruth, Cornwall; Hamilton-Jenkin, A K, fl 1942-1976, of Redruth, Cornwall
From National Archives.
Chris O'Dea wrote from Newfoundland 04oct2013
Dear John
I have been reading with interest, the information I found on line re the Breakell family as I have been researching James Dodds Henry, the father of Millicent Joan who was married to Sidney Cotton. I am sending this email from Newfoundland and am trying to gather information about the time that James Dodds Henry and Sidney Cotton spent on the west coast of Newfoundland in an area called Hawkes Bay. There was a John Teele Pratt of Brooklyn NY, who was an executive with Standard Oil, and son of Charles Pratt who was the President of Standard Oil, who was granted 162 acres of land on the Big East River in Hawkes Bay in 1900. This was a grant from the Government of Newfoundland. I can only assume that the Pratt's had a connection with the politicians of the day to be able to secure this property and I am assuming that they uses the property for recreational salmon fishing as the Big East River had a large run of Atlantic Salmon.
In 1915, Pratt sold the land to a local fisherman, James Giles. I know nothing about James Giles or about the use he found in the property. In 1919, Giles sold it to James Dodds Henry and in the deed Henry was referred to as a resident of Hawkes Bay. Henry then sold it to Sidney Cotton in 1926. I know that Sidney Cotton has a hotel on the site which catered to sport salmon fishermen from England and the United States and maybe from other countries as well. I was also told that James Dodds Henry may have had the hotel built and that someone with the name Norton arranged for the building and he hired a man by the name of Pittman and one other to do the work. An elder in the area recalls the hotel as his family used to cut hay on the property when he was a child and at that time, the hotel, that he described as alpine in style, was in disrepair and not in use.
I did find out some facts about James Henry, an English journalist and geologist and I am aware of his work in Baku and the fact that he wrote a book about the oil business in that part of the world. I was told that he came to Newfoundland at the request of the Newfoundland Government to check out the opportunity for oil development on the west coast of Newfoundland in an area call Parsons Pond. I wonder if the Pratt ownership of the land may somehow connect the dots that would lead to Henry's introduction to Newfoundland as Henry may have had a connection to Standard Oil during his time in Russia.
I am trying to gather as much as I can about Henry's connection to and time in Newfoundland. Why did he come. Did he build a hotel on the Big East River? Did his family move with him to Newfoundland (I assume they did as Sidney Cotton married his 18 year old daughter in 1926 and I assume that Sidney met her in Newfoundland when Sidney was flying mail, flying to spot seals for the sealing companies, and doing forest surveys by air for the pulp and paper industry), how long did they stay, are there family diaries, letters, or other correspondence re his time here and are there photos of their time here and in particular photos of the hotel on the Big East River.
I could go on with more questions, but will leave it for the moment and keenly await your reply
Best Regards
Chris O'Dea
www.odea.ca
O'Dea's Realty and Auction Room
St. John's, Newfoundland
709-685-6559
P.S. I would be pleased to correspond with others who may be able to offer insight.
Compiled, formatted, hyperlinked, encoded, and copyright © 2006, All Rights Reserved.