Taken c1888.

Taken c1888.


Midland & Station Hotels,
Matlock Bath

The Midland Hotel is on North Parade, next to the bridge leading over the Derwent River to Matlock Bath Station on the East bank. The Station Hotel is opposite, at the angle between Brunswood Road and North Parade. It is now called "The County & Station Hotel".
These two engravings were made from photographs taken about 1888 by Frederick Barber, and part of an Album published in 1891 by Joseph J Hope, (see Views by Barber for more details).
These hotels can be followed in the Census:
Midland: 1901, 1891, 1881, and 1871
Station: 1891, 1881, and 1871

Modern information:
Midland Hotel, 1, North Parade, Matlock, Derbyshire DE4 3NS, 01629-582630
County & Station Hotel, 288 Dale Rd, Matlock Bath, Derbyshire DE4 3NT, 01629-582188 or 01629-580802.






North Parade, Matlock. Taken 1892 from the bridge to the railway station.
Midland Hotel (left) and Station Hotel (right), Brunswood Road behind the horse.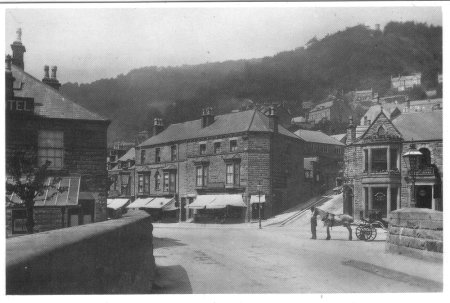 Dates:
Photo taken:
Size:
Source:

Click on photo for enlargement (on CD only)
Have any more information about this photo? 
Please e-mail the author on: