| | | |
| --- | --- | --- |
| Updated 26 Feb 2009 | WIRKSWORTH Parish Records 1600-1900 | |
<!==================================================> <!==================================================>
Posted 1934. Addressed to Miss Joan Langston, Convent of Mercy, Bristol Road, Brighton, Sussex, signed "Dorrie" and reads "This is the house I am staying at..." .



Unposted, about 1920. Unused but with names on reverse:
"Tilly, Willie, Mrs S Harrison, Tom Bowling and J.G.Asprey (Aspro)."

Nalgo House, Matlock

Thought to be a Convalescent Home run by the Trade Union N.A.L.G.O. (National Association of Local Government Officers), it is in Lime Tree Road, Matlock with a fine view of Riber Castle (before a housing estate was built). There is a croquet lawn, and a balcony where patients were "aired".
Charlotte writes:
I can't tell you much about the history of Nalgo House, but as you assume it was a convalescant home. In about 1914 it was called the Derby and Derbyshire Convalescent home, but I don't know when it changed to NALGO. More recently it changed its name to The Lindens and was an old peoples home run by the council (County I think) don't know the year, but it was before 1970. It was now been changed again - converted into three houses, which sell at exorbitant prices. (approx 5 years ago perhaps a little more) It is situated on Lime Tree Road, if you can get a close-up map of the area, possibly from multimap.co.uk, look where the road bends to the left (assuming you are looking north) the building should be able to be seen on the left hand side. On the right slightly lower there is a turn into Hurst Rise (the council estate) and further up is Lynholmes Road (another part of the council estate)I have just had a look and I can make it out, you may have trouble depending on the size of your screen and how well you know the area. Put in DE4 3AR (this is Causeway Lane, then scroll east and north). From the front windows you will get a good view of Riber Castle.
Charlotte
Posted 1934, two patients relax in the sun on deckchairs.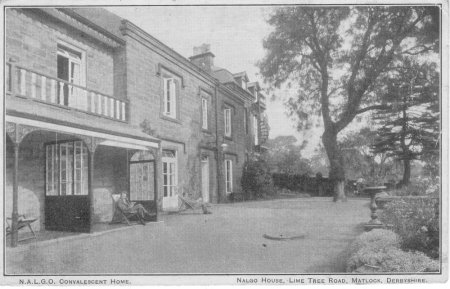 Dates:
Photo taken:
Size:
Source:

Click on photo for enlargement (on CD only)
Have any more information about this photo? 
Please e-mail the author on:


Compiled, formatted, hyperlinked, encoded, and copyright © 2006, All Rights Reserved.