| | | |
| --- | --- | --- |
| Updated 4 Jun 2007 | WIRKSWORTH Parish Records 1600-1900 | |
<!==================================================> <!==================================================>
Taken c1900.

Taken c1900.


Packhorse Farm, Alderwasley

Packhorse Farm (OS ref: SK 321-521) lies on the old Turnpike Road (Toll Road) South from Wirksworth to Derby, and another route over a Derwent bridge at Ambergate towards Nottingham. Lead was carried by packhorse to the big cities. These roads are now minor and rural, but once had heavy four-legged traffic. The people shown in the photo are unknown, but may be among those shown in the following Census entries: 1901, 1891, 1881, 1871, 1861, 1851.
Taken 2007 by by Stuart Flint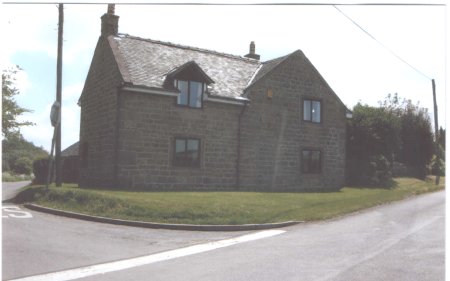 "Packhorse Farm is now a much larger house ..the door on the centre of photo has been blocked up signs of this visible The lane to the left of the farm is called Jackass Lane and leads down past Shining Cliffe Woods to Ambergate.. This is a road my family and I use when travelling from Wirksworth - Ripley/Alfreton ..My Gr Gr Grandfather Nathaniel Cauldwell who was Head Forester/Woodsman to Francis and Elizabeth Hurt nee Arkwright lived in a house just off Jackass Lane.for a time and then at Alderwasley Hall. Others of my Cauldwell Smith Holgate and allied Longden and Spendlove families lived at Alderwasley Shottle and Ashlehay being Gamekeepers, Farmers and Iron Workers working for the Hurts and then Molds.."

Dates:
Photo taken:
Size:
Source:

Click on photo for enlargement (on CD only)
Have any more information about this photo? 
Please e-mail the author on:


Compiled, formatted, hyperlinked, encoded, and copyright © 2006, All Rights Reserved.