Taken 1892


The Pig of Lead Inn, with the crushing plant and quarry behind. The house at the rear belonged to Alfred AXE, who owned the quarry, see 1901, 1891, 1881. The quarry was run by Joseph BANKS, see 1901, 1891, 1881, 1871, 1861. The Pig of Lead closed some years ago and is now a private house.

The old Pig of Lead today, a modern bed & breakfast, see www.pigoflead.co.uk

Pig of Lead, Via Gellia

The Pig of Lead Inn, formerly called the Via Gellia Inn, stood where the Via Gellia road meet the Clatterway just South of Bonsall village. An Inn in 1739, it sadly has now closed and in 1995 became a Bed & Breakfast establishment run by Mrs Julie Broden (see her website on www.pigoflead.co.uk).
The road called Via Gellia was built in 1791. More pictures and history can be found on the following links: 203, 244, 373, 206. The old Viyella shirt tradename was named after Via Gellia. Find how from the 203 link.
Innkeepers of the Pig of Lead mentioned in the Census are:
1891,1901: Josiah Oliver
1881: Dorothy Gregory
1871: Mary Knowles
1841, 51, 61:James Briddon
1835: William Peat [Pigot's Directory 1835]
The Inn can be traced in the following Census entries:
1901, 1891, 1881, 1871, 1861, 1851 and 1841
Posted 1899-1902. The Pig of Lead, Clatterway, Bonsall.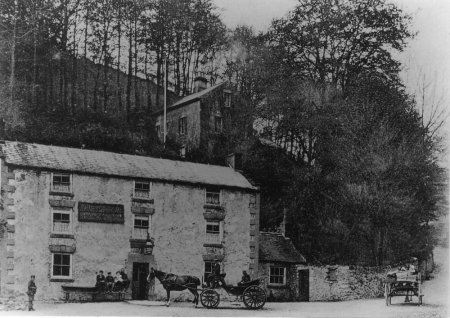 The Inn sign reads: Pig of Lead, Via Gellia Inn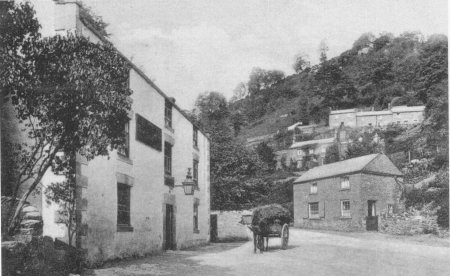 Dates:
Photo taken:1892
Size:
Source:

Click on photo for enlargement (on CD only)
Have any more information about this photo? 
Please e-mail the author on: