Taken 1892

Unposted, perhaps pre-1910.


Cromford 1892

In 1772 the first water-powered cotton mill in the world was opened by Sir Richard Arkwright in Mill Lane, Cromford. The original mill and the cast-iron aqueduct that kept it fed with water, still exists and is open to the public. In 1783 Arkwright opened a second mill nearby.
The building in the centre of the picture is the Grehound Hotel, built in 1778 to provide accomodation for visitors to the mill. Arkwright also built cottages for the mill workers, a school, a church and a big house for himself called Rock House.
Census entries for the Greyhound Hotel, Market Place can be seen on the following links: 1901, 1891, 1881, 1871, 1861, 1851 and 1841
Posted 1910. Market Place, Cromford, Greyhound Hotel on left, note gaslamp.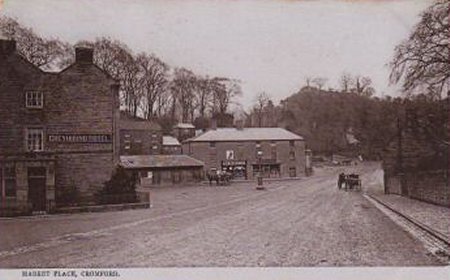 Dates:
Photo taken:1892
Size:
Source:

Click on photo for enlargement (on CD only)
Have any more information about this photo? 
Please e-mail the author on: