Whatstandwell Bridge on the Cromford Canal, when the towpath was meant to be used by horses for towing.

In an obviously posed photograph, W Dawes & Son's boat "Shamrock" waits to be unloaded at Cromford Wharf. The large pieces of coal from previous deliveries have been individually man-handled off the boats and neatly stacked on the edge of the wharf. Horses and carts wait on the right to distribute the coal locally. In twelve months during 1900-1901, Dawes brought 176 boatloads of coal to Cromford, almost all from Hartshay. [Credit Friends of Cromford Canal]
See 1881 and 1891 Census.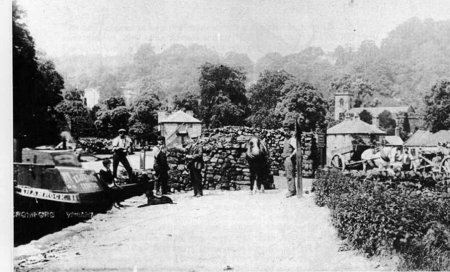 This view from the hillside above the A6 shows the Derwent or Wigwell Aqueduct with leawood Pump House to it left and the canal snaking away past the Wharf Shed towards the railway workshops. The broad elliptical span of Jessop's Aqueduct takes the canal across the Derwent and the massive abutments either side can just be made out. On the outside of thesewere two smaller arches for fishermen and cattle. At the far right of the Aqueduct is the junction with the Leawood Arm, which followed the river bank then headed away towards the hat factory and Smedley's mills, seen in the middle distance above the Aqueduct.
[Credit Friends of Cromford Canal]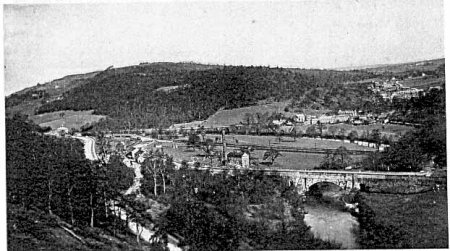 The tithe map of 1841 shows a wharf here at Whatstandwell on the opposite, northern side of the canal to Eden House. In 1945 one of the last boats was tied up there, still floating and apparently in good condition, but looking somewhat neglected. As the local Canal Inspector Edward Sampson lived nearby until his retirement in 1958, this was a convenient and safe place to tie up the boat.
[Credit Friends of Cromford Canal/Fred Copeland]

Aqueduct Cottage in autumn 1905, photographed by William Henry Stockwell. The small wooden swing bridge over the entrance to the Leawood Arm can be seen crossing the narrows where once were housed stop gates to control the water level in the side arm and to prevent loss of water from the main canal.
[Credit Friends of Cromford Canal/Julie Simpson]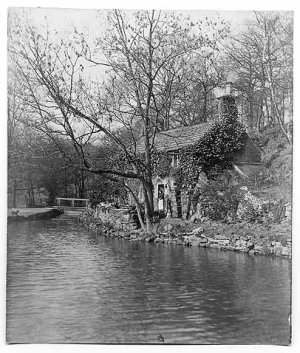 Cromford Canal

Hugh Potter, Archivist of The Friends of Cromford Canal, has allowed me to use these these images and the accompanying text from his book "The Cromford Canal" ISBN 0-7524-2802-0, published by Tempus Publishing Limited. This excellent paperback has 212 photos each with text. Thanks Hugh.
See also Census entries for canal workers.
The name of Wheatcroft was associated with the Cromford Canal for over 150 years. In fact this sign, or possibly a replica, was still in place at Cromford Wharf in 2003, over 200 years after the canal was opened. Seen here in the early years of the twentieth century, Nathaniel Wheatcroft's staff are well turned out for the photographer.
[Credit Friends of Cromford Canal/Alan Swift]
See 1841, 1851, 1861, 1871 and 1881 Census.


Mrs Ann Eaton sits outside Aqueduct cottage, where she lived for many years, with one of her daughters, Mrs Violet Farnsworth, and her two children Henrietta and Arthur. They are sitting on the steps from which they drew washing from the canal. The cottage has no mains services.
[Credit Friends of Cromford Canal/Ivy Turberville]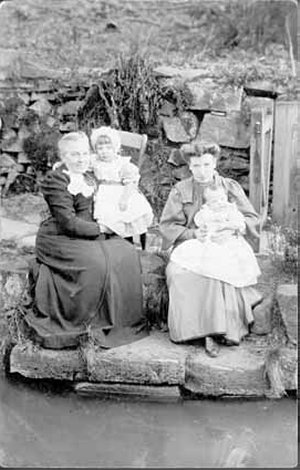 Roger Jennens writes:
I've appreciated your website for some years. I was delighted to see the photograph of Ann Eaton. She is an ancestor of my wife, and this is what I know of her. She was born in April 1843, at Bolehill, a daughter of James Sims and Ann Kniveton. She was married in February 1869 at Trinity Chrch, Derby, to Josiah Eaton (born in June 1839 in Cromford, son of George Eaton and Ann Clark, who for a time kept the Red Lion Inn on Cromford Hill). Josiah was an engine tenter and platelayer, and he and Ann lived variously at Bolehill, Pilsley, Whittington Moor/Brimington and Holloway. I know of eight children: my wife is descended from the eldest, Mary Ann. Violet, shown in the photograph, was the seventh child, born in 1882 and married in 1907 to Thomas Farnsworth. Henrietta, the older of the children in the photograph, was born later that year. Josiah died in 1897, and Ann herself died in December 1922. Both she and Josiah are buried in Holloway Cemetery.
Roger Jennens
This unusual view of the cast iron aqueduct carrying the canal over the Midland Railway was taken from on top of the adjacent Leawood railway tunnel. Beyond the canal, the line crosses the Derwent before reaching the 'real' High Peak Junction, where the Cromford & High Peak Railway joined the main line from 1853. The canal to the right contours round the spur of land, Lea Wood, through which the railway tunnels. There was a second aqueduct as the track emerged at the other end. On top of the distant quarry face is Crich Stand, the memorial to the Sherwood Foresters who died in the First world war.
[Credit Friends of Cromford Canal/Frank Rodgers]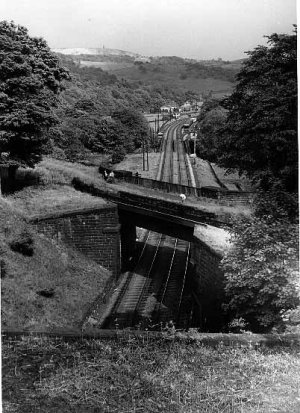 Dates:
Photo taken:
Size:
Source:
Click on photo for enlargement (on CD only)
Have any more information about this photo?
Please e-mail the author on: