Posted 1911, showing pews, old Brindley organ and chandeliers.

Posted 1907. The Nave looking towards the Altar

Unposted card, showing North Choir Aisle on left and Chancel on right.
Tomb to Anthony Gell (died 1583) on the left.


The Choir, St Mary's, Wirksworth

How the Parish Church of St Mary used to look. The organ has now been removed because of the cost of repairs, and has been replaced by a modern electronic organ now standing beneath the Tower. The old organ was made by Brindley and Foster of Sheffield in 1899 (some old stops from this organ still exist). A "refectory" has now been built where the old organ used to stand. The chandeliers at the top of the picture were found discarded outside the church during the Second World War, and probably went for scrap.
The postcard was posted in 1911, addressed to:
Mr R Burkitt, 50 Robin Lane, Beighton, near Sheffield.
It reads:
DR, All being well & weather fine I shall arr at B at 2:30 that is nearly an hour before you so I shall have a look at the shops till you come but I shall have to start back at 6:4 for Cromford then I may get home before it is dark, don't forget those photos will you, love to all, BW
See Photo Y024 for a postcard to the same address.
The next postcard was posted in 1907, addressed to:
Mrs Belton, Central Buildings, Ashby de la Zouch
It reads:
So pleased to receive letter from you, thanks for kind enquiries, shall be home tomorrow (Friday) afternoon, will call with love, F M
The Brindley & Foster organ, built in 1899.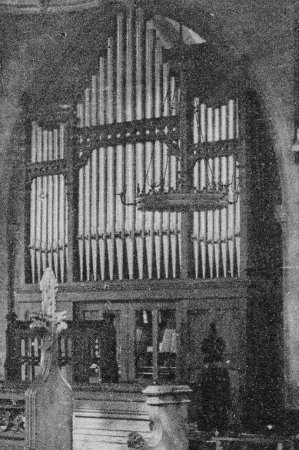 Some china organ stops and maker's name plate from the old organ.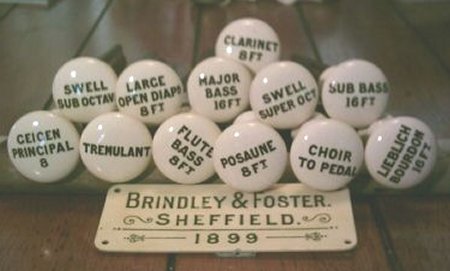 Dates:
Photo taken:before 1911
Size:Postcard
Source:"James Watterson, Photographer, Wirksworth"

Click on photo for enlargement (on CD only)
Have any more information about this photo? 
Please e-mail the author on: