Unposted. Looking east, towards the Hydro

Posted 1903. Looking West, away from the Hydro.

Smedley's Ballroom, Matlock

The ballroom was inside the Winter Gardens, a large glasshouse-like structure on the left of the main building, ( see: X182, X151 and X197 )
Inside can be seen the potted palms, wicker chairs, Chinese lanterns and ceiling curtains to cool the room when a hot sun shone. Can you spot a stout lady waiting alone (perhaps the photographer's wife)?
The Winter Garden
Taken from the front of Smedleys Hydro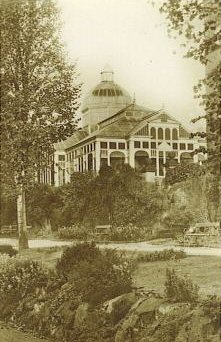 Dates:
Photo taken:
Size:Postcard
Source:

Click on photo for enlargement (on CD only)
Have any more information about this photo? 
Please e-mail the author on: