Posted 1920

Posted 31 Aug 1915 by Emily to
Miss Nellie Hallam, 19 Elm Grove, Blue Bell Hill, Nottingham

Rev.Denham Rowe NORMAN (1828-1931), with second wife and family in 1897. Born Chichester 19 May 1828; Died 10 June 1931; Curate of Wirksworth (1855-56); Curate of Ashton le Willows (1857-58); Vicar of Middleton (1858-75); Rector of St Mary's, Stafford (1875-98); Published The Origin and History of the English Bible (1870); The Crusades (1872); The Religious Orders of the Middle Ages (1873); Married 1853 Sarah Richardson; 1883 Elizabeth Grindley; children: left to right: Nigel, Cybil, Basil, Aubrey and Gwen.

Middleton Church & Vicarage

Jo Williams writes:
The one I can date is of the Church & Vicarage which was posted from Matlock on 2 July 1920 to a Miss Arkwright, The Gate (? - not v clear) House, Wirksworth thanking her for inviting the sender to a meeting on 13th.
Taken 2009. Note how the chimneys have been shortened.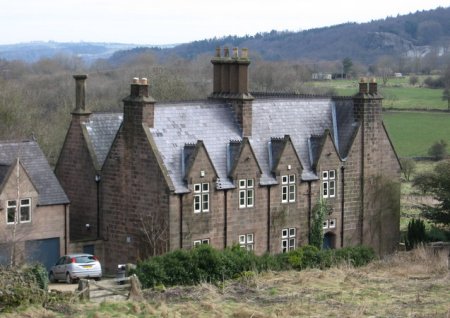 Entries in the Census for the Vicarage can be seen as follows:
1901 | 1891 | 1881 | 1871 | 1861 | 1851 | 1841
The Parsonage dates from 1852. The register dates from the year 1839. The living is a vicarage, tithe rent-charge, gross yearly value about £300, including 1½ acres of glebe, with residence, in the gift of the vicar of Wirksworth, and held since 1875 by the Rev. Edwin Cuthbert Harward M.A. of Trinity College, Oxford.

Dates:
Photo taken:
Size:Postcard
Source:J R Williams
(jorwilliams#blueyonder`co`uk)

Click on photo for enlargement (on CD only)
Have any more information about this photo? 
Please e-mail the author on: