| | | |
| --- | --- | --- |
| Updated 10 Apr 2010 | WIRKSWORTH Parish Records 1600-1900 | |
<!==================================================> <!==================================================>
Posted 1937


Unposted. The lower left shows railway wagons in the Cromford Road sidings and on the right has the lower part of the line from Stoneycroft Quarry. The spoil heaps of the Bage and George mines are clearly seen in the mid-ground. Bolehill and Barrel Edge are in the background. This is a tinted postcard and the original photo was by James Watterson of Wirksworth. Christmas message on the reverse.

Bolehill, Wirksworth c1937

The card has an Edward VIII 1d stamp and was sold by H.L.Doxey, Market Place, Wirksworth.
Posted 1924.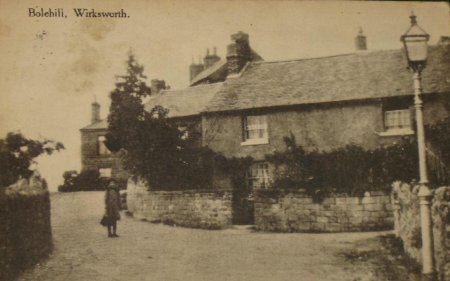 Dates:Posted 1937
Photo taken:
Size:
Source:

Click on photo for enlargement (on CD only)
Have any more information about this photo? 
Please e-mail the author on:



A fine postcard view of Wirksworth from Bolehill, taken by James Watterson of Wirksworth around 1905 and kindly sent by David Fawcett in 2010. It seems to be taken from OS ref: SK 292-549 (near where Bolehill Rd, The Lanes and Little Bolehill meet), looking SW (St Marys Church, Wirksworth can clearly be seen). David writes:
"The Primitive Methodist Church is behind to the right (which has also closed last week) The WI Hall referrred to on your site is soon to be bulldozed for more houses, and as I said before the Miners Standard is being refurbished as houses. Mens Insitute you can see to the right of the lane opposite on the photos with and without chimneys."
The fine gaslight in the foreground may be number 76 in the List of Streetlamps. One of the kids nearby has a hoop, another has a pram. Who are they? Look through the Bolehill Census 1901 for kids aged around 1. Their Mums would walk down the lane to the Wirksworth shops and back, no driving.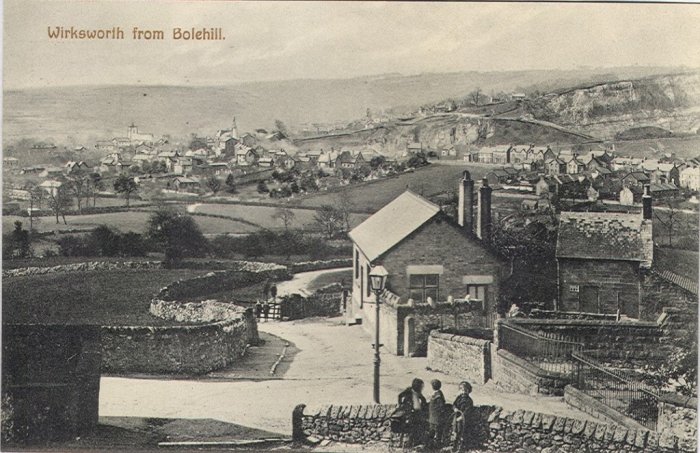 Compiled, formatted, hyperlinked, encoded, and copyright © 2005, All Rights Reserved.