Posted 1910

Posted 1913, sent to Mrs Weston, Warmbrook House, Wirksworth.

From The Derbyshire Times, 20 Jan 1923
THE BURST BUBBLE.
Supposed Wealthy Matlock Woman's Husband Out of a Job.
Mr Edward Henry Smith-Wilkinson, husband of Mrs Smith-Wilkinson, formerly a Mrs Southerns, proprietress of Chesterfield House Hydro, Matlock, known variously as the "Countess of Monte Cristo" and "Madame Aladdin", in consequence of her extravagant mode of living, is in want of a job, according to the "London Express". Smith-Wilkinson says his wife has gone to South Africa, and to a newspaper man he has been 'letting daylight" into her supposed extravagances. He says they spent £150 at the Ritz Hotel in London, and returned to Nottingham to a meal of bread and dripping! His wife, he says, promised him £1,000 and a cheque book when they were married, which he never got, and the wedding breakfast consisted of a cup of coffee at Derby station! He borrowed the money both for the ring and license, and still owed it. His wife obtained her money from shares in a Matlock hydro bought at 3s 6d and sold at 33s 6d, and from the sale of a Nottingham Hotel. He alleges that his wife spent £30,000 on clothes in London and Paris, but most people will swallow this with a grain of salt. Smith-Wilkinson, whose former name was Smith, said at their Nottingham bungalow he had to scrub floors, as their only servant was a man who came in daily. His wife paid him 8s. a week for gardening. As to the prices paid by his wife, Smith-Wilkinson says the wonderful necklace supposed to have cost a million was bought for £80, and her Russian head-dress supposed to have been bought for £346,000 cost £50! Smith-Wilkinson complains that his wife never gave him any money, and that he has only an Army pension of 8s a week. After being handyman for so long to his wife and with his general experience he should not have much difficulty in getting a job.
Chesterfield House Hydro, Matlock

Located on Chesterfield Road, Matlock. One of more than 24 Hydros in Matlock, opened around 1860 during the great popularity of Hydros begun by John Smedley. Staff and visitors can be seen in the following Census for Matlock: 1901, 1891, 1881 and 1871. In 1926 the Hydro closed, and next year opened as a convent belonging to the "Presentation Sisters".
Notice the fine car and people in the left of the postcard.
The colour card shows lots of jolly and elegant detail with pre-War fashions. The little house for children is especially fine. The card is addressed to Mrs Weston, Warmbrook House, Wirksworth, from "Hettie" her niece, who is concerned about the health of "Jack". John and Hannah Weston are found on the 1901 Census and Jack lived another 10 years so was not too bad, thanks. The MI shows that Hannah ("Morrie") lived another another 27 years to 85, but daughter Gertrude died at 16 just before the card was sent.
Enlargement, from left hand side, a fine car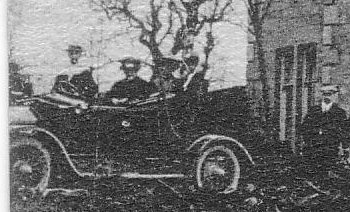 Dates:Posted 1910
Photo taken:
Size:Postcard
Source:

Click on photo for enlargement (on CD only)
Have any more information about this photo? 
Please e-mail the author on: