Posted 1912. Addressed to Mr H Brown, 8 Regent St, Langley Mill, Notts.
"Dear Bro & Sister, Am having my holidays, shall come over tomorrow morning (Tuesday) hoping you are all well, John."

Alderwasley Hall.

The HURT family can be traced in the following Census returns for Alderwasley:
1901, 1891, 1881, 1871, 1861, 1851 and 1841.
Alderwasley Hall, the former home of the HURT family, which in recent years has been put to various educational uses, is situated in an attractive park. Within the gates of the park is Alderwasley Church; few churches in England can be in such a delightful setting. A cedar tree stands guard, while just below, a sparkling stream runs with little waterfalls and ornamental lakes. The HURTS were involved in lead smelting and one souvenir of charcoal burning still remains in the form of a fire damaged yew tree known as "Betty Kenny's Tree". Betty, or Kate to give her correct name, came with her husband and young family every year to burn charcoal. They lived in an improvised hut and in good weather the baby slept outside in a hollow, horizontal branch of a tree, which it is suggested gave rise to the nursery rhyme Rock-a-bye-baby.
Dennis Eardley
Posted 1906. Addressed to "Mrs Bowyer, Traveller's Rest, Draycott, Nr Derby". Probably from Ida Mary Smith of Tunbridge Wells, a patient at Smedley's Hydro in Matlock.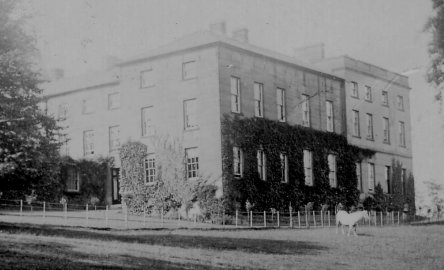 Dates:
Photo taken:Early 1900's
Size:
Source:Postcard, publisher AP & Co, #2534

Click on photo for enlargement (on CD only)
Have any more information about this photo? 
Please e-mail the author on: