Hopton Incline, a 1 in 14 section of the Cromford and High Peak railway near Hopton. This incline, originally an inclined plane operated by rope haulage, was the steepest gradient worked by adhesion in Britain. The severe change of gradient can be seen at the foot.
Below is a 'Crewe Goods' LNWR 2-4-0T, taken about 1890. The enclosed cab recognises the severe weather here on the Moors!
Here an 0-6-0T No 7527 climbs the start of the incline under full pressure, on 4 May 1934 pulling 6 trucks. The loco was designed in 1924, from a Midland design, steam pressure 160 lb, tractive effort 20,835 lbs, graded 3F, originally a North London Rail design, then Midland Rail, then L.M.S, finally B.R.
The same loco appears in 1950 under new ownership, pulling two water tenders and displaying LMS 58860. Originally in NLR number 92, then in NLWR 2892, then LMS 7527, then LMS 27527, BR 58860, finally scrapped c1961
The chimney in the background may be connected with a siding to the Hopton-Wood Stone Company works
A sign of the times, on 25 Sep 1955, 58860 and 58856 double-heading at the top of Hopton Incline, pulling 4 wagons full of enthusiasts on an Ian Allan High Peak Rail tour. The shed number is 17D (Rowsley).
Taken 1967. 4 guardsvans packed with happy enthusiasts on the last day on the CHPR. J94 68006 and 68012, 0-6-0 and 4F, ex MoS. The steepness of the incline is well shown.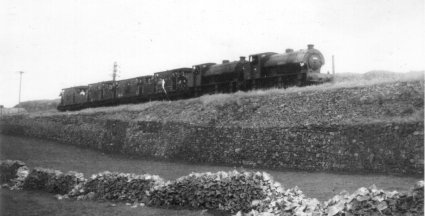 Taken 1953 Apr 25 at Hopton Top. 58856 (left) and 58860 (right) with enthusists on "High Peak Rail Tour" organised by Stephenson Locomotive Society and Manchester L.S.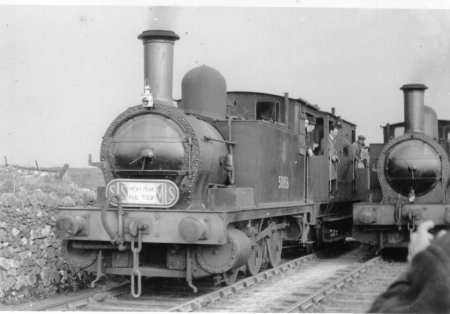 Taken 1953 Apr 25 at Hopton Top. 58860 (front) and 58856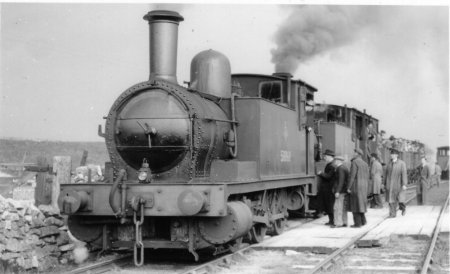 Dates:
Photo taken: 4 May 1934
Size:postcard
Source:

Click on photo for enlargement (on CD only)
Have any more information about this photo? 
Please e-mail the author on: