| | | |
| --- | --- | --- |
| Updated 27 Jul 2005 | WIRKSWORTH Parish Records 1600-1900 | |
<!==================================================> <!==================================================>
These pictures come from "The Autochrome Album of Matlock and District", printed by Percy Lund, Humphries & Co Ltd. Scans were sent me by Tim Lomas, many thanks. I've chosen the pictures within the Wirksworth Area, and some adverts.
Autochrome was an early colour transparency system, patented in 1904. More about the process can be found on: Autochrome
Click on photo for enlargement (on CD only)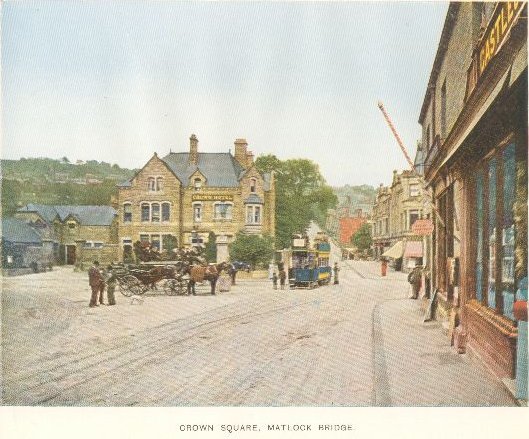 CROWN SQUARE, Matlock Bridge
This picture was taken before the tram shelter was built, the gift of Robert Wildgoose in 1899 (he died in 1900), see Photo 189. The tram began operation in 1893. The original tram colours were blue/yellow. The shop on the right was a drapers run by Harry Castle. His wife Sarah was a widow in the 1901 Census. The large barber's pole sticking up belonged to William Phillips, hairdresser. The shops on the right were demolished in the 1920's. The large Crown Hotel stands across the square, its inhabitants can be seen in the 1881, 1891 and 1901 Census.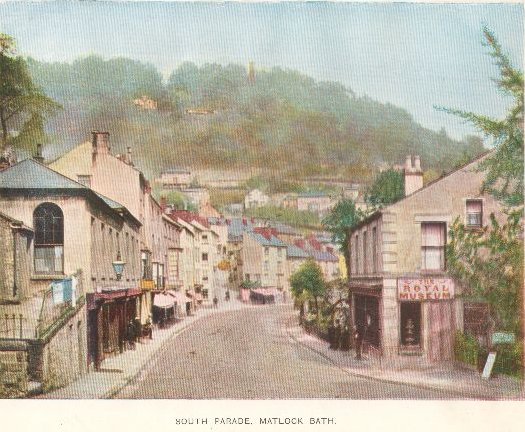 SOUTH PARADE, Matlock Bath
Compare this with Photo 177

From:  Tim Lomas (tim#lomascentral.com)
Subject:  Re: [DBY] Matlock's steep cable tramway 1893-1927 
Date:  Tue, 26 Jul 2005 00:05:12 +0100 
To:  

John,

Try http://images.matlockweb.com/images/books/autochrome/ac6.html 
It's part of an old book I scanned some time ago for Ann Andrews.
Feel free to take a copy of the page, the book's well out of copyright.
Presumably this is before the tram shelter, it doesn't appear to be
there at the time.

As a matter of interest, the shelter's just been refurbished, I took a
few photos of it during the work last year when I was in town.

I've got a copy of an old railway magazine with a 2 page article on the
tramway somewhere, I'll see if I can locate it.

Tim

Compiled, formatted, hyperlinked, encoded, and copyright © 2005, All Rights Reserved.