Posted 1903



Unposted


Unposted

Level crossing of Cromford & High Peak Railway and footpath from Wirksworth and Cromford to Black Rocks. The old stone stile still survives.

Posted 1906. from Sallie Clews to mother Mrs J Clews of Bank House, Newhaven, Hartington, Buxton.


Dates:
Photo taken:
Size:
Source:


Click on photo for enlargement (on CD only)
Have any more information about this photo?
Please e-mail the author on:

Cromford, Black Rocks

A landmark between Wirksworth and Cromford. It is a weathered outcrop of Ashover gritstone, and stand near the High Peak Trail which used to be the Cromford and High Peak Railway. The area is now a country park, and the rocks excellent for rock climbing. Black Rocks used to be mined for lead, and the nearby spoil scree slope supports lead-tolerant leadwort. The Rocks have a fine view down onto Cromford.
"Returning from WIRKSWORTH to MATLOCK BATH, opportunity may conveniently be taken, by passing along the road towards Cromford, to ascend the celebrated BLACK ROCKS, collectively called STENNIS or STONNIS - a popular corruption of stonehouse - a mass of grit stones, "dark ponderous, and sublime," surmounted by waving clusters of old pine-trees. From the summit of these Rocks there is a really magnificent prospect of wondrous beauty which the author of "Peak Scenery" regards as the finest in the county, and in flowing raptures exclaims - "I stood on the top of Stonnis - masses of rock lay scattered at my feet - a grove of pines waved their dark branches over my head-far below, embosomed in an amphitheatre of hills, one of the finest landscapes that nature anywhere presents was spread before me. The habitations of men, some near and others far apart, were scattered over the scene; but in the contemplation of the woods and rocks of Matlock-Dale, the windings of the Derwent, the pine-crowned Heights of Abraham, and the proud hill of Masson, they were all forgotten...."
Bemrose's Guide 1869
Posted 1912. Card by George Marsden of Wirksworth. Stamp with Downey Head. From James, to Miss Eth Horton, Park Lodge, Gibbins Rd, Selly Oak, Birmingham "Dear Eth, Do you remember being on this rock in the picture. I think you will recognise it. I wish you were here, but I suppose it is no good wishing. I have not found anything very exciting yet, everything seems dead. Hope to see you Sunday week. Yours ever, James." Name carved may be Samuel Land of Wirksworth
See also a reply from a Living relative of Miss Eth Horton!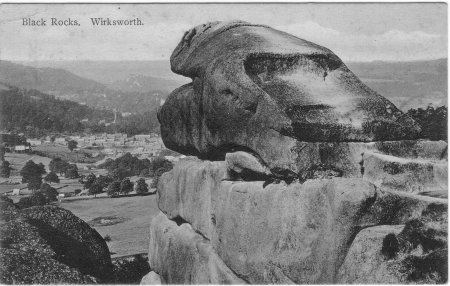 Photo taken pre 1939, Cromford in the distance.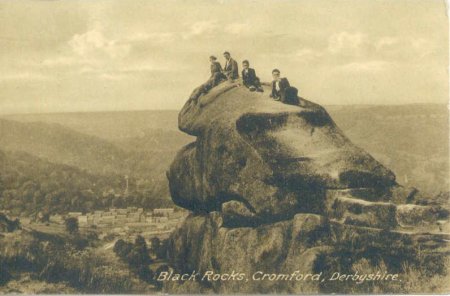 Unposted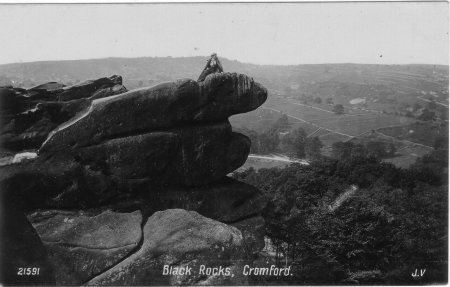 Network of straight stone walls in the distance.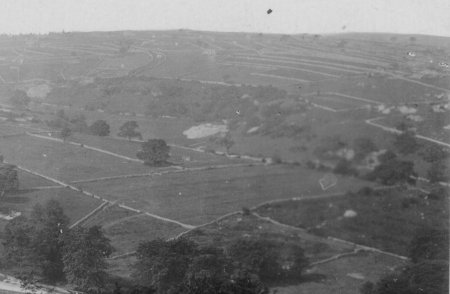 Unposted