Unposted, taken c1910.

The Ferry at Matlock Bath

The public ferry crossed the River Derwent, from the built-up side on the left, to "Lovers Walk" on the right, among the trees and up against the towering cliff face, (see Photo 185). There also seem to be skiffs for hire moored in the foreground. Imagine how the little boy with starched collar would be treated at school today! There seems to be a rope across the River to carry small items. Everyone wore a hat, young and old, male and female.
Enlargement

Enlargement

Enlargement

Posted 1905. Notice 3 skiffs this side, one on the other side of the river, the pile of spare oars and planks over the mud, 2 seats for customers and steps on the far side, the sandbags, and the rope stretched across the river Derwent.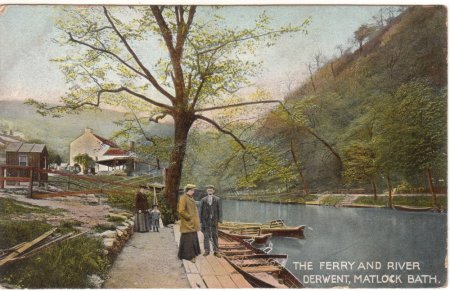 Posted 1912, addressed to Mrs G W Fowler, Myrtle Villas, Victoria Road Barnetby, near Grimsby Dear M, Hope to be home by first train tomorrow for week end. I posted Stephen's card - nothing has been said yet - Hope all well, C.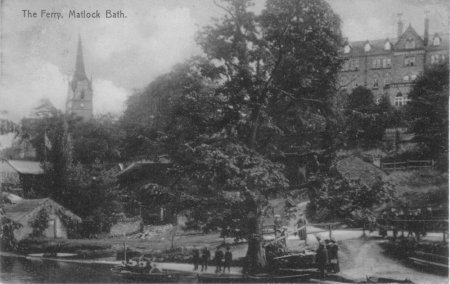 Posted 1904. A relaxed, idyllic scene. 7 skiffs this side, 3 on the opposite. Addressed to Mr F Snell, Brooklyn, 143 Rathcoole Gdn, Hornsey, posted at Derby on 12 July 1904, by E H Newton.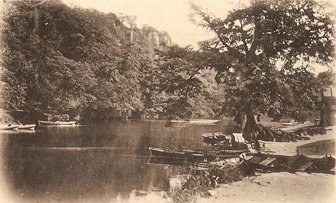 Dates:
Photo taken:c1910
Size:
Source: 


Click on photo for enlargement (on CD only)

Have any more information about this photo? 
Please e-mail the author on: