In 1911, a glossy, Midland Rail express thunders through.

Enlargement, showing station-master's house, built c1855.

Taken 2006. Credit Pippa Mansel who writes:"The Station Master's House is occupied by someone ...... They also own the up-line waiting rooms for which they have planning consent for a holiday let, but it remains derelict at the moment....the noticeboards and gaslamp have disappeared".

Taken 2006. Credit Pippa Mansel.

Taken 2005, a sad, weedy station.


From Matlock Mercury 29 Nov 2007


On Track with station revamp
Work is set to begin on Cromford's derelict railway station as part of a £263,000 revamp. The Arkwright Society has had the go ahead to start alterations next week to turn the listed building into office space. The condition of the 'at risk'building - which was last used as a scout hostel - has declined over the past two decades prompting the society to act and restore it. Director Dr Christopher Charlton said the regeneration work, which was expected to take about a year, marked a huge step forward for the project, after it has been tied up with funding negotiations since January. He said: "There is a lot to do. We will return the layout of the station to its original features. We are very concerned to use original materials and essentially put it back to use in its traditional form." He added that a new floor would need to be laid as well as repairing serious problems with parts of the roof, where stone had been pushed out of place. The building will initially be used as office space then as a world heritage site portal, housing exhibitions and information for visitors arriving by train. The plans will help meet Derwent Valley Rural Transport aims to regenerate local stations on the Derwent Valley Line between Matlock and Derby. Dr Charlton said:"It seems an ideal project. We are saving a piece of otherwise deteriorating world heritage and also creating jobs, new opportunities with office space and heritage regeneration." The society secured significant funding from Railway Heritage Trust, hired architects and commissioned a study of how the building could be used.
Cromford Station.

Station
Cromford Station main building, footbridge, building on east platform and Station Master's House form a group. The buildings and footbridge c.1855, 1860, 1874 and 1885 are Listed Grade II
In 1849 the Manchester, Matlock, Buxton and Midlands Junction Railway opened a line to Rowsley passing through Cromford. The station-master's house and the up line waiting room were built in c.1855 and 1860 in coursed gritstone with slate roofs. The design by G H Stokes bears witness to his work in France with his father-in-law Joseph Paxton in the 1850s. The station buildings on the down line were built in 1874. The Butterley Company erected the ornate footbridge in 1885.
Cromford station was elaborate as it served many country estates belonging to the gentry. The station building on the right, built around 1850, has a steep roof and a pointed turret, built in French style
(See report 2007 about station revamp)
1911 postcard.
Midland Rail Manchester to London Express passing Cromford Station
Engine number 1021 (41021 after nationalisation). The shed code looks like 2A (Rugby). The photo was taken on 15 June 1911 by the official Midland railway photographer (according to the Derby Register number DY9562). Text on the rear of the postcard reads:
"An LMS Manchester to London Express, passing through Cromford, in the heart of the beautiful Peak District of Derbyshire. These trains provide an excellent service between London and Manchester; from Euston via Rugby and Crewe the journey of 183.5 miles is covered in 3 hours 50 minutes, and from St Pancras via Leicestershire and Derby, the distance in this case being 190 miles, is covered in 4 hours."
Details of the engine:
4-4-0 (3-Cyl Compound) 4P Introduced 1905. Development by Deeley of Johnson Midland compound, later superheated by Fowler.
Thanks to Maurice Guise for the "2005" photo. No express and only one track, sort of sad.
Taken 1911 Apr 24, loco number 723. Up express at Cromford.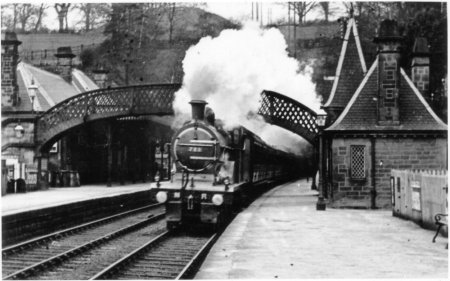 Taken May 1974. Cromford upside station buildings.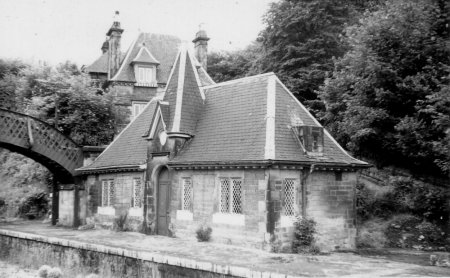 Taken 24 May 1952. 45279, LMS "Black 5" 5MT, 4-6-0, Introduced 1947, Stannier design, Stephenson link, Timken bearings. The station-master's house is behind the up-line waiting room. Copyright: C M & J M Bentley, Tel:(01298) 25151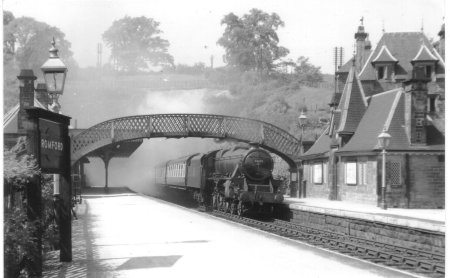 Taken 1953. Loco number 45554, 4-6-0 Jubilee class "Ontario", introduced 1934, Stannier design, 6P. Behind loco is Station-master's house and garden.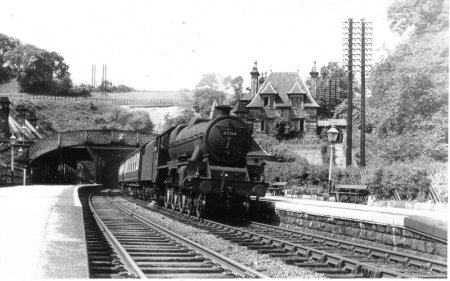 Taken 1953. A train has just left, into the tunnel.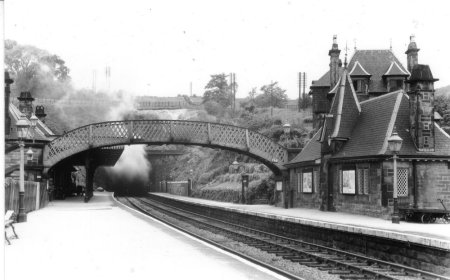 Dates:
Photo taken:
Size:
Source: 


Click on photo for enlargement (on CD only)

Have any more information about this photo? 
Please e-mail the author on: