Published by G Brown, Cromford, see Census for: 1901 1891 1881 1871 1861


Detail from above.

Detail from X331

Posted 1909, Mount Tabor Chapel present.


Scarthin, Cromford

Here's an old postcard, poor quality but interesting. A small lake (strictly a dam) surrounded by old houses, near the centre of Cromford. Today Scarthin Books is a fascinating bookshop, but the neighbouring buildings have changed intriguingly. Where do they hang the washing now?
Dave Mitchell of Scarthin Books writes
Dear John,
This may be the postcard showing someone in a pony and trap on Water Lane and Scarthin BEFORE the Promenade was built. The Prom was built I think shortly before the war memorial was erected so the postcard will be from the First war period or earlier. The cottages SEEN to the left of the shop were I think largely early 19th. century, with a few maybe earlier post-Arkwright. Higher up is one with mullioned windows that could have been early 18th or even 17th.Century-I'm excavating that at the moment. To the Right of the bookshop stands the Mount Tabor (I think) Chapel, built around the same time as the Prom; The Pidcock Bros. would show you the foundation stone, there were people in the village who laid it as children. Dave Mitchell
P.S. most of the cottages were cleared in the 60's and the new row next to the shop put up by the Council, and further least by Private Enterprise from the mid 70's and early 80's
Modern postcard, taken from Water Lane looking NE across the "pond" towards Scarthin, Harp Edge and Scarthin Books. The pond, used to store water for the cotton mills, was constructed by Arkwright.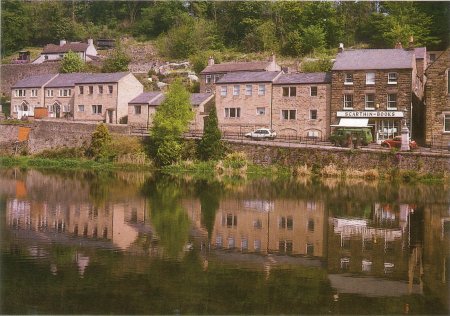 Detail from drawing on Scarthin Books' website: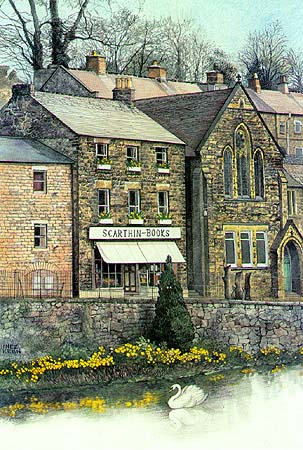 Dates:
Photo taken:
Size:
Source: 


Click on photo for enlargement (on CD only)

Have any more information about this photo? 
Please e-mail the author on: