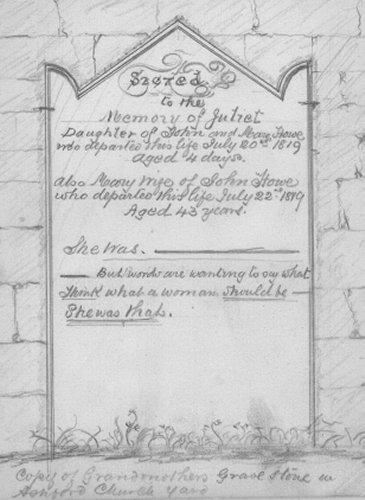 Gravestone at Ashford, 1890

Gravestone of Mary HOWE, relative of the author. This sketch was made by William DOXEY (also a relative) in 1890, after the gravestone had been moved to the wall of the church, since when the surface has exfoliated, making the inscription unreadable. This is the earliest known example of the much-quoted verse. Mary's husband John HOWE was known as "The Poet of the Peak" and has left a large body of Poetry in a work called "Trifles Light as Air" The drawing reads:
Sacred to the Memory of
Juliet daughter of John & Mary HOWE
who departed this life July 20th 1819 aged 4 days.
Also Mary wife of John HOWE
who departed this life July 22nd 1819 aged 43 years.
"She was....but words are wanting to say what,
Think what a woman should be...she was that."
Copy of Grandmother's gravestone in Ashford Church yard.

Dates:               
Photo taken: 1890
Size:        
Source: May Walker, Sheffield


Click on photo for enlargement (on CD only)

Have any more information about this photo?
Please e-mail the author on: