205: Postcard
Bottle, bowler, backet of eggs, kettle, cross, and sheep's head.

205a: Left half of a stereo pair.
Bowler hats, basket of eggs, kettle, rope, fruit, vegetables, a bird's nest?

205b: Right half of a different stereo pair.
Human skull, tiger's jaws, chain, swordfish, horses skull, donkey's head, basket of eggs, doll's house, angel carving, teapot, cat's skull, swan carving, bowler, antlers.

Great Petrifying Well,
Matlock Bath.

A host of articles left in the well to become covered with water scale, and so "petrified". Most are unrecognizeable, but I think I have spotted the list against each photo.
The top stereo photo (205a) is by J Siddon, 4 Clodeshall Road, Saltley, Birmingham, "Agent for stereoscopes and stereoscopic views".
The lower stereo (205b) was kindly donated by Vance Nelson of Canada. The resolution is good, and one of the objects looks like a sabre-tooth tiger to me!
The postcard (205c), also donated by Vance Nelson, has rather poor resolution.
Another postcard (205d) seems to have several different objects from (205c).
Postcard (205e), photo by Percy Rowbotham, Matlock Bath
205c: Postcard
Miniature animals, vases, bottles, mug, doll, model yacht, egg+eggcup, pipes, model aeroplane (monoplane c1930?), human skulls, teapot, eggs in nest, eggs in bowls.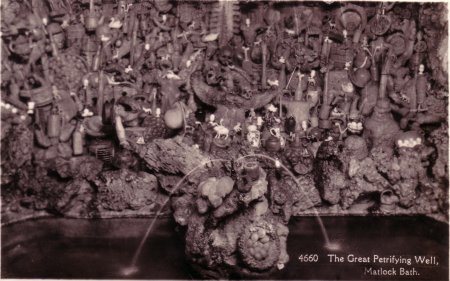 205d: Postcard
Cross, basket of fruit, doll, egg in cup, bowler hat, swan, horse skull, windmill, teapot, jug, human skull, sawfish rostrum, bottle.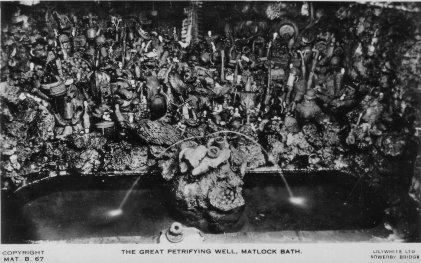 205e: Postcard
Birdcage, chair, shopping basket, whelks, egg+eggcups, boot, claypipes, teacup+saucer, birdsnest+eggs, Policeman's helmet, man's effigy, whale's vertebrae.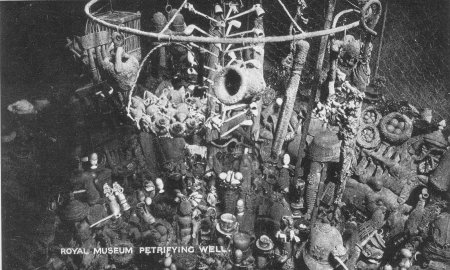 Dates:               
Photo taken:
Size:       
Source:


Click on photo for enlargement (on CD only)

Have any more information about this photo?
Please e-mail the author on: