Posted 1926.

Posted 2 Apr 1905 by John William Hilder (1858-) of Matlock Bath, from Cardiff, to his
neice Miss Hilder in Ashbrook, Sevenoaks, Kent, The original is very faint. JWH was a
professional photographer in Matlock Bath 1891-1907. Donated by Sharon Holmes, thanks.

Click on photo for enlargement (on CD only)
Have any more information about this photo? Please e-mail the author on:
Smedley's Hydro, Matlock

From "The Borough Guide to Matlock", published about 1905.. These views are taken from a one-page advert, and I hope give the flavour of the huge place.
The Winter garden, which had a ballroom inside.
See Photo 426.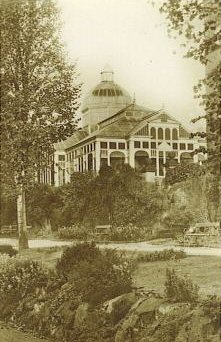 Taken pre-1902. The Terrace and Winter Garden.
from an undivided-back unposted postcard.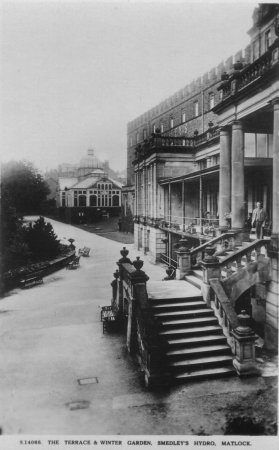 Rear of Hilder postcard.