Unposted. Looking towards the bridge. Thomas Kirkham bootmaker on right (next to bridge)
William Furniss hairdresser (red/white pole) on left. "Trams start here, 9.0 last tram"

Posted 1908

about 1905

before 1917

July 2005, The tram shelter, now preserved in Matlock Park.

Unposted. Signs read:Ladies/Gentlemen's Hairdressing - Tram Shelter 1899
- Rockside Hydro - To Rowsley & Bakewell, To Tansley & Chesterfield.
- Boden (butchers, confectioners)

Unposted, taken c1903.

Unposted, taken c1915. View towards Matlock Bridge.


Matlock, Crown Square and cable tram

The famous tram was pulled by a moving underground cable and climbed the 1 in 6 Bank Road. Price was 2 pence up hill and 1 penny down. The tram shelter is dated 1899 and was presented to the town by Robert Wildgoose Alternative modes of transport in the photos are the early charabanc, the horse and trap, and bicycle. More about the tram on Photos 362.
"Car every ten minutes" Darley, Rowsley, Bakewell, Buxton and Tansley,
ClayCross, Sth Wingfield, Alfreton, Nottingham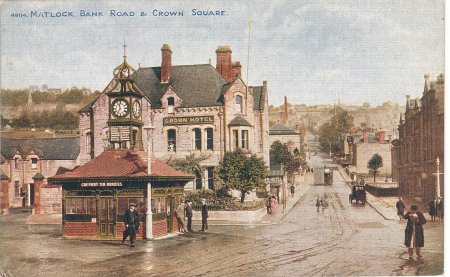 Unposted. A solid-wheel charabanc, old cars and two horse-drawn carts date this scene to about 1914. "Dekol tyres" advertised on the rear of a car and "to the Sports" signposted up Bank road.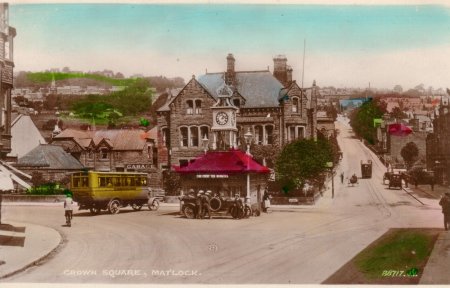 Enlargement of above shows a cameo. Chauffeur of the touring car stops in Crown Square to ask the way of two locals, who crane to see his map. An urchin leans nonchalantly against a tyre, while the owner looks impatient in the rear seat.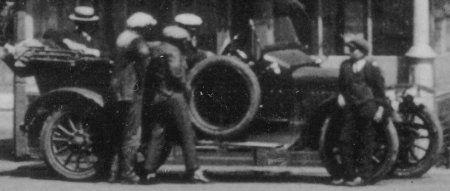 Posted 1908. Richard Hilton's tailors shop (left) and "Tram Shelter 1899"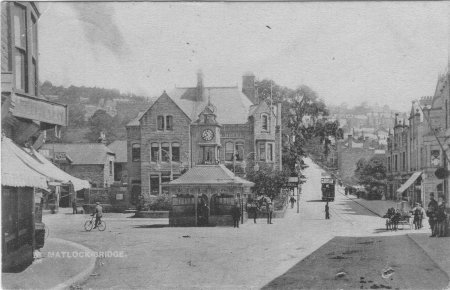 Posted 1906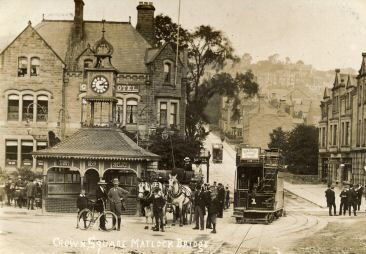 (sent by Dave Bradley)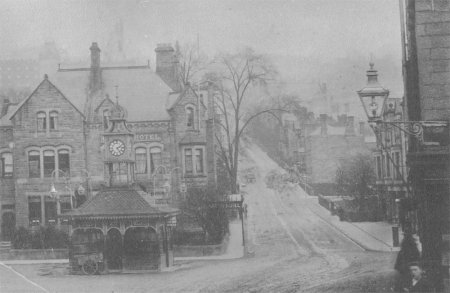 Posted 1905. On left, two well dressed ladies sweep along, and a gentleman moves to outside of pavement and tips his hat. Shops are Hilton, Tailor and Hartley, Smallware dealer.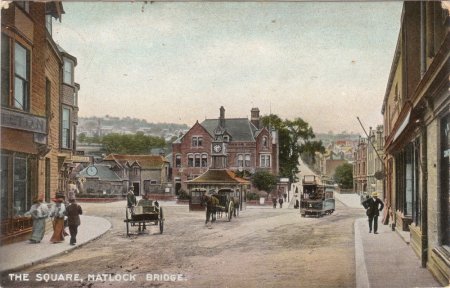 Posted 1914, to "Miss May Smith, Virginia Cottage, Ditchingham Dam, near Bungay, Norfolk. From George, International Stores, Dale Rd, Matlock. Shop on right is Peter Holmes, draper, see Census: 1901 and 1891. Church steeple on right of Bank Rd was built 1904.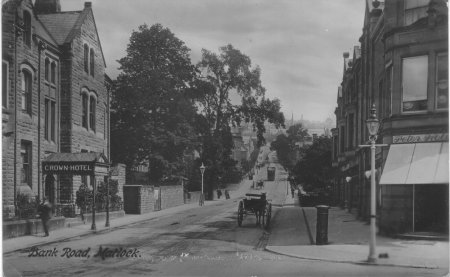 Phil Williamson of Adelaide, Aus writes: I thought you might be interested in the attached photo of Crown Square, Matlock, which was taken by my grandfather, Arthur Williamson, in 1909/10. He was visiting England from South Australia, and went to Matlock because it was near the birthplace of his maternal grandmother. This is the only photo I have been able to identify as having been taken in Matlock, and I was able to do that by Googling for "R Orme & Co", which brought up your website. Note the piles of horse manure in the foreground! Feel free to add it to your website if it is of any use. [In 1909 Robert Orme & Co, Family grocers, was probably being managed by Thomas Hazelwood, see Census for 1891 and 1881, also Tradesmen 1895]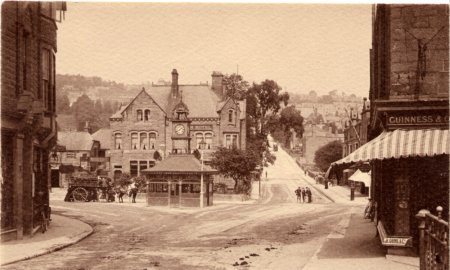 Dates:               
Photo taken:
Size: Postcard       
Source: 


Click on photo for enlargement (on CD only)

Have any more information about this photo?
Please e-mail the author on: