| | | |
| --- | --- | --- |
| Updated 26 Aug 2015 | WIRKSWORTH Parish Records 1600-1900 | |
<!==================================================> <!==================================================>


On the back is written: Ithersay House, Idridgehay, Derby - Home of Uncle (great) David Sibbald & Aunt Mary. Destroyed by German land mine Dec.1941. In 1930 I (Stanley L Taylor) drew a sketch of the corner window - left of photo - hung in Ithersay House until its destruction now at Nellie Sibbald's. Nellie Sibbald was wife of Fred Sibbald. They lived in Yorkshire.

Undated, but figures enlarged (see elsewhere) indicate pre-1914.
Addressed to Mrs Baldwin, 45 Crewe St, Derby. From L.H.Riley at Carr Hall, Turnditch.

Posted 1911. "The Vicarage, Idridgehay", from Ernest B., Ireton Wood to Miss A. Walkington, Newborough, Burton-on-Trent. A boy is mowing the grass.

Posted 1915. "Vicarage and Derby Road, Idridgehay."

Posted 1911.

Postcard addressed to Miss Melbourne, Steeple Grange, Wirksworth. (Late 40 St John St).
Dear Annie, I expect you know where this is, I thought you would like it. I will send you one of Ireton Wood House when I can get one. Yours etc, F.M.
In the 1901 Census, Miss Annie Melbourne was aged 17 and a parlourmaid at Ireton Wood House in Idridgehay. By 1911 she had moved on to St John St and then to Steeple Grange, but was still unmarried (as were most domestic servants). Perhaps "F.M." was a suitor? If you have more information, please contact


Ithersay House, Idridgehay

Elaine Partridge writes:
"I lived in Ithersay House,Idridgehay, Derbyshire from December 1940 until April 26, 1941 when the house was demolished by the land mine dropped from a German bomber, (dropping a land mine by parachute - hardly precision bombing!). At that time the house belonged to the Sibbald family. Miss Agnes Sibbald, Miss Janet Sibbald, their sister Mrs Harris and a brother who lived in Derby with his family. Miss Agnes and Miss Janet lived in an upstairs flat in the courtyard of Ithersay House, and Mrs. Harris lived in the next door house up the lane (2 cottages converted into one lovely house).

Ithersay House was WONDERFUL. It had 3 stories, twisty passages and one of the small rooms on the second floor had the appearance of being much older. (I am now American and the second floor is the one above the ground floor). We were right opposite the Vicarage which was also badly damaged. Next door to us up the Derby/Wirksworth road was Cowley's Farm where we bought our milk etc.

My father had an office in London and he evacuated the office and all the staff to Idridegehay. The night of the bomb - it was 11:30 at night we were conmpletely unaware of any air raid, as we were too far from the nearest siren to get any warning. None of us were killed. My brother was home on leave from the Navy and went to see if the Sibbalds were OK. Miss Janet was standing at the head of the staircase in a nightgown covered in blood!. When rescued, it was found that a fragment of glass had pierced a blood vessel in her cheek and that otherwise she was unhurt.

We were, of course, very dirty - I was covered in soot and my fair hair was completely black. We were taken to Ecclesbourne Hall, just up the lane, where we were cared for by Mrs. Kenneth? Wheatcroft. The vicar, who was a very old man, was invigorated by the event. I had never seen him so peppy as he was on that night.

I am 80 now, and because of that incident, became deaf in subsequent years. I am writing you because I do not expect that there are many living survivors of that time."

Isla Keys writes: The people in this picture are probably James Murdoch Sibbald, his parents Marianne and David Sibbald (all from Idridgehay) and my grandmother, Elizabeth Taylor (from Dundee). Location of Church doorway unknown.


Fashions indicate pre-1914


Boy mowing the Vicarage lawn.


E-MAILS


Isla Keys writes:
Have meant to contact you for some time... I don't have a huge amount of information, but as I live in Nottingham, decided to follow up the family often talked of by my father, Stanley Taylor (1911-1975). Years ago I had asked him to write on the back of family photos identifying locations etc, and I still have one of Ithersay House which he frequently visited as it was owned by his great-uncle, David Sibbald. Apparently Dad had drawn part of the house, and the drawing used to hang in a Nellie Sibbald's house (still not quite sure who she was - perhaps wife of Fred Sibbald?). David Sibbald was born in Dundee in the 1850's, and worked for the Newtyle railway there before moving south via Durham and Yorkshire to Idridgehay - I presume he continued to work with the railways but am not sure. There was a family of 2 sons - Frederick (Fred) and James Murdoch, and three daughters, Maisie, Jen and Agnes. I vaguely remember Auntie Jen. Maisie is the one referred to in Elaine Partridge's description as living in a house up the lane from the village, whereas Jen & Agnes must have lived in or around Ithersay House. Fred, I think, lived in Yorkshire, perhaps around Bedale. James Murdoch Sibbald, according to my uncle, was an accountant, and as the Sibbald firm in Derby was founded in 1926, I think he was the founder, though no-one seems to know. He did have a daughter, Vida and another one whose name I do not have. His wife might have been a Louise Leather. The David Sibbald who owned Ithersay House was the brother of Ann Sibbald, who became Ann Taylor and thus my great-grandmother. Their mother, Mary Sibbald was widowed when both children were very young, which is probably why the family remained quite close. She re-married, becoming known to the family as Granny Cunningham, and lived all her days in Dundee until her death at a very great age.

I've visited Idridgehay a few times now. On the most recent visit I wandered through St.James churchyard and found the family plots - David Sibbald's gravestone is the only celtic cross there.

There is a firm of estate agents in Dundee still called Graham & Sibbald, started by a cousin of David & Ann's. Other distant family members emigrated to the States and New Zealand.

Hope this is of interest!

Isla Keys (nee Taylor)


Dates:               
Photo taken: before 1941
Size:                 
Source:
Elaine Partridge now living in Las Vegas, Nevada USA 


Click on photo for enlargement (on CD only)

Have any more information about this photo? 
Please e-mail the author on: 




From Anne Stille , Australia
Dear John,
I'm researching some of my distant family and they were at Ithersay house for the 1911 census. You have a postcard with a signature FM on it. I'm pretty sure that would be Florence Margaret Leicester – a spinster. She inherited the house from her mother. Also on the 1911 census was her brother John Cyril Holdich Leicester and his wife Queenie – a Major with the Indian Medical Service. It was a 19 room house with only 1 servant!! Hope this helps clear up a little query.
Regards,
Anne Stille – Australia.

---------------------
1911 Census for Idridgehay, Deryshire
Florence Margaret  LEICESTER  Head    Sing  F  -                   41  1870  Shropshire Chelmarsh
John Cyril Holdich LEICESTER  Bro     Marr  M  Major,              39  1872  Yorkshire Scarborough
                                               Indian Medical Service, Indian Govt  
Queenie            LEICESTER  Sis-IL  Marr  F  -                   26  1885  Banchory Devenick Aberdeenshire
Lucy Edith         LOWRAN     Visitor Marr  F  -                   38  1873  St Helena 
                                               Brit parentage, Naturalised German subject (1888)
Louisa             GLASCODINE Visitor Sing  F  -                   50  1861  Denbighshire Wrexham
Edward Owen        THURSTON   Visitor Marr  M  Captain,            38  1873  London S Martins in the Field
                                               Indian Medical Service, Indian Govt  
Sarah              KATES      Servant Sing  F  Housemaid Domestic  40  1871  Middlesex Brentford
----------------------

The Knight Bible

150 mms x 80 mms x 30 mms
Printed 1679

c1,300 words a page, 600 pages
The Knight Bible and its connection with Ithersay House
Julia Rowntree writes:
.....when looking into the owners of an ancient bible that has come into my possession from my mother, Barbara Rowntree. The names inscribed in the small bible are of Henry Knight (1768) subsequently given to his daughter Ann Knight in 1801 at a place called Hot Well House. My mother, .... remembers two sisters called Knight who were neighbours of her grandparents, David and Marianne Sibbald, who lived at Ithersay House. I can as yet find no internet trace of the sisters but will persevere.
---------
I will try to scan the Bible pages and send these. It is a remarkable item. The printing is microscopic. Henry Knight must have had exceptionally good eyesight. Furthermore he (we guess it was he) has written out five pages itemising lessons and psalms in equally microscopic hand. The only reference I found to Hot Well House was a spa for consumptives in Bristol. By 1801, the date of his gift of the bible to his daughter Ann, it had declined in reputation as not many people survived a visit there. It begs the question as to whether this Hot Well House was the location of the gift and whether it was made near the end of his days. But it might have been somewhere else and point to another story entirely. It would be interesting to know a little more.
----------
....here are the inscribed pages of the Knight Bible. The inscriptions relating to Ann are very faint. To clarify, they read:
Ann Knight May 4th 1795.
The Gift of Her Father Henry Knight
At ye Hot-Well House July 22nd 1801.
Annie Elizabeth Knight 1831.
At the top of the title page is inscribed:
Hy Knight Jan 20 1777.
In addition to the bold stamp on the facing page: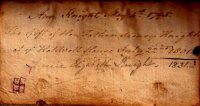 John Parkin and his son John Robert Parkin lived at Ithersay House between about 1851 and 1891, see X535. Parkin senior described himself as Estate agent, lawyer, Land Agent, Surveyor, owner occupier, and valuer, Parkin junior as Estate agent and architect. This letter was posted to John Parkin senior in 1870.
See the Census for: 1851, 1861, 1871, 1881 and 1891


 1822             1815
 John     1847    Mary Ann
 PARKIN=====v=====SHORT
 1880       |
            |
           1850
           John             
           Robert   1874    Ada M
           PARKIN=====v=====MILLIGAN
                      |
                      |
 |-----|---------|----|-----|-----|
 |     |         |          |     |
1875  1877      1879       1881  1884
Mary  Winifred  Katherine  John  Francis

Julia Rowntree writes:
Dear John Palmer and Elaine Partridge..

This letter should go too to Isla Keys but I can find no email for her in connection with her letter on the Idridgehay page of the Wirksworth web site.

I was delighted to come across this amazing resource when looking into the owners of an ancient bible that has come into my possession from my mother, Barbara Rowntree. The names inscribed in the small bible are of Henry Knight (1798) subsequently given to his daughter Ann Knight in 1801 at a place called Hot Well House. My mother, who is now 94, remembers two sisters called Knight who were neighbours of her grandparents, David and Marianne Sibbald, who lived at Ithersay House. I can as yet find no internet trace of the sisters but will persevere.

My mother was delighted to see the photographs of Ithersay House and Idridgehay and intrigued to learn of reference to her grandparents. She has light to throw on various questions raised in Isla Keys' letter.

First of all, she was intrigued by Elaine Partridge's memories of Ithersay House and the story of the land mine. She remembered hearing of the incident. She also remembers that the family who lived there had "something to do with teeth". Was Elaine Partridge's father a dentist or in the dental supply business she wonders?

Regarding Isla Keys' letter, my mother does not remember Stanley Taylor. The Nellie mentioned was indeed married to Fred Sibbald who was a civil engineer and worked on the Blue Nile Dam. My mother remembers them as living in Otley, Yorkshire. She remembers her mother used to go and see them. They had two children, Bunty and Freda. Bunty married a rich farmer near Otley. She doesn't know what happened to Freda.

James Murdoch Sibbald was my mother's father. He was indeed married to Louise Leather and they had three daughters, Vida, Barbara and Peggy. Both Vida and Peggy are now dead. It was David, her grandfather, who started the accountant's firm according to my mother.

Maisie married Ted, short for Edward, Harris. They had one child, Ian, and were in the Sudan for many years. My mother thinks he was in the colonial service and remembers that he "went round judging things". The boy was younger than her and was badly crippled, doubtless paralysed from bad medical treatment at birth in the Sudan . She remembers he had a terrific laugh and was a good looking child. When he was about two the family returned to England and lived in a little cottage up the lane from Ithersay house. She remembers it was a lovely little cottage "full of lovely things, like carpets and brass things."
Marianne Murdoch was a beautiful and talented needlewoman. She teamed up with a journalist called Helen Greig Souter and wrote a couple of books called Dainty Work for Busy Fingers about Needlework, Knitting and Crochet for Girls.

There are a couple of relatives that we can't quite fit in. One is Mabel who was married to Willie and they had a daughter called Margaret Isabel or Margaret Elizabeth. Was Mabel married to Marianne's brother? My mother remembers that Margaret went to study in Aberdeen or St Andrews and married a young man from the Forestry service who then died.

There was another brother who also went to work in Egypt or the middle east somewhere. Maybe he was an engineer? He had a very beautiful Greek wife called Mary. Their children were Phyllis and Gilbert, always known as "Gibby". Great Aunt Mary used to come over to England and always brought lovely presents, halva and dates and once a beautiful handbag with a clasp of an ivory stork. A very glamorous thing. When they returned to England, they lived at East Grinstead. Gib must have fought in the war and when he returned he started a chicken farm.

My mother spent many holidays at Ithersay and has always spoken of the place with great fondness. Her grandparents had a wonderful library known as "the bookery" from whence the bible mentioned above and other books have come. Of Idridgehay, she remembers walking to the farm with her younger sister, Peggy, she thinks it was called "Cows' Farm", with a little milk can with a handle and a lid, of enamel or metal. The churns used to be kept in the stream with a little shed arrangement to shelter them from the sun. She says "It was lovely under the shed roof putting your feet in the cool water." It must frequently have been hot when they visited because another thing she remembers was going to the end of the village to a big tree where there was a drinking trough for cattle and horses. That "was fun" she says, "because you could go and put your feet in it and pat the horses." There was just one road through the village and one shop. This was in a very modest building run by Mrs Price. She was a beautiful woman, with a wonderful complexion, blue eyes and black hair, "she might have been a bit Welsh". The garage had those hand pumps with a lever for pumping the petrol.

I hope these details are of interest. I am writing on 14th December 2008.

Kind regards
Julia Rowntree
Abi Briggs writes:
Dear John Palmer,
I would be very grateful if you could pass this email on to Julia Rowntree and Elaine Partridge, as well as Isla Keys.

I have recently been researching my family tree and happened across your webpages on the Wirksworth Parish, simply through typing in the words Frederick Sibbald and Egypt into the Google website, which brought up your pages. I have outlined below a brief synopsis of the information that I have about Frederick, his wife and children and would be very grateful for any further information anyone has.

Frederick Sibbald was my great grandfather. I have several photos of him and his family during their time in Egypt where he worked as a civil engineer and it appears they lived in great comfort. There are photos of maids and servants and of beautiful houses. My mother thinks that Frederick died perhaps while the family were out in Egypt or perhaps soon after his return and his wife Nellie moved home to Otley where she took in paying guests to make ends meet. Their daughter Helen Marion, known as Bunty, was my grandmother and she married the farmer that Julia referred to in her correspondence. His name was James Tempest Bell, known as Tempest, and after their marriage in Otley on June 13th 1942, they moved to his family farm called Watlass Moor, five miles from Bedale in North Yorkshire, which the family had farmed since the 1700's. Tempest and Bunty had two sons, John Christopher born Dec 3rd 1943 and Geoffrey William born Jan 19th 1949. Bunty was by all accounts a wonderfully practical woman: she travelled abroad by herself quite a lot and set up the local branch of boy scouts and meals on wheels. She also oversaw the updating of the large farmhouse she moved into after her marriage - rather ironically given that her father helped to establish the electricity networks in Egypt, she discovered that there was no electricity at Watlass Moor and she spent the first years of her marriage using candles, until well into the 1950's. Bunty's mother (Nellie?) and her sister Freda moved from Otley to Bedale to be near Bunty and the boys. I think Nellie died around 1977 - my mother remembers me sitting on her knee as a baby, but she did not live to see her second great grand daughter born a year later. Freda, a beautiful child, sadly suffered from nerves throughout her life. She never married, lived with her mother and died in 1988. I visited her a lot with my father and she often came for lunch, Christmas & Easter etc. I remember her as being a very kind lady, but somewhat nervous.

Bunty sadly developed breast cancer and died in October 1961. Tempest was heartbroken and never really got over her death. My father Geoffrey was very close to her and was very sad that she did not live to see him married or meet her grandchildren. He met my mother Ruth Angela Potter (also from a long established Yorkshire farming family) a month after his mother's death and married her on 4th May 1974. They had two daughters, Abigail Ruth (me) born July 24th 1976 and Jessica Caroline, born 11th September 1978. Very sadly my father Geoff developed pancreatic cancer and died aged just 45 in 1994. His father Tempest died the following October. My sister and I have now both married and I have three daughters Emilia, Kitty and Willow, while my mother still lives in the family home at Watlass Moor.

This morning I was visiting Watlass Moor and looking through pictures left by Freda that my mother has kept and came across an identical photo to the one on your pages of Ithersay House. There is also a photograph of the Ithersay garden and another photograph entitled "Ithersay Cottage - three generations, July 1912", which I believe must show Bunty as a baby, her mother and grandmother Marianne Sibbald. I also have a group shot which appears to show David and Marianne Sibbald, James Murdoch Sibbald and Frederick Sibbald, their three sisters Jennifer, Maisie and Agnes, as well as Bunty and Freda. There are many more photographs and I will attempt to scan these in and email them over to you in due course.

I hope this information is of interest to Julia in particular who remembers Bunty and Freda. If it is possible to put me in touch with Julia I would love to hear of any memories she has of my grandmother or the family and I am particularly interested to know Nellie's maiden name so that I can research that line of the family.
With very best wishes
Abi Briggs (nee Bell)
written 30th September 2009
Photos sent by Abi Briggs, nee Bell
Garden of Ithersay House

A group shot of the Sibbald family
showing Fred, Jennifer, Agnes, Maisie, James Murdoch on the back row,
Marianne, David and Nellie seated and Bunty and Freda on the front row.
This might be taken at Idridgehay somewhere around 1916.

'Three Generations, Ithersay Cottage 1912'.
This photo shows Marianne, Nellie and Bunty Sibbald.

Compiled, formatted, hyperlinked, encoded, and copyright © 2003, . All Rights Reserved.