| | | |
| --- | --- | --- |
| Updated 6 Oct 2001 | WIRKSWORTH Parish Records 1600-1900 | |
<!==================================================> <!==================================================>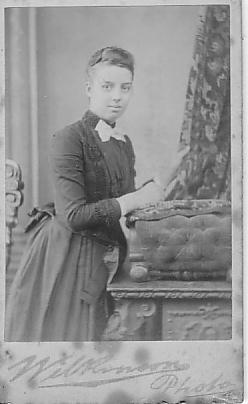 Gertrude DOXEY nee LONGDEN 1890.

Gertrude Longden of Sheffield at the age of 18. At 21 she married Alfred Doxey of Matlock at Ecclesall. She was the author's grandmother. from a carte de visite by Wilkinson, Sheffield


Dates:1872-1954
Photo taken:1890
Size:2.5x4
Source:John Palmer, Dorset, England
Click on photo for enlargement (on CD only)
Have any more information about this photo? Please e-mail the author on:
Compiled, formatted, hyperlinked, encoded, and copyright © 2001, . All Rights Reserved.