| | | |
| --- | --- | --- |
| Updated 5 oct 2001 | WIRKSWORTH Parish Records 1600-1900 | |
<!==================================================> <!==================================================>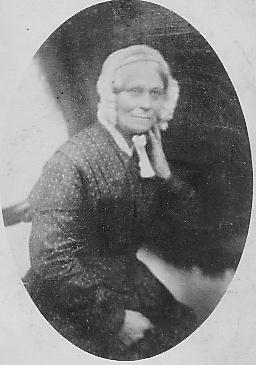 Eliza Dorothy DOXEY nee HOWE c1880

Eliza Dorothy Howe was the favourite daughter of John Howe of Litton and Ashford-in-the-Water (called "Poet of the Peak"). While working in Service in Manchester she received letters from John Howe 1823-31. At Bradbourne she married William DOXEY of Wirksworth in 1833, and later moved to Matlock. They had two children, William in 1838 and Alfred. She worked as tallow chandler, cook, maker of umbrella tops and fustian coats, schoolmistress, trimmer of hosiery, shopkeeper and Toll gate keeper. In 1884-88 she wrote letters to her grandson, revealing her as an intelligent and delightful character. She died suddenly at 82 after a cold.
From a photo by F Barber, 10 Orchard St, Church St, Sheffield.
Dates:1807-1888
Photo taken:c1880
Size:4x6
Source:John Palmer, Dorset, England
Click on photo for enlargement (on CD only)
Have any more information about this photo? Please e-mail the author on:
Compiled, formatted, hyperlinked, encoded, and copyright © 2001, . All Rights Reserved.