| | | |
| --- | --- | --- |
| Updated 27 Sep 2001 | WIRKSWORTH Parish Records 1600-1900 | |
<!==================================================> <!==================================================>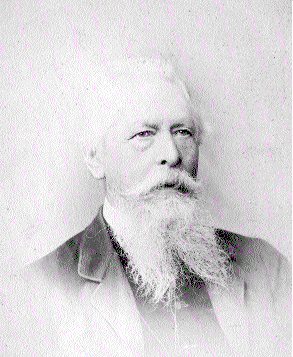 Henry CLAY

Henry CLAY was born in Wirksworth in 1813, the third child of the shoemaker James Barton CLAY. He married a lady named Lydia and on the 1881 and 1891 censuses they are living in Edgbaston, Birmingham. Henry had made quite a lot of money, though the only clue I have to his occupation at present is that he was an "agent". He lived to be 91, and in his will left over £6,000, quite a lot in 1905. An old family tradition stated that, as Henry had no children, he left most of his money to one particular nephew, John James CLAY, because he had "made a man of himself and seen the world." In fact, having now seen Henry's will I know that this was not the case - the money was shared more or less equally between all Henry's nephews and nieces, although one particular niece did receive the income from a trust fund for 20 years before it was shared out.
--- from Alan Bloor (alanbloor@tinyonline.co.uk)
Dates:
Photo taken:
Size:
Source:Alan Bloor
Click on photo for enlargement (on CD only)
Have any more information about this photo? Please e-mail the author on:
Compiled, formatted, hyperlinked, encoded, and copyright © 2001, . All Rights Reserved.