| | | |
| --- | --- | --- |
| Updated 29 Nov 2013 | WIRKSWORTH Parish Records 1600-1900 | |
<!==================================================> <!==================================================>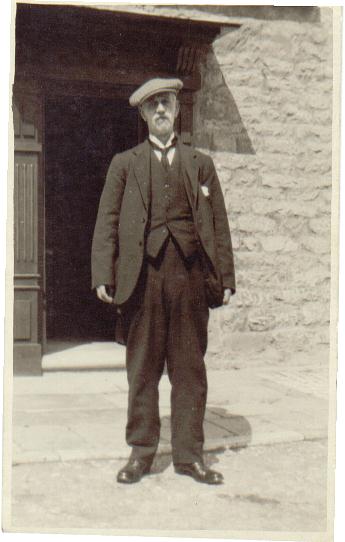 William MARPLE 1854-1943

My Great Grandfather, William Marple b 7 Sep 1854 The Dale Wirksworth, to George and Sarah Marple (nee Wardman ). George was a miner. William married Mary Sheldon (born 3 June 1855, Middleton, to Samuel and Christiana, nee Wilson, Sheldon ) 27 Oct 1879 at Christ Church in the Parish of Bradford & Beswick, Lancashire. From Manchester the family moved to York where William died 8 Nov.1943, aged 89. He had been a railway machinist.
--- from Kathleen Broadbent.
In the Old Photograph section No.100 there is a picture of William Marple He married my grt Uncle Samuel Sheldon born 1828 and Christiana nee Wilsons daughter.. ...Also his twin brother Joseph married Harriet Doxey dau of John Doxey Middleton,,,The Sheldon children of this family were the offspring of Joseph and Elizabeth Sheldon nee Sheldon Their other two were Martha Sheldon marr Joseph Walker My grt grandparents and Samuel Joseph Sheldon who marr Jane Longden...Joseph and Elizabeth had 13 children over 32 years some being twins, one set of which died in infancy.... I have recently had contact with a lady from Nabraska U/S.A. who is of my kin..our joint relative was James Flint who married Charllote Trollope from Heckington Sleaford Lincolnshire in 1868 She is in some way related to the Trollope family who were authors so I am informed by Laura Petersen ..James and Charlotte emigrated to U.S. on marriage...also I have had contact with another lady in America who is related to my Flint family at Uttoxetor..All this contact is thanks to your Contributors Pedigree page. So please accept my thank you once more.
---from S.G.Flint
Dates:1854-1943
Photo taken:
Size:4.8" x 7.5"
Source:Kathleen Broadbent
Click on photo for enlargement (on CD only)
Have any more information about this photo? Please e-mail the author on:

Derby Mercury, August 1861

Good morning John,
I too have been helping Roy Pearce with his history of Wirksworth Grammar School – in my case with the desktop publishing aspect. On your wonderful website and just a few pages away from X134a, to which you directed Roy, is a photo of your ancestor William Marple. Are you aware of the Derby Mercury report (beginning of August, 1861, attached) of the tragic death of, presumably, his grandfather, also William Marple, my great-great-grandfather?
Kind regards
Rob Few
Compiled, formatted, hyperlinked, encoded, and copyright © 2001, . All Rights Reserved.