| | | |
| --- | --- | --- |
| Updated 3 Dec 2001 | WIRKSWORTH Parish Records 1600-1900 | |
<!==================================================> <!==================================================>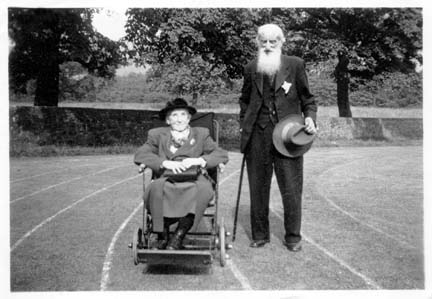 Mr FRITCHLEY & Mrs BRADLEY 1940

Father of Mary Fritchley.

Liz Southam writes:
I am currently researching my husbands family tree, and I can tell you that Mrs Bradley is his great grandmother. She was born Alice Morrell in 1874,and married Samuel Bradley on 30th May 1898 at St Marys in Wirksworth. They had 5 children, Alice Harriet, Annie Catherine later Southam (my husbands grandmother), Frank, Edith and Mary. Alice Bradley died in 1958 age 84.
Dates:1874-?
Photo taken:c1940
Size:5x4
Source:Brenda Rowland, Russets, Millers Green
Click on photo for enlargement (on CD only)
Have any more information about this photo? Please e-mail the author on:
Compiled, formatted, hyperlinked, encoded, and copyright © 2001, . All Rights Reserved.