| | | |
| --- | --- | --- |
| Updated 8 Jul 2004 | WIRKSWORTH Parish Records 1600-1900 | |
<!==================================================> <!==================================================>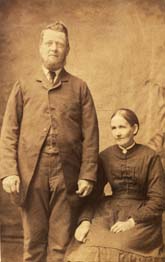 Elizabeth POTTER nee ROBINSON 1890


Elizabeth Ann POTTER
   Born Ashbourne 29 mar 1840
   Died Wirksworth 8 Mar 1916
   Married Wirksworth 23 Sep 1861
She was blind in one eye through accidently putting the wrong medication 
into it.
She is seen here with her husband Joseph POTTER (Master Plasterer)
   Born Wirksworth Oct 1841
   Died Wirksworth 16 Aug 1926

Regards,

Graham G. Robinson 

Dates:1840-1910 

Photo taken:c1890 

Size:2x4 

Source:G Robinson, Wokingham RG40 1PZ
              

Click on photo for enlargement (on CD only)


Have any more information about this photo? Please e-mail
the author on: 


Compiled, formatted, hyperlinked, encoded, and copyright © 2001, . All Rights Reserved.