| | | |
| --- | --- | --- |
| Updated 3 Jun 2003 | WIRKSWORTH Parish Records 1600-1900 | |
<!==================================================> <!==================================================>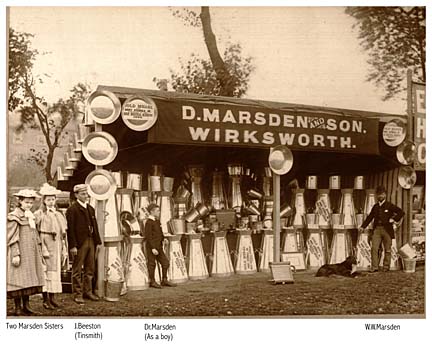 Exhibition of MARSDEN hardware 1893

Names left to right:
Two Marsden sisters, J.Beeston (tinsmith), D.R.Marsden (as a boy), W.W.Marsden.
Dates:
Photo taken:1893
Size:8x6
Source:Wirksworth Heritage Centre, Crown Yard, Wirksworth
Click on photo for enlargement (on CD only)
Have any more information about this photo? Please e-mail

the author
---
Joyce Beasley (joyce.beasley@ntlworld.com) writes:
Hi John,
Thanks for directing me to the photos I can give details of the people in the photos and I am particularly interested in the Dr MARSDEN (as a boy) Daniel Roper MARSDEN. in 1891 he's a scholar in 1901 he's age 19 and an ironmongers assistant. Do you know how he got the title Doctor? I think it's more likely D.R. MARSDEN! I have the family tree going back to Godfrey MARSDEN b 1755.d 1833 age 78.
regards
Joyce (my great grandmother is younger sister to WW MARSDEN.)
---
Hi John,
The two MARSDEN sisters are :-
Alice Ann c 20 May 1877 d 25 May 1975 aged 96.
Ann Maria c 9 April 1879.
Dr? (D.R.) MARSDEN (as a boy) is Daniel Roper MARSDEN c 21 Sept 1881 d 22 june 1957 aged 75 married Mary Rebecca ? who died 5 Jan 1952 aged 69. Daniel was a scholar age 10 in 1891 census and an ironmonger's assistant age 19 in 1901 census.
W.W.MARSDEN is William Wesley MARSDEN c 7 Aug 1853 d 2 Nov 1932 age 79 married Ellen or Helen Maria ? in 1875 she was a millener and dress maker and was b 1854 d 6 Sept 1898 age 36 He married again to Nancy ? and had one Daughter and again to Catherine and had two daughters.
I have a family tree of the MARSDENs going back to Godfrey MARSDEN b 1755.
regards
Joyce Beasley
Compiled, formatted, hyperlinked, encoded, and copyright © 2003, John Palmer, All Rights Reserved.